Since arriving in 1975 as a first-year student, Jeff Swenson has built a storied legacy at Augsburg University.
Swenson was a national wrestling champion as a student and joined the Augsburg coaching staff upon graduation. He then spent 25 seasons as one of the most successful amateur wrestling coaches in the U.S. As athletic director since 2001, he has led the athletics program through a period of unprecedented growth and improvement.
Now, Swenson is playing another key role at Augsburg as Sesquicentennial Steering Committee co-chair, shaping the anniversary festivities planned for the 2019-20 academic year. In a recent interview, Swenson shared his perspectives on the University's 150th anniversary as well as the importance of academics and civic engagement for student-athletes and why he's proud to be an Auggie.
Despite all of the achievements for Augsburg and Swenson, he feels the best is still ahead. "I've never been more excited about Augsburg than I am today."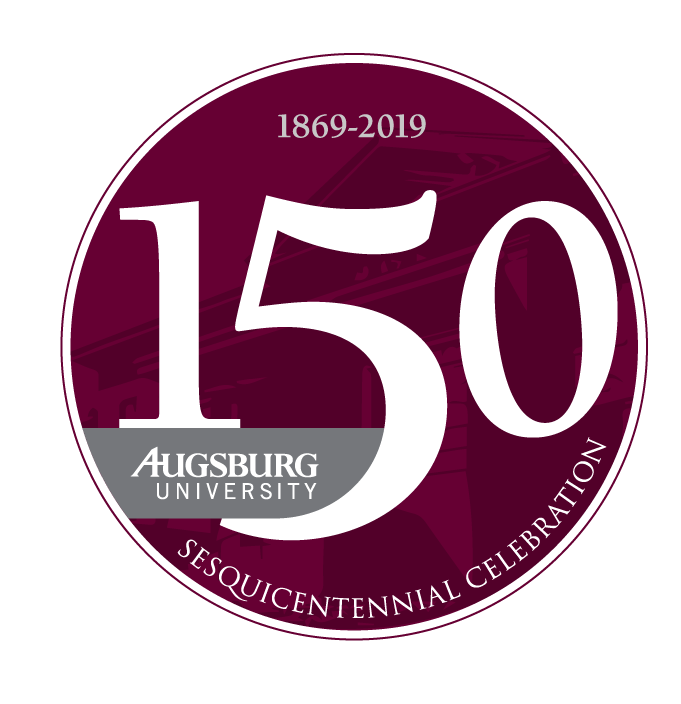 You are a co-chair of the sesquicentennial committee. What do you hope this milestone anniversary will do for Augsburg?
It's a great time to celebrate our rich history: 150 years, wow! That's really something special. I'm hoping the sesquicentennial allows us to celebrate the past but also to look toward the next 150 years of Augsburg University. It'll be a great time to bring people together: faculty, staff, students, alumni, and friends of the institution. Selfishly, I'm looking forward to celebrating athletics' place in the school's history. In the past two decades, we were the first university in the state to start a women's hockey team and a women's lacrosse team. Last year, we made the playoffs in eight out of 10 sports—the most ever in school history.
Augsburg athletes are intentionally called student-athletes. How do you support academic achievement?
They're students first. Every one of our athletes gets a day off of training and games. Professors do understand the demands of students involved in athletics, and they work with the students to help them succeed. Ultimately, our goal is that all students graduate in four years. We want to recruit prospective students and tell them and their families that our students graduate in four years with high achievement in their courses. Our student-athletes' cumulative GPA averages 3.23, and we're proud of that.
I understand there is increased collaboration between student-athletes and other student groups. What's behind that, and what do you hope will develop from this partnership?
It's very intentional, and it's one of my goals, along with President Paul Pribbenow. Our 2017–18 student body president BK (Bashiru Kormah) '19 really pushed for it. BK is on the Augsburg men's soccer team, and he organized a gathering at the president's house of student-athletes and members of other student groups to talk about experiences and collaborative opportunities. Fostering an even more unied campus culture is hugely beneficial, and I think we're doing that. We're very involved with living out the University's mission in the daily life of athletics.
Augsburg is called as an institution to serve our neighbor. What's the role of community service in athletics?
Community service can have a major lifelong positive impact on student-athletes. I will always remember one of my community service opportunities as an Augsburg student. I held a boy who had a severe cognitive disability. I bounced him on my knee, and my objective was to get him to smile. To this day, I remember that experience as much or more than any of the football games or wrestling matches I was in. The Augsburg athletics experience is really well-rounded. All of our student-athletes and coaches participate in at least one community service activity each year. Jane Becker, our head volleyball coach, is our director of athletic community service and engagement. Because of her efforts, we do many more community service activities than in the past. In the 2016–17 academic year our athletes finished with 4,652 community engagement hours and participated in the largest food drive on campus, collecting 410 pounds of food. We are on track to reach or exceed that amount for 2017–18.
As Augsburg prepares to commemorate 150 years, what stands out for you?
All the relationships stand out for me—from the time I was a student-athlete here and then throughout my career. I've seen 10 buildings constructed on campus, worked for four presidents, and held nine job titles, but it would all come down to the relationships more than anything else, including relationships with my coaches, students, faculty colleagues, and my teachers.
How has Augsburg evolved as the University approaches the sesquicentennial and what makes you proud to be an Auggie?
I love that Augsburg is student-centered. We're at the forefront of society's changes. We're inclusive. We're accepting. We're innovative in our work. I think the focus in those areas has enabled us to stay ahead of our competition and is why students continue to choose Augsburg.