"Augsburg sees science as a search for meaning, a collaboration with nature, and a quest for quantitative understanding."
This statement was captured in a 2007 "science credo" authored by Augsburg faculty in the sciences. The credo proclaimed that Augsburg's science programs should:
Emphasize science in context, seeking out and developing intersections among departments and programs.
Underscore the purposeful practice of science as an essential ingredient to citizenship.
Use Augsburg's urban setting to highlight the relevance of science in our call to serve our community.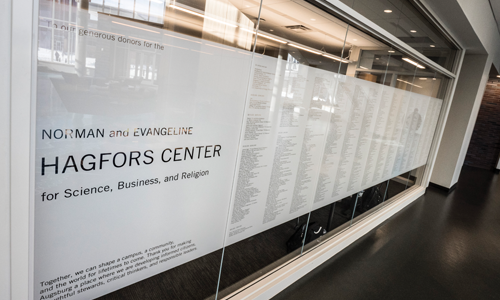 This visionary thinking sparked the imagination of faculty leadership across disciplines and led to a vision for a new building concept: a center for science, business, and religion that would not only replace Augsburg's outdated science facilities, but would foster interdisciplinary collaboration and embody
Augsburg's commitment to its community. That vision came to life this past January with the grand opening of the Norman and Evangeline Hagfors Center for Science, Business, and Religion, a signature academic building that celebrates Augsburg's historic roots, contemporary relevance, and promising future.
Expressive of History, Responsive to Place
Colorful Accents
The exterior colors of the Hagfors Center reflect Augsburg's Norwegian heritage, connect the decades of architecture represented on campus, and espouse the vitality of Augsburg's urban setting.
Neighborhood

Campus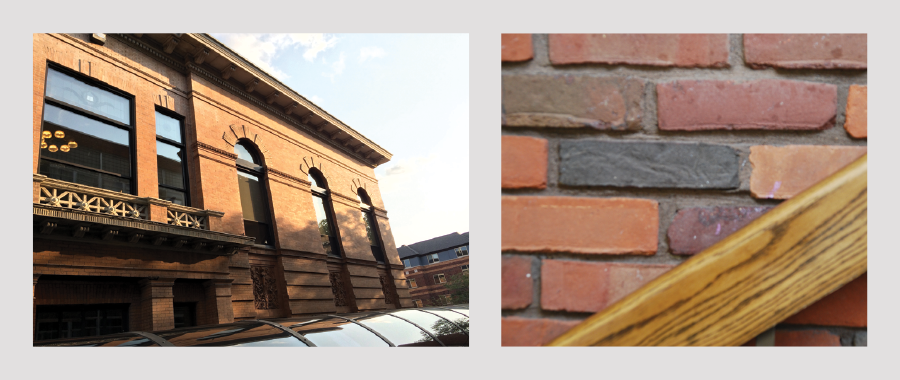 Heritage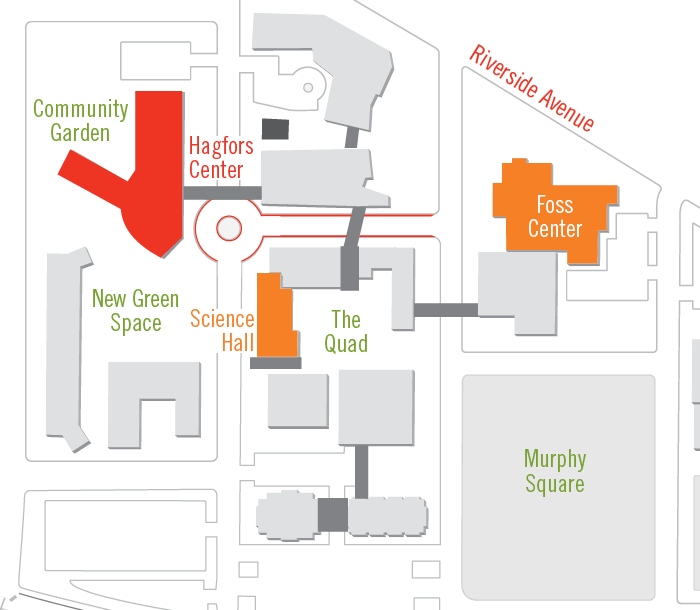 Placemaking
The Hagfors Center front doors open onto a brand new roundabout at the west end of South 7th Street, with a direct view to the main entrance of the Foss Lobeck Miles Center and the atrium of Hoversten Chapel. Inside the building, the west wing extends from the lobby at a diagonal that runs parallel to Riverside Avenue. It connects with the north wing in an "open-arms" embrace of the community garden, where neighbors and members of the campus community grow food, build relationships, and engage in hands-on learning experiences.
A Celebration of Cultures and Faith Traditions
Gundale Chapel is named for Elnar Gundale '33, who emigrated from Norway to the United States in 1930 and studied at Augsburg College and Seminary. He was ordained in 1937 as a Lutheran Free Church pastor and served several parishes for nearly 60 years. He and his wife, Catherine, raised six children (four of whom attended Augsburg). Their daughter, Evangeline, and her husband, Norm, are the named benefactors of the Hagfors Center. The multicolor glass sculpture that hangs in the Gundale Chapel incorporates textile designs from contemporary and ancient cultures and religions. The sculpture also includes glass panels without patterns—suggesting the future of Augsburg yet to unfold—as well as smudges, blurring, and distress to imply imperfection in the world, past and present.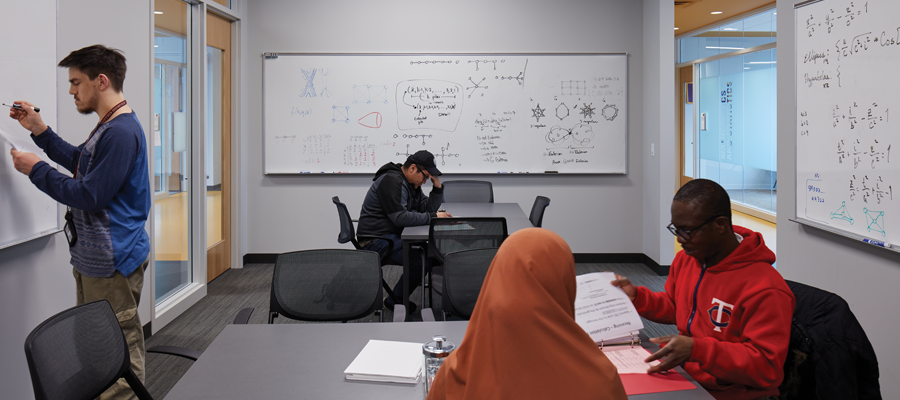 Collaborative Problem-Solving Long-Term Innovation
Unbounded Study
For many years, several Augsburg science departments had dedicated learning and gathering spaces in Science Hall. Augsburg incorporated these "department homes" throughout the new building—providing interactive learning spaces for all science, business, and religion students and faculty. The building also boasts multiple casual learning spaces, which are popular among students of all majors. In fact, during finals week in December 2017—before the building was even officially open—students filled the whiteboard walls in these spaces with notes and equations as they studied together for semester finals.
Hands-On Learning
The Hagfors Center's expanded labs provide space for real- world experiments that take longer than a traditional 4-hour lab period. Its grow rooms allow students to cultivate plants for lab courses using modern plant science methods. There are modern meeting rooms for presentations with local businesses and entrepreneurs, aquaria that provide a hands-on experience with marine aquatic creatures like algae and sponges, and a food lab where students study the physics, chemistry, and social impact of our food systems. There's even a collaborative makerspace where students build rockets, explore 3-D printing, and more.
Sustainable Design
The Hagfors Center is designed to meet the standards for silver LEED (Leadership in Energy and Environmental Design) certification, a globally recognized symbol of sustainability. The building has two green roofs—one on a flexible, ground-floor learning space and another above the front entrance canopy.
During construction, Augsburg exceeded its goal of awarding more than 10 percent of the project's contracts to women- and minority-owned businesses. To ensure the building can adapt to evolving needs over the coming decades, each wing was built on a standard grid that allows walls to be reconfigured to create larger or smaller spaces as requirements change over time.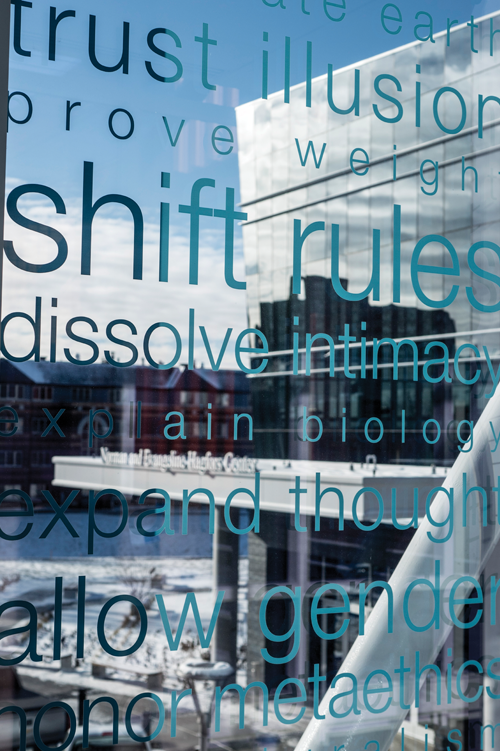 Unexpected Pairings
In the skyway that connects the Hagfors Center with the James G. Lindell Library, custom glass etchings bridge disparate disciplines, both figuratively and literally. The etchings, which also make the skyway glass bird-safe, feature unconventional word pairings, such as "define divinity" and "love density," that are designed to make people think. The skyway was funded through the generosity of John R. Paulson and Norma L. Paulson, whose family also sponsored the skyway link from Sverdrup Hall to Lindell Library.
Accolades and Kudos
2018 Project of the Year
—Design Build Institute of America-Upper Midwest Region
"… Hagfors Center exceeds expectations."
­­—The Echo, January 19, 2018
"The Hagfors Center makes Augsburg more competitive."
—Neal St. Anthony, Star Tribune, March 3, 2018
"Augsburg is one of the most thoughtful, reflective partners that we've ever had."
­­­—Bill Blanski, design principal, HGA Architects, Finance & Commerce, January 19, 2018
"We focused on our heritage … experiential learning, our diversity, and our call to serve. That resonated."
—Mike Good '71, Augsburg regent emeritus and campaign chair for the Center for Science, Business, and Religion, Star Tribune, March 3, 2018
Finance and Commerce highlights Augsburg's Hagfors Center in private college construction update.
Start to Finish
From groundbreaking to grand opening, construction of the Hagfors Center took 22 months, and was completed on time and under budget.
---
[Top Image]:  The Norman and Evangeline Hagfors Center for Science, Business, and Religion is the largest academic building on campus. It houses multiple academic disciplines, including biology, business administration, chemistry, computer science, economics, environmental science, mathematics and statistics, physics, psychology, and religion. Several of these departments previously occupied space in Science Hall, which is located across 21st Avenue.
---
Web Extras:
Learn more about the art in the Hagfors Center.