Dozens of buses en route from 25 Minnesota school districts pause on 23rd Avenue to unload hundreds of students in grades three through six at the Augsburg University Air Structure (aka the Augsburg Dome). The air lock opens, and grinning youngsters wheel, walk, and run into the 360-by-216-by-63-foot inflatable bubble lined with activities to exercise their cognitive, emotional, and physical muscles.
Augsburg has held this one-day Sports Extravaganza for nearly 20 Novembers. Do the math: that's more than 4,000 children, teachers, and paraprofessionals who have visited campus, and two decades of Auggies who have applied their health, physical education, and exercise science coursework to the field.
HPE instructor Carol Enke said the event wouldn't have started without the dome. "Imagine funneling hundreds of kids with mental and/or physical disabilities into Si Melby Hall via untold batches of elevator trips," she said. "Without the air structure, this dual community engagement and learning opportunity would have never taken off.
"Every year, teachers tell us that students ask about the event from the first day of classes, and we see that excitement as kids meet others and participate in activities they might have assumed were inaccessible to them."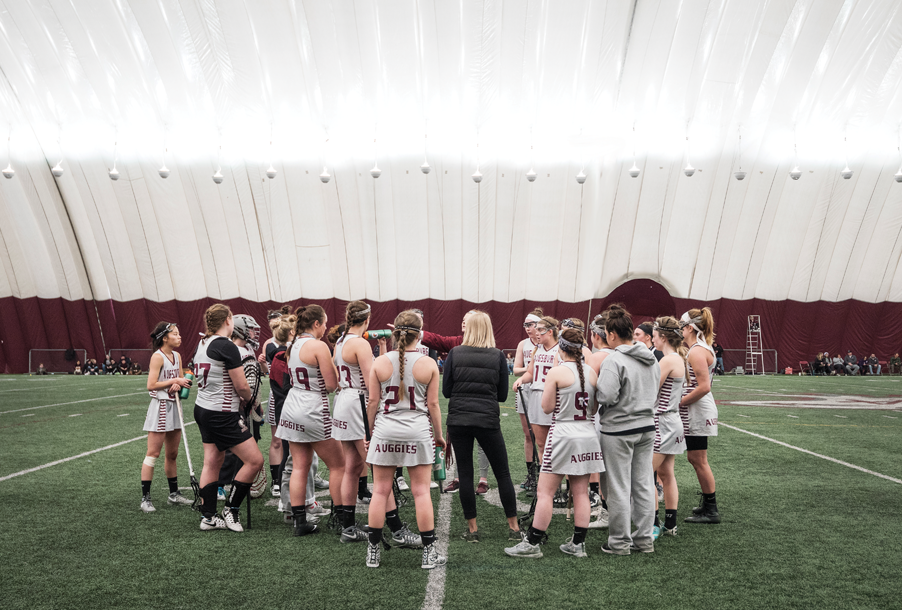 AN EXPANSIVE GATHERING PLACE
Sports Extravaganza is one of several community events squeezed into the dome between softball and lacrosse games and practices for baseball, track and field, golf, soccer, and football. Physical education classes, intramural activities, alumni events, and more also vie for the space, which features four batting cages, a driving range net, and four soccer goals.
About 35 campus and community groups schedule the space each year, according to Greg Holker, the men's soccer head coach, who helps manage dome schedules as part of his dual role as athletic facilities assistant manager. Thousands of people use the dome for a total of about 3,000 hours during any given year.
"Regular users include our sports teams, HPE classes, camps, the Minneapolis United Soccer Club, and other prominent academies and associations," he added. "During Super Bowl LII this year, a large corporation hosted a Punt, Pass, and Kick Competition, and the Minnesota Super Bowl Host Committee fi lmed a commercial in the space."
Each November, more than 500 student-athletes join coaches, staff, and administrators to erect the weather-proof structure. It's a Herculean effort that illustrates the university's cooperative, all-in attitude, according to Athletic Director Jeff Swenson '79. Come May, after 12-hour weekdays and about 18-hour weekend days, the dome is put away in about three hours, again by a campus-wide team. Swenson said the dome has substantially increased Augsburg's workout space.
"Nobody appreciates the air structure more than our spring sports," Swenson said. "Access to a climate-controlled regulation fi eld in our backyard gets them in the game earlier in the season without interruptions due to weather."
The university also is able to offer physical education classes, including golf and soccer, in the spring. Eric Rolland '97, men's and women's golf head coach, said without the dome, spring offerings would be limited to indoor activities like bowling. And while Rolland enjoys throwing a strike as much as the best of them, the former All-American golfer said he has enjoyed the ability to teach golf throughout the year.
"It's a lifelong sport that can enhance your career, given that so many business meetings occur on the golf course," said Rolland, who has taught golf classes for the past fi ve years. "Students make lasting friendships, too, as the dome transforms into a giant driving range where students visit as they perfect their swings."
"In 1993, the original Augsburg Dome was installed as one of the first inflatable air structures operating in the Midwest region. In the summer of 2004, the university installed Sprinturf, which looks, feels and plays like natural grass, but it is safer and far more durable than older-style artificial-turf surfaces. A new state-of-the-art bubble was installed in the fall of 2006 with hanging lights, creating a more spacious and well-lit facility." — David St. Aubin, athletic facilities director.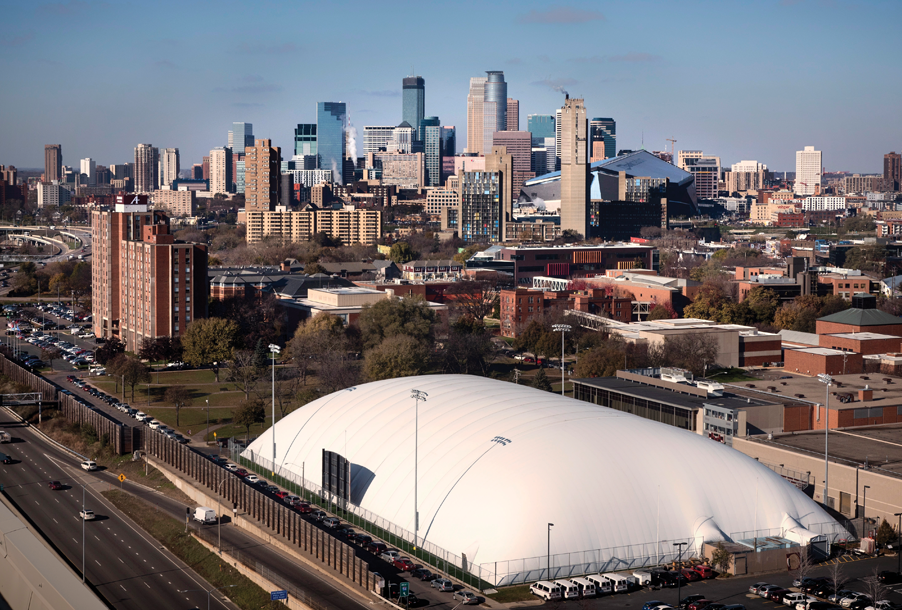 THE DOME 'SAVED OUR SEASON'
Talk of spring takes Softball Head Coach Melissa Lee '04 back to April, when the Twin Cities experienced its snowiest and fourth-coldest April on record, according to the Minneapolis-St. Paul International Airport, which reported 26.1 inches of the white stuff and an average high of 47.4 degrees.
"It was the winter that would never end," said Lee, who is in her 15th season on Augsburg's coaching staff. "Other teams in our conference have to rent out dome space or practice on hard gym floors incapable of mimicking competition, so when the weather is bad, those players may catch—or try to catch—their first deep pop fly of the season during a game. We made the playoffs last year, and I believe the dome contributed to that success."
Then-senior-outfielder Katie Parker '18 was among the Augsburg softball players who spent the majority of the 2018 season under the dome. Playing inside requires adjustment, she said, with rules against catching deflected balls (to avoid injuries), turf vs. dirt, and many lights, rather than the sun's sole beam. But the snowy season didn't faze the native of Lakeville, Minnesota.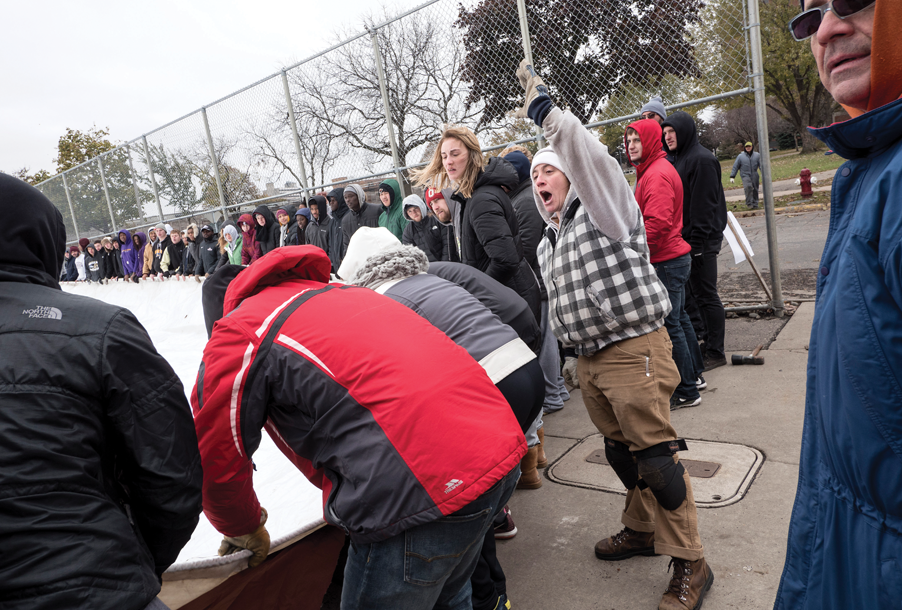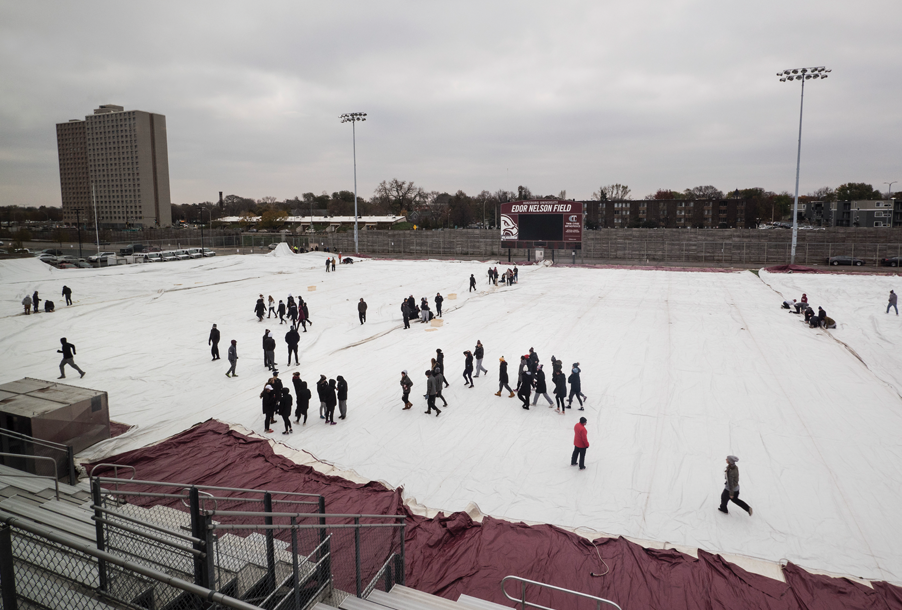 "It's our home turf, literally, so we practice in the space long before our first game," said Parker, who graduated in May with a bachelor's in elementary education with a focus on special education. "I loved the sense of community and cooperation as we worked side-by-side with student-athletes on other teams to take down and set up fence panels and goals, depending on the sport. Coach Lee also worked hard and stayed up late to make sure other area softball programs could access to the dome to finish out their seasons."
Will this year be a repeat of last season? The Farmers' Almanac indicates 'no,' Coach Lee said, but the Minnesota native jokes the state's weather is as unpredictable as a curve ball. What is not inconsistent, she added, is Auggies' willingness to work together—snow or shine.
Assistant Baseball Coach Zach Bakko '18 echoed Lee's appreciation for the dome's ability to bring athletes across Augsburg's 21 sports together with each other, the campus, and greater community. Bakko spent several seasons fielding balls under the dome lights as an Auggie outfielder.
"Whether it be quarterback Quinn Frisell '19 throwing out routes to his agile receivers, golfer Brett Buckingham '21 working on his swing, or soccer forward Ashley St. Aubin '20 figuring out another way to score a hat trick, I've been able to see athletes in other sports work to maximize their potential," said Bakko. Plus, "The space allows our campus to give back to the community and make a positive difference in the lives of young athletes [through camps and clinics]."
"Having worked for athletics, I've met the real heroes of the dome—athletics administrators, coaches, and all the maintenance staff—managing scheduling, cleaning, and every other task that arises," he added. "That willingness to come together and do what's needed, regardless of whether it's in your job description, has expanded my understanding of the word 'team.'"
Augsburg community members work together to assemble the dome each fall. First installed in 1993, Augsburg's original dome was one of the premier inflatable air structures in the Midwest.
---
[Top image]: The Augsburg Air Structure—and the rest of the Minneapolis campus—looked practically otherworldly following a record-breaking April 2018 snowstorm.