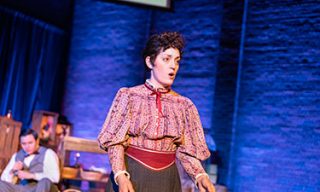 The Augsburg University Department of Music had a unique opportunity to produce and perform "Tienda," a new chamber opera by Augsburg Assistant Professor of Music Reinaldo Moya and opera lyricist Caitlin Vincent, which premiered February 21 and 22.
This production, presented as a part of Augsburg's sesquicentennial celebration, was performed in Foss Center's Hoversten Chapel and included a cast of student singers, the Augsburg Choir, and the Augsburg Orchestra. The opera tells the story of Luis Garzón, a Mexican musician who immigrated to Minneapolis in 1886 and opened a small Mexican grocery store, or tienda, in St. Paul, Minnesota, in the 1920s. Garzón's store served as a community hub for new arrivals from Mexico, many of whom had fled the Mexican Revolution and found work toiling on the sugar beet farms of rural Minnesota. "Tienda" explored the immigrant experience: what must be left behind—and what cannot be forgotten—on the journey to a new home.
Other sesquicentennial projects
To commemorate Augsburg's 150th anniversary, the university invited faculty and staff to apply for funding to support unique projects that aligned with their interests and expertise while uplifting Augsburg's mission, academic excellence, and traditions. These projects showcased the university's history, its distinction in the arts, and its high-quality scholarship. Learn more about sesquicentennial projects at augsburg.edu/150.