Childhood friends and Augsburg University Master of Business Administration alumni Andre Creighton '19 MBA and Mychal Frelix '19 MBA understand the fear of driving while Black and being stopped by police.
They both grew up in St. Paul, Minnesota, and knew the family of Philando Castile, a Black man who was fatally shot by an officer during a 2016 traffic stop in nearby Falcon Heights.
"The interest in creating change started with Philando Castile. That was the initial gut punch," Creighton said. "Flash forward to George Floyd in 2020, and it was like ripping off a Band-Aid to a wound that hasn't healed. We decided we had to do something."
Creighton, an accountant, and Frelix, who was in sales for Sony Electronics, left their stable day jobs in 2020. They teamed up with attorney Jazz Hampton, who is also an adjunct professor at Mitchell Hamline School of Law, and the three Black men launched a new company providing a technology-based solution to de-escalate traffic stops by police.
Timely launch
The motto says it all: "Drive with an attorney by your side."
TurnSignl provides real-time, on-demand legal guidance from attorneys to drivers, all while drivers' smartphone cameras record the interaction. The mission is to protect drivers' civil rights, de-escalate roadside interactions with police, and ensure both civilians and officers return home safely at the end of the day.
As is true of many startups, the three co-founders wear multiple hats. Hampton serves as CEO and general counsel. Creighton is the chief financial officer and chief operating officer while Frelix is the chief revenue officer and chief technology officer.
When Daunte Wright was shot and killed by a police officer during a traffic stop in Brooklyn Center, Minnesota, in April, that only accelerated their pace to bring the app to market. "This has been an issue plaguing Black and brown communities," Frelix said. "We're thankful to have the ability and skill sets to get this off the ground."
They introduced the TurnSignl app in May after they were able to leverage the public awareness of police stops ending tragically to raise more than $1 million to bring the app to market.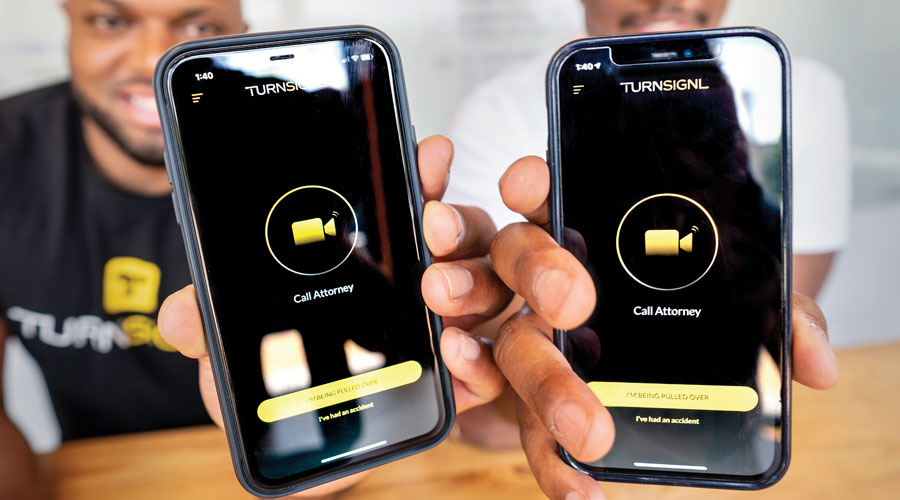 How TurnSignl works
Users open the app and immediately get connected to an attorney vetted by TurnSignl to guide them in order to de-escalate the encounter. Service launched in Minnesota and will be expanding to 10 states by the end of 2021. The founders also have created a foundation to provide service for those unable to pay for the app, which is available on the Apple and Google app stores. They expect the foundation to support 25% of the app's user base.
While the app is intended for anyone, there is increasing attention to how Black drivers are treated by police.
Twin Cities NBC affiliate KARE 11 reported in May that new data shows that the majority of drivers pulled over this year by Minneapolis police for minor equipment violations are Black: Black drivers accounted for more than half of those stops despite making up only about 20% of the city's residents, according to city data.
In St. Paul, Black drivers were almost four times more likely to be pulled over by police than white drivers, according to a Pioneer Press analysis of data from 2016 to 2020. Asian, Latino, and Native American drivers were stopped at roughly the same rate as white drivers, the Pioneer Press reported.
The TurnSignl founders say their product is more than just an app. It's a signal for change. "There's no better opportunity to impact change than this moment, now," Creighton said.
Defense attorney Taylor J. Rahm is one of the lawyers who has joined TurnSignl to be on call for motorists. "Anything we can do to make sure these situations are safe and that no one gets harmed is something I hope any lawyer would want to get involved with," he said.
Sometimes, a motorist making sudden movements is interpreted as cause for alarm and can be construed by an officer as the driver going for a weapon or drugs, leading to potential conflict.
"With TurnSignl, you have a lawyer on the phone to help individuals know their rights but also importantly know how to handle the situation so nothing goes wrong," Rahm said. "The benefit is that the officer knows that there's an attorney on the phone telling the person, 'This is what you should do during the stop.'"
The TurnSignl app has the potential to make traffic stops safer for police as well as motorists, said Mylan Masson, retired director of the Hennepin Technical College law enforcement program and a former Minneapolis Park Police officer. "Every traffic stop can be dangerous for police officers," said the police training expert. The TurnSignal app "could give someone a calming sense that, 'I'm not here alone.'"
Business owner Phil Steger offers the app as an employee benefit for his 14-person Brother Justus Whiskey Company in Minneapolis, believing TurnSignl's attorneys can act as mediators to keep a traffic stop from escalating into danger.
"If you think you've been stopped unlawfully, most people don't know that they still have to cooperate," said Steger, who was previously an attorney for law firm Dorsey & Whitney. "You can still be taken to jail."
A TurnSignl attorney can advise in real time: "Every defendant has the right, if they think they have been stopped unlawfully, to challenge the case in court later," he said.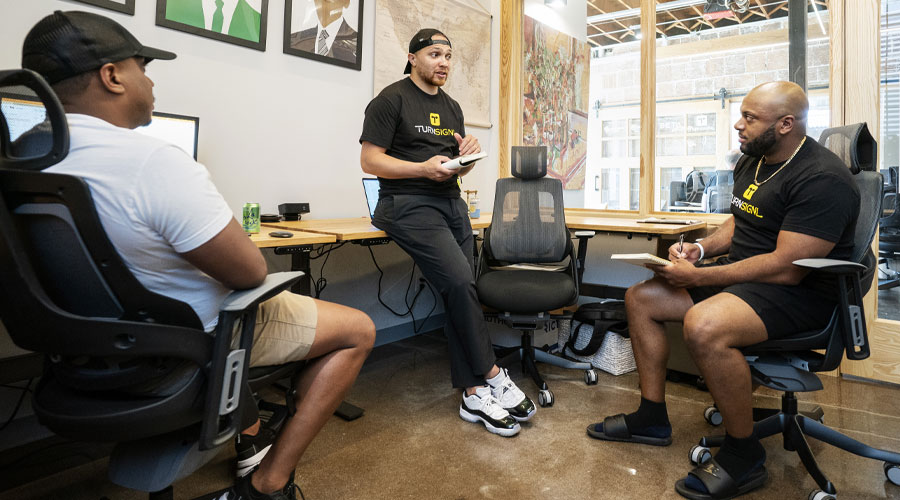 Business project for 'the times we're in'
As the TurnSignl founders prepared to launch the company, they turned to Augsburg's MBA program to assist them in developing the business plan.
"A key part of the Augsburg MBA experience is that we want students to have practical experience and apply critical thinking," said George Dierberger, associate business professor and director of the MBA program.
Students in the MBA program grapple with real-world challenges faced by local businesses via a management consulting project, which supported TurnSignl's launch. This is just one of the many MBA program experiences in which students collaborate on projects, case studies, presentations, and simulations.
The TurnSignl project represents Augsburg's goals to be socially conscious, said Mike Heifner '21 MBA, who worked on the pricing strategy of the TurnSignl business plan. "This was a good example of how capitalism could bring social value to society," he said.
Augsburg graduate student Stephanie Oliver '21 MBA hopes the TurnSignl app will open new conversations and foster a different way of thinking about how police and civilians interact during traffic stops.
"This project was my first choice because of the times we're in," she said.
Oliver's role in the MBA group was to analyze the research and data about traffic stops nationally by race. What she found was a system with inconsistent reporting about race and traffic stops across states. What was clear was that even after accounting for those inconsistencies, the disparities were apparent in stops involving people of color.
One of the studies she reviewed was the Stanford Open Policing Project, which analyzed data from nearly 100 million traffic stops and found significant racial disparities in policing and, in some cases, evidence that bias also played a role.
This didn't surprise Oliver. Her husband is Black and was frequently pulled over when they first moved to their Twin Cities suburb years ago. Once, the police even questioned her then 5-year-old daughter about whether he was actually her father.
"I ask why I'm being pulled over when officers approach my vehicle, and they get angry at me," Oliver said. "But I have a right to know why I'm pulled over."
She worries about her two young Black sons but is optimistic that the TurnSignl app can start to change the dynamics during a police stop. "I know when my daughter goes to Augsburg this fall, I'm going to get this app for her."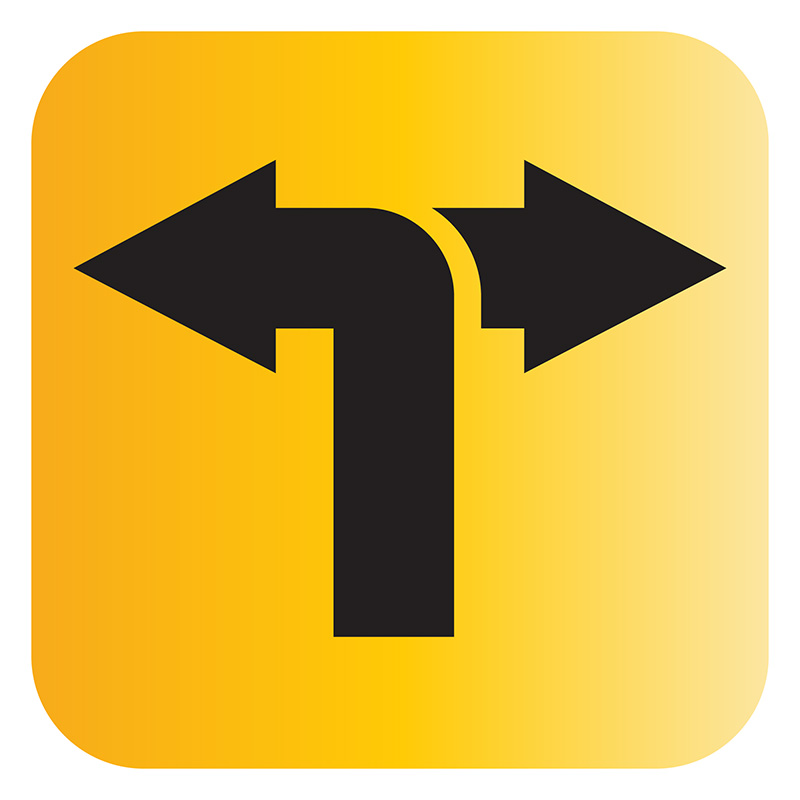 The TurnSignl app is available on the Apple and Google app stores.
---
Data on drivers and police traffic stops
Key findings from the national data research Stephanie Oliver '21 MBA gathered for the TurnSignl business plan:
On average, legal intervention death rates for Black men, were 4.7 times higher than those of white men from 1979 to 1988, and 3.2 times higher from 1988 to 1997. (2002 American Journal of Public Health study)
Black men are 3 times more likely than other races to die from the use of police force. Oliver said this was particularly alarming as Black males make up only about 6% of the total U.S. population. (2016 Centers for Disease Control and Prevention's National Vital Statistics Data 2010–14)
When driver race/ethnicity was visible, Black drivers were nearly 20% more likely to be the subject of a discretionary traffic stop than were white drivers. (2014 San Diego State University research)
Among males aged 10 years or older who were killed by police use of force, the mortality rate among non-Hispanic Black and Hispanic individuals was 2.8 and 1.7 times higher, respectively, than that among white individuals. (Racial/Ethnic Disparities in the Use of Lethal Force by U.S. Police 2010–14)
Search rates for whites are significantly lower, at around 18% of the traffic stops, while search rates for Blacks and Hispanics total about 82%. (Compiled from Stanford Open Policing Project data for Connecticut; Illinois; North Carolina; Rhode Island; South Carolina; Texas; Washington; and Wisconsin; and municipal police departments in Nashville, Tennessee; New Orleans; Philadelphia; Plano, Texas; San Diego; and San Francisco)
---
Top image: Andre Creighton '19 MBA (left) and Mychal Frelix '19 MBA were motivated to leave their stable jobs in 2020 to focus on launching the TurnSignl app. (Photo by Courtney Perry)