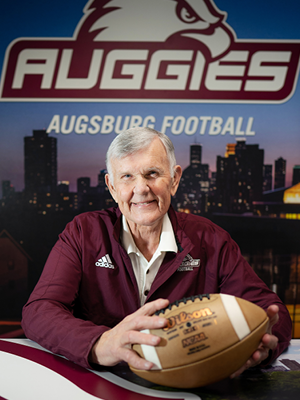 Minneapolis native Jack Osberg '62 played football from the time he was a kid in the alleys and parks of Minneapolis until his college years, and he entered Augsburg's Athletic Hall of Fame in 1979. He taught high school biology for 30 years and coached high school and college football for 60. About 22 of those years were at Augsburg, where he compiled a school-record 62 victories and, in 1997, led the team to its first Minnesota Intercollegiate Athletic Conference championship since 1928. At 81, he continues to assist Augsburg's defensive line and personally connect with students.
Everyone who knows former Augsburg football coach Jack Osberg has a story:
"This giant offensive lineman got a concussion during practice, and I was doing the evaluation," said Missy Strauch, Augsburg head athletic trainer and athletics health care administrator. "Jack waited because he wanted to drive the student home, and when I left the building, the two were sitting on the steps. The young man was sobbing. Jack sat there, listening. Come to find out the student was the sole caregiver for his mother, who was dealing with Alzheimer's. Jack and his wife, Nina, checked on the student every day, and they are still in touch. That's Jack. He coached these students to become better players, but he guided them—by example—to become even better people."
"Jack is a lifelong friend, and someone anyone—no matter their age—looks up to because he works so hard and cares so deeply about everyone, whether you are the starting quarterback or the third string," said Jim Roback '63, who met Osberg on the first day of classes at Augsburg in 1958. "I've played and coached with him, and there isn't a more genuine, collaborative person who can pull out the best in anyone. You never worked for Jack, you worked with him."
"He was a father figure to us," said Augsburg Football Head Coach Derrin Lamker '97. "I'll never forget when I was quarterback, and we were getting ready for our championship game. I walked into Jack's office, and he and Nina were reviewing a list of our parents' names. I was like, 'Coach, what are you doing? We're getting ready to play the game of our lives.' He said, 'You worry about the game; we want to be able to greet [the student-athletes'] parents by name.' Well, we won the championship, and they greeted each parent by name."
"I've been taking notes from Jack since my first day of zoology class when he was a biology teacher at Wayzata High School," said former Augsburg Women's Hockey Head Coach Jill Pohtilla. "I recall overhearing him with a recruit. He told the young man, 'Augsburg is not built with bricks and mortar; it's built with people,' and that's how Jack lived—recognizing that people drive success. So whether it's athletics or life, you surround yourself with people who make you better."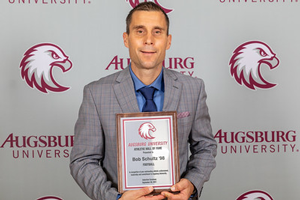 "We had just won the [MIAC] championship in 1997. Nearly everyone had left, but four of us were cleaning up the locker room," said Ted Schultz '98, the student activities director for Minnetonka Public Schools in Minnesota. "Jack walked in with an old boom box. He pulled out a cassette tape from his back pocket and popped it in. 'We Are the Champions' by Queen played out. Jack said, 'I've been waiting to do that my entire life,' and we all just sat and listened."
"Jack regularly drove 40 minutes to watch my son's high school football games. My son, Kyle, was 125 pounds, but he played with heart, like I did, and Jack loves that," said Michael Weidner '83, a former defensive end. "Think about that. My college football coach cares enough about me and my family to show that kind of support, and consider the thousands of people he's coached or taught and showed the same devotion and support."
"When I heard an 81-year-old was coming to work with our defensive line, a part of me thought, 'What can this guy teach us? How will we relate?'" said Shaquille Young '23, a third-year social work major. "Well, I learned you can't let stereotypes get in the way of learning something new. Coach Osberg is one of the greatest people I have met in my life. He knows football like he invented it, and he makes everyone feel welcome and supported."
The first quarter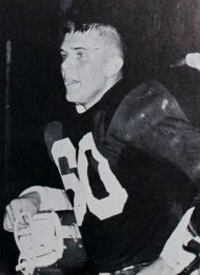 Osberg was born in 1940, when football players wore leather helmets. Football was everything to Osberg and his friends, who passed and blocked in the alleys of Minneapolis. In fifth grade, he entered club sports and church group leagues, which were 15 minutes from Augsburg's campus. Osberg worshiped with Auggie professors and coaches, so when it came time to attend college, there was no other choice.
"I was the first to go to college in my family," Osberg said. "My father was a hardworking man, but he disliked his job working in basements as a lithographer. He wanted us to lead a better life, and I saw my future in those professors and coaches. I knew Augsburg was the place to improve my spiritual, athletic, and academic self."
The graduate of Minneapolis' Washburn High School became a standout football player at Augsburg from 1958 to 1961, earning induction into the college's Athletic Hall of Fame in 1979. A nose guard/offensive guard, Osberg was named All-MIAC twice and selected as MVP, team captain, and Lutheran All-American. He also played baseball his freshman year and wrestled for three years.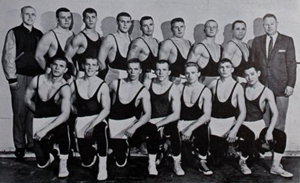 "I had never wrestled before, but the coach recruited me. I was never all that good, but wrestling made me a better football player. It muscled me up and trimmed me down," he said. "Wrestling demands mental and physical strength, and it instills a natural flow and balance."
Osberg didn't live on campus—he couldn't afford it. Commuting, Osberg formed a bond with other students from hardworking city families who put themselves through school sorting mail at the post office or loading shotgun shells onto railcars. The gang of about 12, mostly student-athletes, called themselves "The Syndicate" because they would "sometimes skip required chapel [services] to shoot the bull at Smiley's Pub," Osberg said.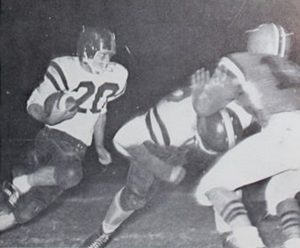 Since graduation in 1962, the crew has gathered each year for a fall picnic and holiday party. Jim Roback '63 is one of the core Syndicate members who played football, baseball (as captain), and track at Augsburg. He also coached with Osberg, serving as Augsburg's defensive coordinator from 1995 to 2001 and 2006 to 2007, with a 2002 season stint as offensive coordinator.
"I taught and coached for 46 years, and I thought that was a long time. Jack just keeps on going," said Roback, who taught and coached football, basketball, baseball, track, and women's tennis in the Anoka-Hennepin School District for 34 years. "Jack worked every minute of the day, and when he wasn't working, he was having lunch with a group of students in his office or helping them through this or that."
Another Syndicate member—also a teacher—coached alongside Roback and Osberg. Ron Scott '62 met Jack during college registration and joined him on the offensive line as a three-year, letter-winning center and blocker. From 1997 to 2002, Scott served as an assistant football coach at Augsburg.
"Jack is not a boss; he is a leader, and he motivates people by example—never yelling, but showing and guiding. Whether you were playing or working for him, you didn't want to disappoint him," said Scott, who retired in 1997 after 36 years coaching football and working as a teacher or administrator for the Anoka-Hennepin School District. "Jack never gave up on those Auggies. Whether winning or losing, his attitude never changed."
The second quarter
Osberg loves football, but he is adamant the sport does not define him. He is equally passionate about teaching. "I'm not sure if I was meant to coach and teach or teach and coach," he added. "I loved coaching full-time at Augsburg, but the high school science classroom always tugged at me. I love the living world, and there is something about teaching kids at that age and really digging into science with them."
He loved the challenge of figuring out ways to engage all students in biology, developing activities for all learning styles and covering a range of topics to motivate students beyond grades.
"Teaching helps you appreciate the impact you—as a single human being—can have on a person, and I was OK never knowing my impact because students move on, and you may never reconnect with them. But I've had enough students, some of them doctors or scientists, who have reached out to tell me how my classes and outlook helped them find their passionate purpose."
Osberg began his teaching (and coaching) career immediately after graduation from Augsburg. He served as a biology teacher and assistant football coach at Minneapolis' Roosevelt High School from 1962 to 1970, taking one year off in 1968 to serve as a graduate assistant on Bob Devaney's staff at Nebraska University. "That's where I really learned my x's and o's in football," Osberg said, "but it is where I also learned that I wasn't made for a large program. I needed a more personal experience with players. For me, coaching is about more than the game."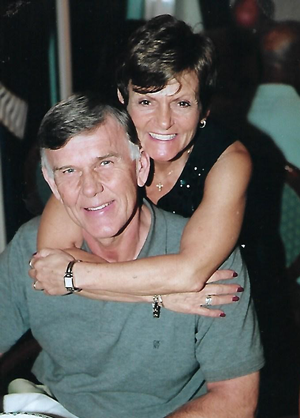 In 1971, Osberg was named head coach at Wayzata High School in Plymouth, Minnesota, where he served for six seasons. It was in the teacher's lounge at Wayzata where he overheard a fellow teacher, Nina, talking with the school counselor about alcoholism's effect on relationships. Alcohol dissolved Osberg's first marriage, which had left him raising three kids under the age of 5, so he joined the conversation, which eventually developed into a larger support group. Osberg grew close to Nina, who guided Wayzata's alternative education program for 28 years. In November 1976, the two married and blended their family of six children.
"She is a 4-foot-7-inch spark plug," Osberg said of Nina. "She dealt with difficult kids all day, then came home to manage our family, then she'd help me with recruitment and other administrative duties. She was a mother to many Augsburg players who needed guidance, and she was a friend to so many of their parents."
Osberg recalls asking Nina to join him on a recruiting trip after school because she would "always seal the deal," he said. Osberg realized on the drive that Tomah, Wisconsin, was a bit farther than he thought. The couple drove three hours through a snowstorm to stand on an unheated concrete floor and watch the recruit play hockey. They thawed over snacks and coffee at the recruit's home. "We didn't get home until 3 a.m., and it was a school night, but she never complained, and that athlete came to Augsburg," said Osberg, who taught high school while serving part-time as an assistant football coach at Augsburg from 1977 to 1984. "We were a great team."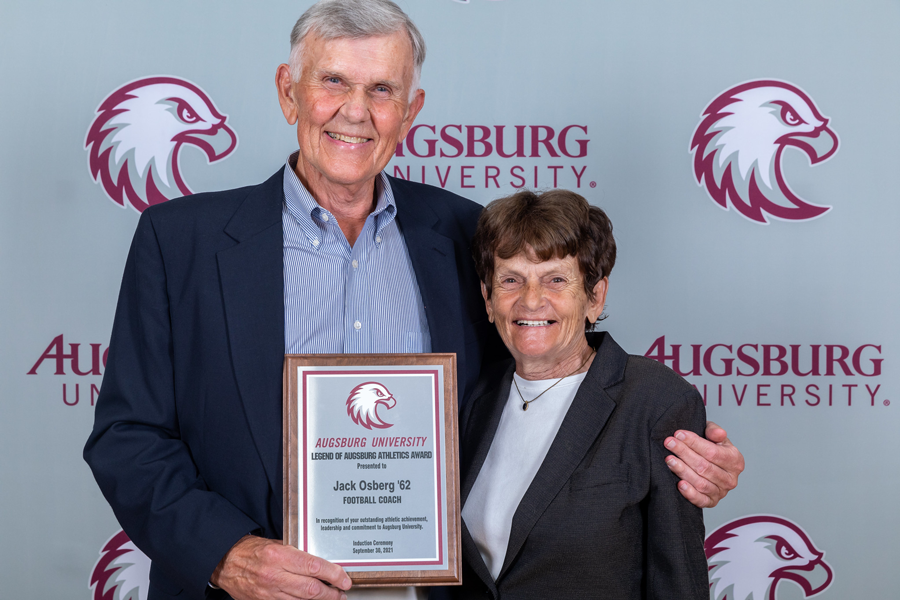 The third quarter
Nina continued to be "his everything" as Osberg transitioned to become Augsburg's head football coach in 1991. The previous coach had been there five years and won four out of 50 games. "There weren't many kids in the program, and they knew how to lose and blame someone else," Osberg said. "It was difficult for them to look within, to find the gumption and confidence to believe they could turn the program around."
Jack had that energy and belief, and then some. He recruited hard, even recruiting his own son, James "Jamie" Osberg '95, who was set to play for Gustavus Adolphus College.
"That first year, Concordia was our last game, and they beat us 62-nothing. The next year, they were our last game, and they beat us 58-nothing. The next year, it was 28-nothing. Those kids' senior year, we played Concordia our first game of the season, and we beat them 10 to seven. We did it. What a triumph."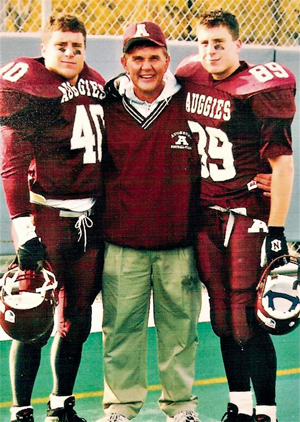 The experience of turning around a program was an exercise in faith, Osberg said. That faith, focus, and family-like atmosphere continued to build the program. Ted Schultz recalls Osberg driving to Hudson, Wisconsin, to watch him and his twin brother, Bob Schultz '98, play in their senior homecoming game.
"Jack was not afraid to speak about faith and the larger picture of why we come together as a football team, and not many coaches lead with that during a recruitment visit. He was genuine and made the program feel like a family, which it was and continues to be," said Ted Schultz. "If you break down any transformational coaching, it's about relationships. Being able to connect with the players and make an impact and build a relationship beyond the field is what separates a good coach from a great one."
Bob Schultz, the fifth-grade teacher at Kimberly Lane Elementary in the Wayzata School District, said he continues to reflect on Osberg, whether in his parenting, teaching, or coaching. Having been a teacher for 24 years and a high school football coach for 20, he knows both the challenges and the triumphs of the profession.
"Jack approached every day with purpose and energy," said Bob, who earned conference honors as a linebacker for Augsburg. "He taught me to value every kid, no matter how well they played on the field. And he taught me to be vulnerable, as we saw him balance parenting and football."
The Schultzes were part of the storied 1997 MIAC championship team along with current Augsburg Football Head Coach Derrin Lamker '97. The relationship between Lamker and Osberg sounds like a ping-pong match: Osberg coached Lamker in the '90s, then Lamker worked for Osberg as an assistant coach at Augsburg from 1999 to 2002. When Lamker was football head coach at Osseo High School, Osberg came out of retirement to coach the Osseo line for eight years. In Fall 2020, Lamker recruited Osberg to help guide Augsburg's defensive line.
"It was so humbling and exciting when Jack came to work for me at Osseo. I'd ask him for advice, and he would give it, but he was never overbearing," said Lamker, who led Osseo to three conference championships in 11 years. "I was equally thrilled when he agreed to help coach Auggies in 2021. You might think 'kids these days' wouldn't listen to an old guy, but they do. They soak up his energy and knowledge. He has this inspiringly subtle way of uniting coaches and players from different life experiences and backgrounds together for a common purpose."
The fourth quarter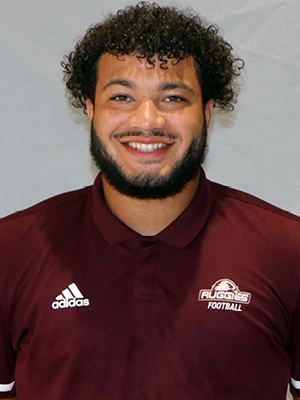 Auggie defensive lineman Shaquille Young '23 said "old" doesn't apply to Coach Osberg.
"He's exciting to watch on the football field, running back and forth alongside the players, pushing us around, and the few times he yells, he never curses. One of the players knocked him over in practice, but he got right up and cracked a joke about the time his hip popped out of place.
"He has so much knowledge to offer our young minds," Young said. "He's one of the greatest individuals I have met in my life, with his ability to make everyone feel welcomed and valued. He brings his best every day, and if he can do it, so can we. He speaks, and we listen."
But it's not only what he says, Young said. Each day of practice, Osberg sets up a folding chair on the field for his wife, Nina, 77, who has Alzheimer's disease. He is her sole caregiver. Lamker said the players and coaches see his devotion to her and are reminded of the fragility of life and the importance of relationships.
"It's unbelievable how dedicated Jack is to Nina, watching her 24/7 during the COVID-19 pandemic. He's living out the marriage vows—for better or worse," Lamker said. "During games, she sits on the bench with players who are injured or not playing. They talk with and cheer alongside her. It's really neat to see their connection to and love for her as well."
Augsburg Athletic Director Jeff Swenson '79 said the Jack-Nina bond is one for the record books, and he would know. Swenson worked alongside the powerhouse couple for more than 45 years: first as a student-athlete when he backed Auggie's defensive line, as an assistant football coach for 10 years, as a colleague, and finally as a boss, when Swenson transitioned into administration in 2001. The shift in roles never altered their relationship, Swenson said. Jack's ability to treat everyone with respect, honor, and dignity—regardless of roles—is the greatest lesson Swenson adopted from his coach.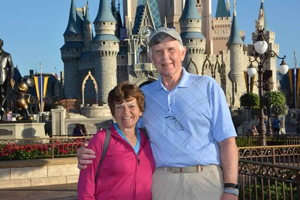 "Jack is a living representation of Augsburg's mission. He pushes everyone around him to give their best to meaningful pursuits, to be informed about the world and to make a difference where and when you can. He pushes people to lead with faith and value all people and what they bring to the table," Swenson said. "When you meet someone like that, you want to keep them in your lives."
Former Auggie defensive end Michael Weidner '83 also kept in touch with the Osbergs after graduation. They'd talk on the phone or meet for lunch; Jack and Nina came to Weidner's kid's games. By Summer 2020, Weidner recognized Jack needed a break from 24-7 caregiving. Weidner emailed former players and friends, asking them to visit with Jack and Nina—outside and distanced—some evening that summer.
"Jack was hurting and struggling during the beginning of the pandemic, when nobody was socializing," said Weidner, who is a lawyer based in Eagan, Minnesota. "Jack would do anything for one of his players. He's been there for all of us, through good times and bad, so people came out of the woodwork. A bunch of us rotated going to his house in the evenings to talk about anything for an hour or two."
Osberg said the chats saved him. "With everything in my life, I've been able to hustle to change the program or win the game, I've been able to work hard to achieve success or a positive outcome. But this is a game we can't win. It's incurable. It's deadly. I'm getting to the point where I can't care for her anymore, and it's killing me. She is my everything," said Osberg, who received the Legacy of Augsburg Athletic Award during the 2020–21 Augsburg Athletic Hall of Fame Ceremony. "Those chats meant the world to me. To get out and coach or to talk with friends and former players about anything other than this disease was and is a gift."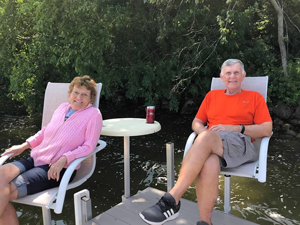 But Osberg does not accept defeat. He quickly shifts to the positive, referencing their strong and active circle of friends and family, including 12 grandchildren and six kids—three of whom graduated from Augsburg: Peter Osberg '93, Jamie Osberg '95, and Anne "Annie" (Osberg) Moore '01.
"We all have to play the hand we are dealt," Osberg said. "I am glad I focused so much of my life on relationships because now, when I need people most, they are there. I've been a part of Augsburg all my life, and Nina is an honorary Auggie. It's reassuring to know that even though she may forget Augsburg, the people who make up that great institution won't forget her, and they won't forget us. It's family."
---
Top image: Jack Osberg '62 (Photo by Courtney Perry)