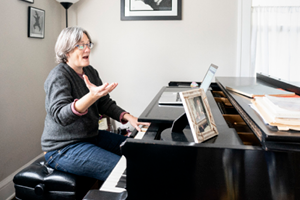 The Augsburg/Twin Cities Global Harmony Choir began in Fall 2020 as a campus-community partnership to celebrate diverse voices and global choral works. Led by Kristina Boerger, the John N. Schwartz professor of choral leadership and conducting, this new choral project is in partnership with Village Harmony, a nonprofit that works with international musicians who educate and provide performance opportunities for musicians in diverse styles of traditional vocal harmony.
"Augsburg designed the professorship I hold to globalize our choral traditions," Boerger said. This partnership with Village Harmony is one way she answers that charge—and it became possible because of the pandemic.
Before COVID-19, Village Harmony's educational offerings were only available through travel to the countries where the musicians they work with live. During the pandemic, the organization began connecting people with instructors from around the world via video conferencing. That approach has continued, even as choirs have returned to in-person practices and performances.
As its name implies, the Augsburg/Twin Cities Global Harmony Choir includes voices on and off campus. During its first year, about 12 community members joined more than 60 students on Zoom from their homes and dorm rooms each Wednesday evening. During the 2021-22 school year, the choir held in-person practices, while continuing to connect with their instructors virtually, on Fridays. The choir returned to Wednesday practice times in the fall.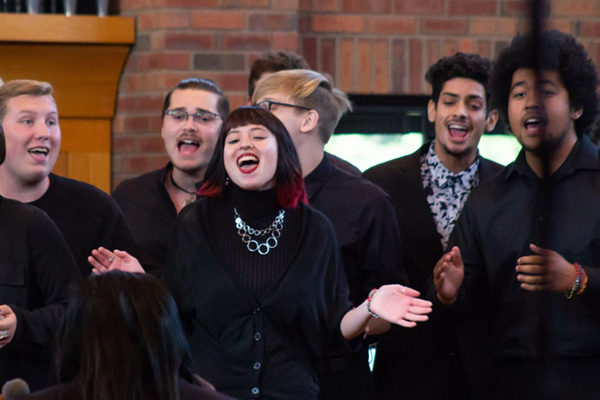 During the practices, the international musicians guide choir members through each song, explaining challenging notes, such as microtones, or techniques, such as the Balkan smile, often without the aid of sheet music. The choir has learned songs from Cuba, South Africa, Ukraine, Bosnia, the Republic of Georgia, Corsica, Nigeria, Iran, Russia, Sweden, and Quebec, as well as Appalachian and Black Gospel music from the United States.
Boerger said choir participants have been overwhelmingly positive about their experience. She noted that one community member said that participation got them through the isolation of the pandemic. A student, speaking about the sense of connection the music fostered, told Boerger, "This is why I came to Augsburg."
Choir members talk about the experience and perform a global medley of tunes in the video of the final concert for the 2020-21 academic year. Check out the list of upcoming in-person choir concerts and learn more about the group at the Choral Studies website. For questions or to inquire about joining the choir, please contact Professor Boerger at boerger@augsburg.edu.
Top image: Augsburg students perform at 2019 homecoming concert. (Photo by Bob Stacke)