Brian Alfred said no teacher had seen him before the sixth grade. The young Black boy had transferred districts because he felt overlooked at his previous school: "I was rarely called on, and when I gave answers, they were somehow never right. I asked for help that never came, and I got in trouble for little things. I felt like I had messed up before each day started. I began to lose respect for myself and others."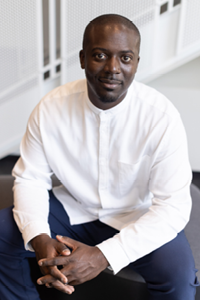 But he got a fresh start with Keenan Jones '13, in whose classroom he saw a man who shared his skin color, who talked in a familiar cadence, who picked books with Black faces and related class to his life. "He also cared for us," said Alfred, now a high school sophomore. "Mr. Jones always had our backs, even when we made mistakes. He called us and emailed our parents. He was and still is my champion."
Jones refused to let Alfred and other Black boys at L.H. Tanglen Elementary School in Minnetonka, Minnesota, become a statistic. He refused to watch them become faces of his past: "Guys I grew up with, who ate pancakes at my house, who I had sleepovers with and who lived next door ended up going down negative paths, while I was playing basketball and going to class," said Jones. "They were no different from me, but here I am and there they are, struggling against a tall brick wall of injustice."
Jones expanded his outreach beyond the classroom in 2018, when he co-founded Hopkins Educators of Color, a mentorship group focused on recruitment and retention within the Hopkins Public Schools district. He formed the Tanglen Lunch Scholars for fifth- and sixth-grade Black boys to connect with and learn from young Black men in college. This mentoring experiment, which partnered with the Black Male Success Initiative, fueled more outreach. In late August, Jones transitioned to a new role for Wayzata Public Schools. As the district's family engagement specialist, Jones will support students and families of marginalized communities—a role, Jones said, he has been building toward his entire life.
'With education comes power'
In 2019, Jones began advising the Minnesota Children's Cabinet, advocating for teacher diversity and sharing strategies to empower and better educate Black boys. The following year—with three kids, a full-time job, and the COVID-19 pandemic—Jones founded Literacy for Freedom, a nonprofit for Black males in grades 5–12 that focuses on literacy, empowerment, social justice, and social/emotional health.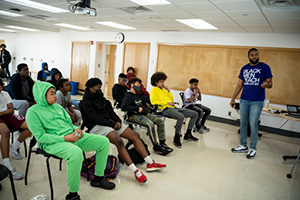 In 2020 he began working with Black Men Teach, which aims to recruit, prepare, place, and retain Black male teachers in elementary schools.
"Listen, young Black boys are not dreaming about carjacking and acting out in school. They are no different from children of any other color, but the statistics speak to the processes, structures, and often unconscious biases in our society that keep these boys down," he said. "When you constantly receive messages that you are bad, dangerous, and dumb, you can easily become those things. America and our world could be so much more if we empowered and supported these boys and their hopes and dreams."
Among its range of programs, Literacy for Freedom holds a mentorship group on select Saturdays from October to May at The Depot Coffee House in Hopkins, Minnesota. For about two hours, tables of fifth- to 12th-graders share short- and long-term academic goals, discussing topics like hip hop culture, identity, mental health, and microaggressions. They track and talk about the books they have read and challenge each other to maintain at least a 3.0 GPA. In the fall, Jones will expand the mentorship program to two groups, one for grades 5–8 and one for grades 9–12.
"At Literacy for Freedom, we teach and reinforce critical and media literacy as strategies in collaborative settings that help to strengthen identity and to build a knowledge base that will help combat systemic racism," said Jones of the nonprofit, which also brings Black boys together for community service, social events, and college tours.
Jones' focus on literacy comes from his belief that if you can't read, you cannot fully participate in and meaningfully contribute to society. "It's no mystery why masters kept their slaves from reading," Jones said. "With education comes power."
"I remember how I felt when I started reading texts by Black authors about Black lives. They opened up my world to possibility and hope," said Jones, who, for a time, was the only Black male elementary school educator in the Hopkins district, which serves nearly 2,000 Black students. "It's amazing what happens when you put culturally relevant texts into the hands of these kids, and you give them choices about what they read, and you relate the reading to their lives, and you form community around learning and success."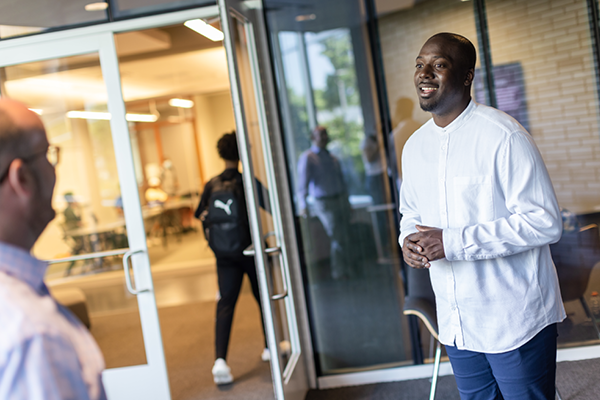 Jahmier Smith, a sophomore at Eagan High School, joined Literacy for Freedom for that community. Smith met Jones while the boy's father was serving two years in prison. Many of his teachers, Smith said, treated him differently: "They take their time explaining things to white students, but don't have the same care with Black students and see us in a bad light." But not Mr. Jones.
"Mr. Jones was there for me, and I could talk to him about it and anything else," said Smith, who wants to be a defense lawyer. "Now through Literacy for Freedom, there's always someone I can talk to about anything—to help me focus on all my goals and provide me with opportunities to learn and become whatever I want in life. I am so grateful."
A 2017 study showed low-income Black boys who had at least one Black teacher in grades three through five were 29% more likely to say they were considering college, and 39% less likely to drop out of high school.
Jones turned to Augsburg for support
Before Literacy for Freedom was a fully formed idea, Jones was certain he would find a literacy-focused nonprofit for young Black boys that he could simply join. Nope. He found area nonprofits that support Black boys and girls, and he found nonprofits focused on literacy, but he didn't find anything specifically focused on literacy as a way to close the education gap among Black boys and their white peers.
The research is lacking as well. In 2021, the Journal of Language & Literacy Education published the first research study to examine literacy practices specifically for Black boys across the entire preschool through 12th-grade pipeline with regard to both reading and writing. Jones said he can't solve all the interconnected and complex factors limiting Black boys, but he can tackle what he sees as the most critical disparity, with roughly 6% of 12th-grade Black males reading at proficiency and 1% reading at an advanced level, according to 2019 National Assessment of Education Progress data.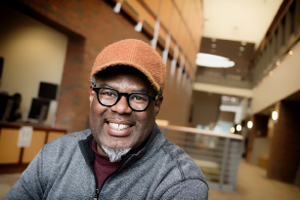 As he grew the organization, Jones reached out to "the best of the best," he said, for guidance and support. While attending Augsburg, Jones had never met Terrance Kwame-Ross, associate professor of education, but Jones had read his research and writing about the education and development of Black boys.
"Dr. Kwame-Ross gave me support and purpose," Jones said. "I called this influential thought-leader, and he took the time to share resources with me, suggest conferences, and talk with me about my ideas and vision. It was powerful, and our conversations gave me the confidence and connections to kickstart Literacy for Freedom."
Kwame-Ross picked up the phone because he knows this work can be lonely. Some people don't see the problems, others ignore them, and more have opinions that stomp out your spirit. The red tape and a lack of resources can be crippling. But it is work worth doing, Kwame-Ross said, and Jones is an ideal leader.
"He's been in these students' shoes," Kwame-Ross said. "As a Black male in education, you recognize the importance of role modeling, networking, belonging, and fellowship. Keenan and I had deep and practical conversations about Black males and how learning attached to reading, literacy, and freedom can deliver long-lasting and powerful results for young Black males, their families, communities, neighborhoods, schools, and society as a whole."
'Black males are left behind'
Kwame-Ross said this work is not only for the Jones' of the world. "Young Black males are American citizens and deserve the same rights and equality as all other demographic populations," he said.
"In most all categories that nation-states use to measure the wellbeing of their citizens, Black males are left behind, while being overly represented in prison and as police targets in killings," he added. "America, and all of its citizens, has some responsibility for the historical, social, and current realities of young Black males as their personal troubles are, in fact, public issues."
Jones said he has been overwhelmed by the response from the community since forming Literacy for Freedom. Black men are volunteering to help him build the organization, and he secured grant funds to support part-time staff. Following a November 2021 article in the Minneapolis Star-Tribune, legislators began taking his calls, and other nonprofits have reached out to partner. He received letters and calls of support, including from an "80-year-old white lady who said she was tired of reading about Black boys winding up in prison. 'I don't have social media or a cell phone,' she told me, 'But I would love to sit and read with your boys.'"
"It's these people," Jones said, "who take time to remind you this work matters and who offer what little or great support they can, that keep you going when the going gets tough. They are a blessing and make me feel like we are moving the needle."
His success feels like luck
Jones never thought he would be pictured in a suit above a full-page article in a major metropolitan newspaper. Born and raised in Indiana before moving outside Chicago, Jones was labeled a troublemaker at school, dreamed of NBA stardom, and had friends in gangs. When Ford Motor Credit offered his dad a job, the family moved to Brooklyn Park, Minnesota, to start over.
"I think back on my life, and I wish I could say that my success was more than luck, but I'm not so sure. One wrong decision here or one less person who cared there, and I might be in jail or worse," Jones said. "I knew and still know many friends and family who are as smart and driven as me who didn't make it."
Jones enjoyed a successful basketball career at Osseo High School, which led him to play for two junior colleges in Maryland and Tennessee. He transferred to the University of Minnesota–Duluth but sustained a career-ending injury prior to his junior year. He was depressed and directionless, graduating with an associate's degree in 2008 before working as a paraprofessional for Robbinsdale Area Schools.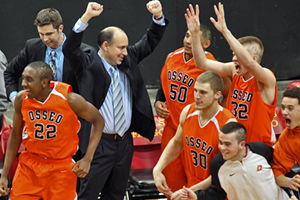 That same year, he began assisting his former basketball coach, Tim Theisen '93, who is a teacher and coach for the Osseo School District. Jones saw how Theisen—an Augsburg Hall of Famer—balanced coaching and teaching. With Theisen's prodding, he enrolled in the Augsburg Weekend College program.
He met his now wife, Lisa, during this time. She was a Spanish teacher at Robbinsdale Armstrong High School, and she saw Jones operate with students and also validated his educational aspirations. The two married in 2014, the year after Jones became a licensed teacher and started his first job as a fourth-grade teacher at Robbinsdale.
"When I was at Augsburg, it was one of the roughest times in my life. I was a single dad, putting myself through school while working. At one point, I lost an apartment and didn't have a car, but I knew I had to keep going. Augsburg professors and staff gave me hope. They saw that I could make something of myself and connected me with resources at Augsburg, like the food shelf, and with support in the community. I am forever grateful."
'Just think if everyone did something to make a difference'
One such supporter was Barbara West, who retired in March 2021 as instructor of education and faculty coordinator of teacher placement and licensing at Augsburg. Jones said, "she saw me as a talented young man she was not going to let fall through the cracks." The grandmother of nine offered words of wisdom, helped him identify financial resources, and followed up with him to make sure he met deadlines. West said Jones is an inspiration.
"What a fine young man," said West, who walked to the "colored school" until the third grade, when the U.S. Supreme Court ruled school segregation unconstitutional in Brown vs. Board of Education.
"Just think what our world would look like if everyone did something to make a difference like Keenan. He isn't overwhelmed by systemic, lasting issues," West said. "He gets that standardized tests are biased against people of color and that a person cannot make it in society without learning to read—to understand—and feeling empowered to verbalize your thoughts," she added.
"He understands that when you are fighting for survival, those things don't seem as important, and you may act out. And when you do, our society labels you and you get cast aside," West added. "But Keenan isn't casting people aside. He hasn't given up, and he isn't going to give up when things look impossible. He has the perfect combination of lived experiences, research, and heart to dramatically improve academic and life outcomes for Black male students."
'This work can't stop'
During her 24-year tenure at Augsburg, West was involved with cross-campus efforts to draw prospective teachers of color. "Everyone wants them, but they don't grow on trees," she said. "Augsburg tried its hardest, but the issue is deeper and starts long before college admissions. If Black children have a bad experience at school—we don't call on them, they get in trouble more, etc.—then they aren't going to want to be schoolteachers. And if they don't see more Black professionals in all fields, then they won't imagine themselves as teachers or much of anything else. It's an uphill battle."
Jones and his colleagues are on those front lines—working from preschool through high school to imagine a more inclusive, fulfilling future. In May, Hopkins Schools hosted its first Black Male Summit as a way to support and empower young Black males in grades 6–12. A total of 68 students participated in the event from Hopkins and surrounding communities like Wayzata, Robbinsdale, and Mounds View.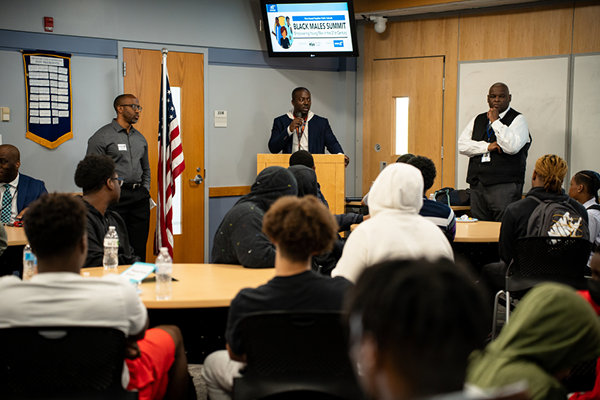 "We are invested in providing opportunities and pathways for young Black boys, and this is the start of more things to come," Jones said. "Each boy matters. You connect with and see a change in one student, and you feel like you've changed the world. This work can't and won't stop."
Brian Alfred feels that. He doesn't want to let Jones down, and he is determined to be a role model for future generations.
"I am going to play basketball for Duke and go into computer science," Alfred said with confidence. "This experience has taught me perseverance and that all of us need to find that one person who is never going to give up on you. It has taught me to avoid temptation, strive for greatness, and not let others define you."
Jones agrees. Early in his career, a colleague gave him a compliment: "Oh, you have such great rapport with your students as a tall Black man. Do you think it's because they are scared of you or because they think you're cool, like an NBA star?"
He forced a smile and walked away.
But his inner dialogue replied: "No," I thought. "I have a good rapport with my students because I do lots of research about pedagogy, and I work hard to understand and connect with them. I present them with culturally relevant texts and hands-on, practical learning. I praise them, give them choice, and hold them to high expectations. That is why I have a good rapport with my students."
These types of comments, Jones said, fuel him—"to go harder, do more research, and make more of a difference."
---
Top image: Keenan Jones '13, founder and executive director of Literacy for Freedom. (Photo by Rebecca Slater)