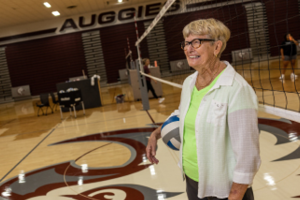 Three Augsburg students walked into the office of Joyce Anderson Pfaff '65 in the fall of 1972. "When are volleyball tryouts?" they asked the health and physical education instructor. Pfaff didn't have the heart to tell them there was no women's team. "Two o'clock on Tuesday," she responded, "But only if you can recruit enough women to support a team." To her surprise, more than a dozen women—enough for a varsity and junior varsity—showed up.
"And that's how I became Augsburg's first women's volleyball coach," said Pfaff, who had never coached the game but "was enthusiastic and a great organizer," she added.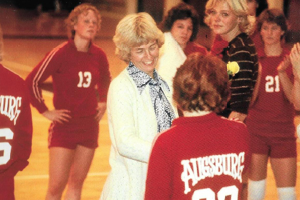 "The women had played in high school, and they were very good. It didn't matter that I didn't know much about the sport. I lined up competitions and organized a practice schedule," said Pfaff, Augsburg's first women's athletic director. "They wore their physical education uniforms until we sold enough concessions at men's games to buy fabric that one of the teammates, Marilyn Pearson Florian '76, sewed into uniforms."
The team ranked third in the state that year, and "I realized they needed a real coach," said Pfaff, who paid Mary Timm $500 a year to guide the team in 1973. Timm was able to accept that wage because she had a full-time job as a day care supervisor. Timm used vacation time to travel with the team, which earned a perfect 8-0 record at home that year.
This year marks 50 years since Augsburg volleyball's storied start, and 50 years since the passage of Title IX, the landmark federal civil rights law that prohibits sex-based discrimination in any school or education program that receives funding from the federal government.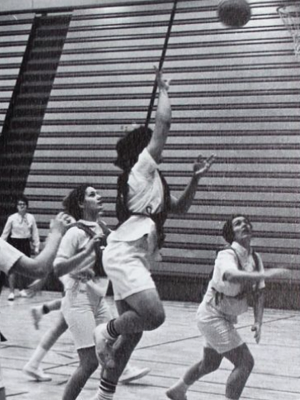 First class of all-female Hall of Famers
To honor decades of female Auggies who broke barriers, the university will induct its first class of all-female student-athletes into the Hall of Fame during Homecoming Weekend, October 6–7. Pfaff will receive the Legend of Augsburg Athletics Award before joining other trailblazing Auggies at the dedication of the renovated women's locker room in Si Melby Hall. The locker room will be named in honor of Augsburg Hall of Famer Patricia Piepenburg '69, a member of the fabled "Auggiettes" women's basketball team, which dominated local teams from the 1950s to early '70s.
"It's about time," Pfaff said, unapologetically. Female student-athletes like Pipenburg, Pfaff said, climbed over and busted down walls. "It's time for us to dedicate some walls to them."
Pfaff's husband interjected from the other room: "Tell her about going to court."
Pfaff called to mind yet another milestone in her storied career: "The volleyball team got second in state, but the Association for Intercollegiate Athletics for Women said we couldn't go to regionals because we hadn't paid national dues yet. So, we took AIAW to court in 1975. I was called in to testify and thought I should have a title. I called President (Oscar A.) Anderson, and he agreed I could say I was the women's athletic director, which was nice, since I had been doing the job for three years. I joke that I had to go to court to get my title."
A powerhouse for progress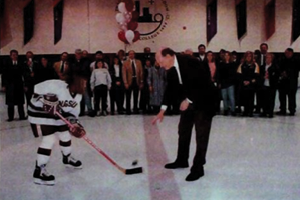 The title stuck, and Pfaff stuck around, too, until 1988. During and since her tenure, Augsburg Athletics has evolved as a leading supporter of women's sports. In 1995, Augsburg added the first varsity women's hockey team in the Midwest, and was among the first to add women's lacrosse in 2014. Women's wrestling—another first in the Midwest—followed in 2019. In 2020, the Minnesota Coalition of Women in Athletic Leadership awarded Augsburg with a Breaking Barriers Award, and the MIAC celebrated Augsburg for employing the most female coaches in the conference.
Athletic Director Jeff Swenson '79 said the university supports more women's teams (12) than men's (10), and the athletic department works hard to create an equitable, forward-thinking, and inclusive culture. The women's locker room remodel, he added, is a fitting upgrade during this momentous year.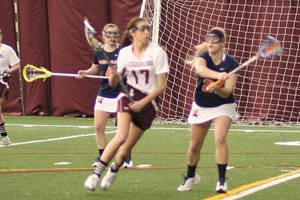 "The women's locker room was constructed in 1979 in what was formerly a dirt-floor batting cage known as 'the pit.' Prior to that time, the women's teams used the men's visiting team locker room, which was often a scheduling nightmare," he said. "The renovation includes much-needed improvements to the shower and restroom facilities, and each of Augsburg's women's teams will have their own year-round team room, so our female student-athletes will finally have a place to call home."
Junior Samaiya Buchanan '24 is among Augsburg's more than 170 female student-athletes who cannot wait to set foot in the newly renovated space. A commuter student, Buchanan said she plans to hang out in the locker rooms between classes and basketball practices to study or bond with teammates. Upgrading women's spaces to rival those of men's facilities, the 5'4" guard said, speaks to how much the university values their hard work, dedication, and success.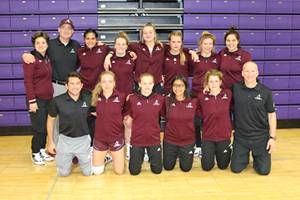 "The renovation, particularly during this Title IX milestone, reminds our generation to keep setting the bar high and to not let society separate us or treat us unequally because we are women," said Buchanan, a business marketing and management major. "We need to keep exposing the differences between men's and women's sports and keep performing and perfecting our skills to show that we are just as dedicated and capable."
'It's about heart'
But when Buchanan and others look back on their own experiences in sports and the stories of those who came before them, they don't dwell on facilities. "Being a female student-athlete is about heart," Buchanan said. "It's tough to balance your grades as you work to be a positive, hardworking, and thriving athlete and maintain your mental health and friendships—all while often having to prove yourself a bit more than your male peers. Having heart keeps you motivated to keep thriving and pushing yourself to stay in it no matter what, not only for yourself but for your program, your team, and those around you."
Pfaff is thrilled to see the same indomitable spirit in today's female student-athletes as in generations past. Part of her calling now is keeping the memories and stories of those teams and players alive—like the first women to enter track and field events, and Augsburg's first softball players, who ran bases on a field made using a parent's tractor. People like golfer Kathy Korum '81, who became the first female student-athlete to play and letter on a men's varsity team.
Or Phyllis Acker '61, who would wake up before dawn to sneak into the handball courts. "Sure enough, the men would come along and start banging on the door to kick us out because their handball tournament was more urgent than ours," she explained. "We just ignored them until we were all done playing, and then we'd sneak out."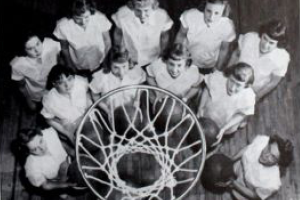 Or Jane Helmke '81, who brought female student-athletes across sports to form the Augsburg Women's Athletic Club in 1974. Helmke, a journalism student, also wrote and published a newsletter to update alumni and friends about women's athletics at Augsburg.
In the August 1984 edition, Helmke provided updates about the first tennis courts and an ode to LaVonne Johnson Peterson '50, or "Ma Pete" to most. Peterson earned a bachelor's degree from Augsburg before beginning her 30-year teaching career and 18-year basketball coaching stint at Augsburg. Helmke wrote that Peterson, who coached basketball for 18 years, personally paid officials' wages and bought players charm bracelets with charms for each year of play, in lieu of the letters female student-athletes were unable to earn until 1989.
'We've come a long way'
None of the student-athletes in this year's Hall of Fame were yet born in 1982, when Pfaff joined other area women's athletic directors in penning a request to join the Minnesota Intercollegiate Athletic Conference (MIAC). "Conference leaders never invited us, but nobody protested the letter, so we considered it official," she added.
"We've come a long way," said Melissa Lee '04, Augsburg's head softball coach and associate athletic director. Lee joined the coaching staff in 2004, after competing in every inning of every game during her four-year career; she has spent more years at Augsburg than in her childhood home and hometown. "The 50th anniversary is not about the current day or the end result; it is about the journey through the past, the present, and the future. It is about the battles, trials, and triumphs of the process, which is why we will celebrate this fall together and every day."
Lee said the student-athletes are why she shows up each day. "They fight, advocate for, support, cheer, and challenge each other, every team, and our whole department. This induction means so much to me, and I am so humbled by the honor," she said. "Our female student-athletes recognize our strong history of leadership and step up when new opportunities emerge on the horizon. I have no doubt they will continue to lead and create change."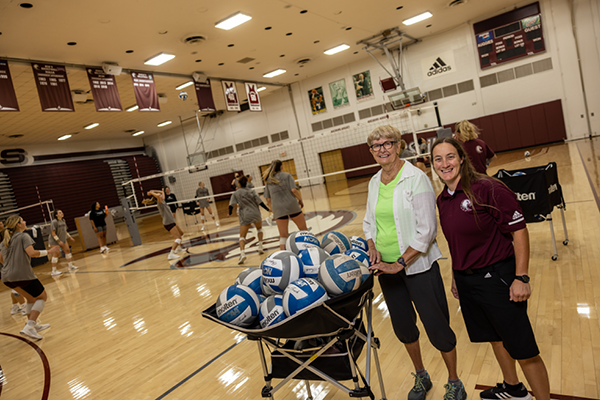 Auggies inspire the next generation
Alaska native Melynda (Kleewein) Belde '05 is teaching the next generation of athletes as the middle grades' physical education and wellness teacher at St. Paul Academy and Summit School in St. Paul. Belde said she was tremendously grateful for Augsburg's progressive outlook and familial support. Her teammates were her best friends. She met her husband, Steve Belde '05, on the ice at the Ed Saugestad Rink. "Going to Augsburg was the best decision of my life," she said.
"I was the first person in my family to go to college, and I am thankful my teammates and coaches welcomed me with open arms and allowed me to spend weekends and holidays with their families, since I was away from home," said Belde, who played hockey and softball for four years and soccer for two. "I get to go to work every day to a job I love—teaching game play, teamwork, and attitude to the next generation."
Annie Annunziato '04 said she has been thrilled to watch female athletic teams continue to break barriers and become more popular with fans. Growing up in New York, she and her sister were the only girls she knew who played hockey and mostly played with boy's teams. Today, there are several girls' teams in the area.
"It's still a fight, though—see the U.S. women's soccer battle for equal pay as an example. And hockey continues to be a sport that is rarely accessed by people who come from communities with lower socioeconomic status and communities of color, which is incredibly problematic."
Grateful for trailblazers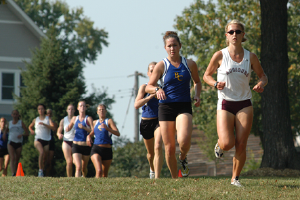 Angela (Bergeson) Lawrence '06, who ran cross country and track, recalls first hearing about Katherine Switzer, the first woman to enter and run the Boston Marathon in 1967. She disguised herself as a man at the start of the race, and when officials realized she was a woman, they tried to remove her from the field. But male racers formed a circle around Switzer to protect her.
Bergeson, who has since run the Boston Marathon herself, said, "being allowed to run was never something that I had to think about, and I am grateful for it." That gratefulness, Bergeson said, is what she took away as her greatest lesson from Augsburg: "Everyone around me was so grateful and always encouraging and empowering, lifting up other's strengths as we set lofty goals and worked extremely hard, as individuals and as a team, to achieve something greater than we initially thought possible."
That drive, grit, and gratefulness is what led many of these female student-athletes to inspire and achieve in competition and in life. It's a mindset, Pfaff said, that Augsburg will continue to fuel in generations of athletes to come, sure to move the needle even closer to equality.
Meet the 2022 Augsburg Athletic Hall of Fame Class
Annie Annunziato '04 (Hockey) played two seasons of hockey at Augsburg. She was named an AHCA All-American from the West Region in 2003–04, among many honors. Her combined college career stats (104 games): 62 goals with 91 assists for 153 points.
Tonnisha (Bell) Russell '06 (Track and Field) was the 2006 co-Senior Athlete of the Year. One of the most decorated track and field athletes in school history, Russell continues to hold the following records: indoor 55-meter dash (7.08 seconds), indoor long jump (5.50m/18-feet-0.5), and outdoor 200-meter dash (24.38 seconds).
Angela (Bergeson) Lawrence '06 (Cross Country/Track and Field) earned All-MIAC honors in cross country and is part of six track and field records: the outdoor 800-meter run, outdoor 3,200-meter relay, outdoor distance medley relay, outdoor 3,520-yard relay, indoor distance medley relay, and the indoor 1,500-meter run.
Melynda (Kleewein) Belde '05 (Hockey/Softball/Soccer) was named All-MIAC defender in 2002–03, 2003–04, and 2004–05, with an All-MIAC Honorable Mention in 2001–02. In softball, she played four seasons as an outfielder and catcher. She also played soccer in 2002, with one goal and one assist in nine games.
Melissa Lee '04 (Softball/Basketball) was an Honor Athlete and All-MIAC in 2004. Considered one of the top third basemen in program history, she started all 141 of her career games. The two-season basketball player has served as a health and physical education instructor and athletic department administrator at Augsburg since 2004 (softball assistant coach from 2004 to 2016 and head coach since 2017).
Millie Suk '06 (Soccer) was a Senior Honor Athlete in 2006 and an All-MIAC athlete all four years of her career. She played in 67 career games, setting school records for total points (93, now fourth in school history) and goals (38, now third), among others.
Legend of Augsburg Athletics Award
Joyce Anderson Pfaff '65 was inducted into the Augsburg Athletic Hall of Fame in 1991 and received the Augsburg Distinguished Alumni Award in 2009. She began her 43-year teaching career in health and physical education at Augsburg in 1966, during which time she became Augsburg's first women's intercollegiate athletic director in 1972, serving until 1988. She was Augsburg's first volleyball and gymnastics coach, and led the establishment of basketball, softball, tennis, track and field, cross country, and soccer as women's varsity intercollegiate sports.
Read more about these and other members of Augsburg's Hall of Fame.
---
Top image: Joyce Anderson Pfaff '65 and the 2022-23 Augsburg volleyball team hold up their hands showing '50' to denote the 50 years since the passage of Title IX.