In summer 2021, Augsburg University launched the Sankofa Circle Fellowship for junior and senior student leaders. The fellowship is inspired by four Adinkra symbols that originated in Ghana. These symbols stand for concepts such as greatness, charisma, and leadership; endurance and resourcefulness; unity and responsibility; and hope.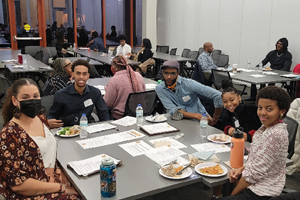 Through the fellowship, students grow their networks, connect with BIPOC mentors, strengthen their leadership skills, and benefit from a supportive, motivating cohort. Fellows receive up to $5,000 for tuition and $500 for books each year and participate in a national conference about racial and social justice.
In 2021–22, 10 Augsburg juniors participated in the fellowship. Eight of those students will continue to participate as seniors. The two open slots, one of which was vacated by a student who graduated early, will be filled by seniors on a waiting list for the initial cohort. Ten new juniors will also join the program.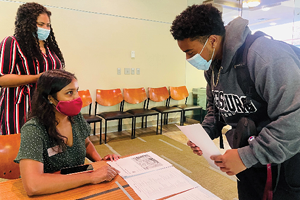 Four Augsburg staff members support the fellows: Joanne Reeck, vice president for equity and inclusion; Chris Dixon, athletic diversity and inclusion director; Kate Gray, career services and alumni connections manager for the Strommen Center for Meaningful Work; and Kezia Burrows, Pan-Afrikan Student Services program manager.
Students formed meaningful connections with the mentors and each other over the course of the program's first year. By the end of the year, student fellows described their relationships with one another as familial. The initial cohort's mentors included the vice president of a bank, a nurse practitioner, an assistant principal, a retired judge who founded a nonprofit, and Augsburg's university pastor. Alumni and community members who are interested in mentoring can email inclusion@augsburg.edu.
To apply for a fellowship for the 2023–24 school year or learn more, visit the Sankofa Circle Fellowship web page or email inclusion@augsburg.edu.
---
Top image: Sankofa fellows visited the YMCA Equity Innovation Center in March 2022. (Courtesy photo)