On May 6, Augsburg University held an event to launch the public phase of its comprehensive fundraising campaign, Great Returns: We're All In. At that time, the campaign had received more than 40,000 gifts from nearly 15,000 donors to reach approximately $105 million of its $125 million goal. Today, the total raised has exceeded $112 million.
As a comprehensive campaign, Great Returns: We're All In strengthens Augsburg and supports current and future students in numerous ways. So far, donors have contributed more than $26 million toward creating or strengthening 139 endowed scholarship funds and establishing five endowed professorships. More than $10 million has been raised for the StepUP® Collegiate program Growth Endowment, which provides ongoing support for Augsburg's recovery program.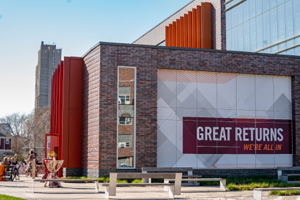 Benefactors have also contributed more than $16 million to the Augsburg Fund, which allocates unrestricted, discretionary dollars to improve the student experience through academic programs, technologies, student aid, and more. "These have been a tough couple years for all of us," said President Paul Pribbenow. "But the hardships of these years only remind us that the core of Augsburg to educate students as stewards of an inclusive democracy is all the more important and all the more critical."
Endowed funds can support specific scholarships, professorships, or specific programs. The university draws from these investments every year, currently at a rate of 4.5%, which ensures a steady stream of funding that allows Augsburg to build programs and make multi-year commitments.
A university with generous endowments is able to offer financial aid and learning opportunities that better prepare students to pursue their callings.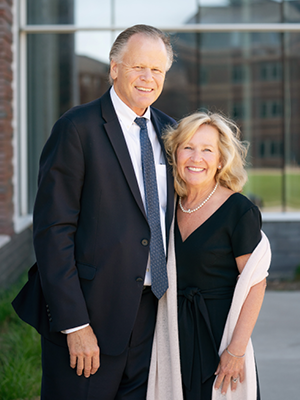 These are just a few of the ways Augsburg's alumni and friends have demonstrated that they are "all in" to ensure a vibrant future for Augsburg University. Campaign gifts can enhance the student experience by providing funds for hands-on research opportunities, study abroad experiences, or improvements to the facilities where Auggies study, research, live, eat, relax, and train. After celebrating Augsburg's sesquicentennial in 2019 and 2020, Augsburg's community—"faculty, staff, students, alumni, parents, friends, all who care deeply about this place"—are setting the university up to thrive for another 150 years, said Pribbenow.
Great Returns: We're All In is also the theme of the All-School Reunion to be held during Homecoming on Friday, October 6–Sunday, October 8. Co-chaired by Jeff Nodland '77 and Becky Bjella-Nodland '79, the celebration will include a gathering of Auggie affinity groups and an award ceremony for the Distinguished Alumni Awards in the Hagfors Center.
The weekend will also include the traditional Taste of Augsburg, a home football game against St. John's University, a celebration of 50 years of Augsburg women's intercollegiate athletics and Title IX, and the dedications of the renovated Si Melby women's locker room (funded by a donation from Patricia Piepenburg '69), and the updated Si Melby weight room, dedicated to Donny Wichmann '89.
Learn more about Great Returns: We're All In and donate to Augsburg's future.
---
Top image: Great Returns: We're All In waterdrop. The water drop sculptures were given to the first 150 benefactors who chose to invest in an endowed scholarship during the Great Returns campaign.
(Photo by Courtney Perry)