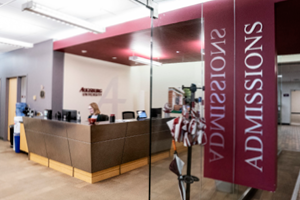 Augsburg's work at the forefront of a movement to transform college admissions has garnered national media attention.
Last fall, the university moved to a "direct admissions" approach for undergraduate enrollment. In this model, known as Augsburg Applies to You, students who meet a certain GPA threshold are automatically offered admission. Most students can complete the streamlined application form in less than 10 minutes.
Ninety-nine percent of students offered direct admission would have been admitted under Augsburg's previous criteria. Now, they can move through the process faster and take advantage of deeper pre-enrollment connections.
Why flip the script? A simpler process benefits both students and staff. Under direct admissions, the traditional roles of applicant and gatekeeper are intentionally reversed to change the power dynamics in enrollment management.
In an interview with Inside Higher Ed, Robert Gould, vice president for strategic enrollment management, said that direct admissions is "a dream come true" for admissions staff, whose attention has shifted from reviewing paperwork to connecting with students about Augsburg and what they hope to accomplish. "Those are the discussions that motivated many of them to become admissions counselors" in the first place, he said.
Drawn by its promise to reduce barriers and promote equity, many colleges and universities are beginning to explore direct admissions through pilot programs. Augsburg is participating in two such pilots through the Common Application and the state of Minnesota.
But as reported by Inside Higher Ed, Augsburg's own streamlined application shows that the university "isn't waiting" on pilot programs to fully embrace the new model. In November, the Wall Street Journal noted that Augsburg's move toward a radically simpler process contrasts with other institutions whose more complex applications may undercut the goal of direct admissions.
Augsburg's enrollment management division has been working to reduce barriers for several years. Recent changes to simplify the application—including test-free admissions, short-answer essays, and optional letters of recommendation—have accompanied Augsburg's largest and most diverse first-year classes in history.
---
Top image: Augsburg students on campus (Photo by Courtney Perry)