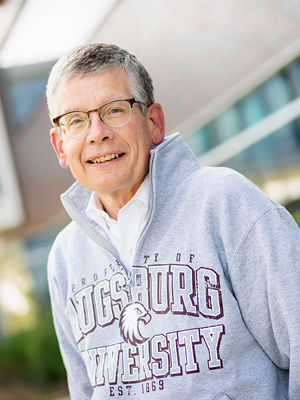 One of the great misperceptions of American higher education is that colleges and universities are detached from the "real world," ivory towers not concerned about the communities and neighborhoods that surround their campuses. I am not here to defend all of higher education—though there is plenty of evidence to rebut that misperception. Instead, I want to declare that for Augsburg University, there has never been a question of our commitment to what we call "leaning in" to the pressing and complex issues of our neighborhood, our country, and indeed the world.
It's a commitment articulated in our Augsburg150 strategic vision, which states: "As a new kind of urban, student-centered university, we are educating Auggies as stewards of an inclusive democracy, engaged in their communities and uniquely equipped to navigate the complex issues of our time." Leaning in so that our students are educated and equipped for the world that so needs their intellects, their passions, and their skills.
Surely this issue of Augsburg Now powerfully demonstrates an array of ways in which this commitment to "leaning in" is lived out by our students, faculty, staff, alumni, and allies. From Associate Professor Katie Clark '10 MAN, '14 DNP and alumna Emily Bastian '07 MSW, and their groundbreaking work serving those experiencing homelessness; to our new data science major with its strong focus on equity and social justice; to the contributions of our colleague, Minnesota First Lady Gwen Walz, helping us to prepare more teachers of color for our public schools; to the research of Assistant Professor Kao Nou Moua, shedding light on the experiences of Hmong entrepreneurs.
And the list could go on and on with the daily ways in which the Augsburg community—in its curriculum, community engagement, and public advocacy—is working to be good neighbors, to uncover and address systemic injustices, and to support a more robust democracy.
In 2019, as part of Augsburg's 150th anniversary celebrations, Auggie alumnus and poet extraordinaire Donte Collins '18 penned a powerful ode to their alma mater, entitled "We Are Auggies," which concludes with these lines:
"When shared, when sharpened. Guided. Here a system of roots. Strong. Striving. A system of roots weaving a new world. Auggie, you are called into the world.
Into your wonder. Your why. To wrestle
with reason. To spot the problem. And propose new parts. To walk toward your fears. To find the heart.
We are Called. We are Auggies."
May we all continue to lean in, to make our world more just, fair, and compassionate, to find the heart. I know we will, because we are called Auggies!
Faithfully yours,
Paul C. Pribbenow, PhD