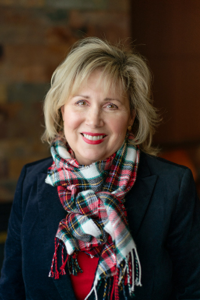 In 2019, Minnesota First Lady Gwen Walz joined Augsburg University as special assistant to the president for strategic partnerships and as a fellow in the Sabo Center for Democracy and Citizenship.
But Walz's connection to campus began long before she was born, when her mother stepped out of rural life in central Minnesota and onto a bus destined for Augsburg. Linnea (Wacker) Whipple '60 was the first person in her family to graduate from high school. Why stop there?
"One of the most significant indicators of children's future educational attainment is the educational attainment of their mothers," Walz said. "My mom started country school at four years of age because her brother wouldn't go to school without her, and she graduated from high school at 17. I am grateful she had the drive to leave her family life and that Augsburg—through its faith and alumni connections—found my mother in her small town of 600."
And Augsburg didn't let Whipple go. Walz said college advisors checked in on her mother, who worked many hours to pay for school. Professors encouraged Whipple, whose early education was in a one-room schoolhouse, to apply for a postgraduate teaching position in Hawaii.
"They saw her potential, and they didn't limit my mother at a time when women had lots of limits," Walz added. "I grew up hearing about that level of personal support and Augsburg's drive to develop informed citizens, thoughtful stewards, critical thinkers, and responsible leaders."
Whipple's tenure in Hawaii ended abruptly when her brother died in a farm accident. Deeply invested in family, Whipple returned to Minnesota, where she continued to teach, met her husband—also an educator—and raised four daughters.
Equity work with Pribbenow 'changed everything'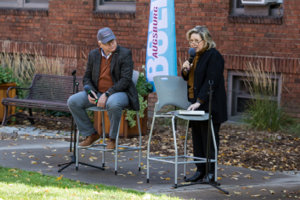 Like her parents, Walz became an educator and married an educator, Tim Walz. Prior to being elected Minnesota's 41st governor, Tim served from 2007 to 2019 as the U.S. House representative for the state's 1st congressional district, which includes the Mankato school district where the Walzes taught.
"As educators, and with Tim's role in government, we were brought into conversations about diversity and equity in the K–12 system," Walz said. "We wanted someone to facilitate discussions in a way that would honor all voices, and without thinking twice, we reached out to Augsburg President Paul Pribbenow. We had seen and heard that he is a man of the moment who gets things done and achieves meaningful outcomes."
The Walzes asked Pribbenow to join a task force to address issues related to diversity, equity, and inclusion in Rochester schools. This experience, Walz said, "changed everything." It's why she overlooked other job offers to accept Pribbenow's invitation to work for Augsburg in 2019.
"We speak the same language," Walz said. "President Pribbenow is focused on the right priorities, and he approaches work with integrity and a collaborative, empowering spirit. He's not afraid to take creative risks, and he embodies what makes Augsburg so incredibly special."
When Pribbenow asked Walz to consider working for Augsburg, he hadn't settled on a job title. He told her: "There is nothing you can't do, but you will figure it out when you get here. I have some ideas, but I am confident you will see and do the work in front of you."
"His belief in me reminded me of the belief Augsburg had in my mother, and I was sold," Walz said. "He and I both knew we had a lot to work out, but he knew I had something to offer the university, and I was eager to continue to serve and work as an educator.
"My mom always used to say, 'Do the work that is in front of you,' and as a child, I thought she meant the dishes," Walz laughed. "Here, I have an opportunity to do that work alongside leaders who aren't afraid to take on difficult conversations and opportunities."
The Augsburg community, Walz said, is made up of administrators, faculty, staff, and students who say, "'We are not going to just talk about the work, we are going to do the work, and not only do the work but lead the work.' The university empowers students and reminds us there is not always one way to do things."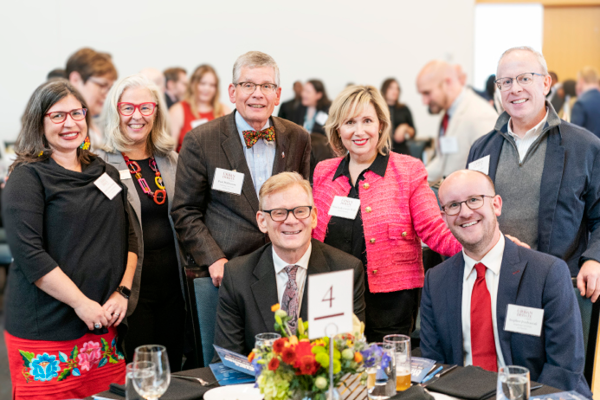 A 'confident disruptor'
Walz said her work—both at Augsburg and as first lady of Minnesota—is not about power; it's about responsibility.
"My first question to myself and others is always, 'Whom do we serve?' The answer can change, but in my work at Augsburg, it's mostly focused on students. My role affords me the ability to make connections for people and to cut through red tape," Walz said.
She was integral in implementing the Auggie Pass, an all-you-can ride transit pass for eligible Augsburg students to access the city's buses and light-rail trains, even during breaks. She has also helped build connections between campus programs and state agencies to offer internships and experiential learning opportunities.
"One effort I am particularly excited about is my work with the provost to encourage voting among our students and to educate them about the safety of our voting systems," Walz said. "The Higher Education Act of 1965 requires universities to hand out voter registration cards, but there is no funding or enforcement mechanism. We are looking to weave these and other civic engagement and education efforts into the Augsburg experience."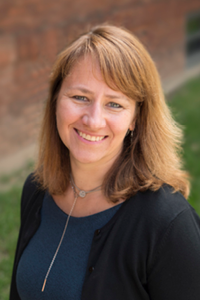 As director of the Sabo Center, Elaine Eschenbacher works directly with Walz to integrate civic and community engagement, experiential education, and democracy building into the Augsburg experience.
"I appreciate and admire Gwen's capacity and interest in going deep on a topic. She is a learner who aims to know more than surface-level information," Eschenbacher said. "She encourages us to be 'confident disruptors' of systems that don't serve people, particularly the most vulnerable. I wrote that term on a note and had it on my desk for a long time."
Eschenbacher added that Walz increases the university's access to people and systems. "People answer her phone calls," Eschenbacher said. "But more importantly, Gwen brings deep knowledge of education that empowers students to fully realize their potential. She brings rich experience in navigating and creating change, and she brings a deep commitment and clear vision for equity in education."
Equity in the classroom
Walz's work also focuses on teacher education. One of her first meetings at Augsburg was with Audrey Lensmire, an associate professor of education and the founding director of the former East African Student to Teacher Program (EAST), now known as the Thrive Program. Walz wanted to learn more about the program's work to empower East Africans and other BIPOC students to become licensed teachers. More than 100 students have benefitted from the program since 2013.
Lensmire reflected on that first meeting: "When I walked into her office, I was shaking a bit. I didn't know what to call her. It seemed so weird to call someone 'first lady,' but she told me to call her Gwen. She asked great questions, listened carefully, and took lots of notes, and I quickly realized how lucky Augsburg is to have her. … I introduced her to scholars and teachers because she wanted to hear their stories and needs. We began to share our own histories and experiences, and we became friends."
The two developed a graduate course called Connecting Policy, Practice, and Advocacy for Educational Equity. It combines their shared loves of writing, teacher empowerment, and policy change. In 2020, Lensmire and Walz began co-teaching the course, which has become a core class in the Master of Education program.
Lensmire said Walz has taught her a lot about research, advocacy, and complications within government systems. Walz is honest and thoughtful, Lensmire said, and has even given her daughter, a second-year Auggie, lots of advice and green Jolly Ranchers.
'A remarkable advocate'
Pribbenow said it's impressive how Walz gracefully balances her dual roles at the university, while also investing and connecting personally with students in the classroom. He benefits from her "keen eye" in navigating complex political circumstances to advance the university's vision.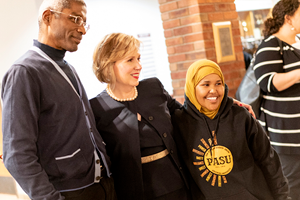 "Gwen has proven to be a remarkable advocate for our students and our mission," he said. "Her work on community engagement projects is always insightful and focused on moving work forward. Her partnership with our education department to prepare teachers of color for our public schools brings both her educational experience and her advocacy skills to bear on this critical effort."
Her presence, Pribbenow said, is a model for the Augsburg community. Walz is unlike any other first lady in state history, with an office in the Capitol and a robust policy portfolio focused on education. Yet she keeps her faith in focus, and she's maintained a "Minnesota nice" that often emerges from the oven.
"Four days before the election, we took a bus around to various stops to thank people who worked on the campaign. I didn't have a speaking role at these stops, but I wanted to convey my personal thanks and honor their time and hard work," Walz said. "I rolled up my sleeves and called all my volleyball moms and friends over to the residence, and we baked 1,400 gingersnaps from my grandmother's recipe and packaged them with a note from me. Small gestures matter, and I love sharing a bit of myself with others."
Walz said she hopes her personal approach to leadership shows students they can achieve professional success while also prioritizing family and faith. Those priorities brought her to Augsburg, and they will continue to drive her work for the university.
"I can fall into the trap of always wishing I could do more, give more, or be better. But I wake up each morning with devotions to center myself and acknowledge that I am doing what I can, with what I have, to the best of my ability," Walz said. "It's a privilege to be here now, working with Augsburg to help educate students to achieve their potential and—together—make a difference in this world."
That is work worth doing, she said, and it's right in front of us.
---
Top image: Gwen Walz talks with the Augsburg community, January 2023 (Photo by Courtney Perry)