We'll sing the Auggie War Song,
We'll shout the battle cry,
We'll fight the Auggie battles,
Auggies ever, do or die!
Augsburg's school song could be heard overseas this past December as the women's hockey team traveled from Helsinki, Finland, to Stockholm, Sweden, to play three exhibition games against international teams.
"We are grateful and excited to continue the tradition of an international trip," said head coach Michelle McAteer. "Players often say it's one of their best experiences to travel and compete overseas. It is the ultimate road trip!"
This was the fifth international trip for Augsburg women's hockey. The team traveled with a group of more than 70 people including coaches, staff, and family members.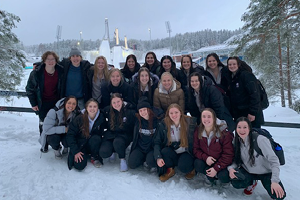 The Auggies played games against HIFK and Hollola from Helsinki and Hammarby from Stockholm.
Winning two of the three games was great, but the real highlight of the trip was interacting with players and coaches from other countries. After every game, the Auggies joined the host teams with a shared meal to connect about hockey and life.
Additionally, they toured the cities, visiting local and famous sites like the Nobel Prize Museum and Stockholm City Hall. At the Vasa Museum, they saw a preserved warship from 1628 and learned about its history.
"International travel broadens our perspective as we navigate different cultures, languages, and experiences. Doing it together creates lifelong memories and strengthens our bond as a team," McAteer said.
---
Top image: The Augsburg women's hockey team at Stockholm City Hall, Sweden (Courtesy photo)