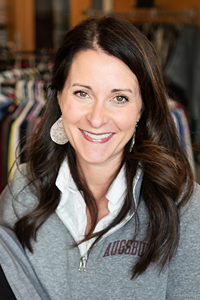 In separate efforts to help unhoused people in Minneapolis, two members of the Augsburg community take a similar approach.
They ask a simple question: "What do you need?"
Then, they work to provide services based on people's self-identified necessities.
"It's about meeting people where they're at," said Katie Clark '10 MAN, '14 DNP, associate professor of nursing and executive director of Augsburg Health Commons, which provides free supplies and nurse consultations to anyone in need. Many people who access these services are unhoused or experiencing housing insecurity.
"Oftentimes, health care providers are not trusted by people living on the street who feel like they might be stereotyped or judged when they enter a facility," Clark said. "We need to ask people what their experiences are, what they deem necessary, and why they aren't able to get what they need."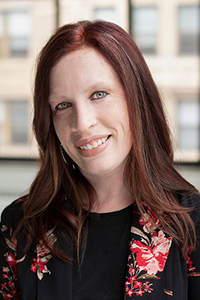 Emily Bastian '07 MSW works with a similar philosophy—she led the creation of an entire homeless shelter based on asking people about their specific needs. Avivo Village, which opened in December 2020, has received widespread attention because of its unique concept.
Bastian, who is the nonprofit Avivo's vice president of ending homelessness, said she and her team went to an encampment in a Minneapolis park. "We asked them, what would it take for them to come indoors? And many of the things that they said are things that we are able to put into practice at Avivo Village."
Creating a shelter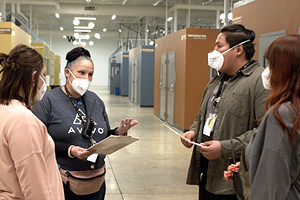 Unlike most traditional homeless shelters, Avivo Village lets residents come and go as they please. Residents are not separated by gender; they can have pets, and they can drink legally. All these things are allowed in response to Bastian's conversations with people living outdoors.
"We want people to know that we care about them and that we're not shaming them for the choices that they're making, because they are the ones living their life, not us," Bastian said.
Avivo Village is made up of 100 tiny homes meant to be temporary housing as residents work to find a more permanent place to live. So far, more than 110 people have successfully moved on from Avivo Village into permanent housing.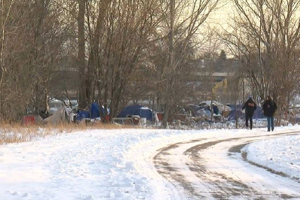 In addition to temporary shelter, Avivo provides thorough case management to help people find housing. This includes services aimed at addressing some of the root causes of homelessness. Avivo offers transitional recovery housing, which houses people who are enrolled in the organization's chemical dependency treatment program. Avivo also provides mental health services.
"Case management supports people through all the bumps in the road as they're learning to be a renter or as they're experiencing some other trauma or barriers," Bastian said, "because we truly, truly, truly believe that everyone deserves housing and everyone is housable."
A range of services
While Health Commons does not provide housing, it offers many services to support unhoused people. Like Bastian, Clark works to create a place where people feel accepted and safe while asking for help.
Sometimes, people simply hang out at the Health Commons location in downtown Minneapolis' Central Lutheran Church.
"If you're experiencing homelessness, oftentimes you can't go places and hang out without showing proof of why you need to be there or without being harassed," Clark said. "So, sometimes people need a place where they can just sit down, take their shoes off, and be part of what's happening."[/vc_column_text][/vc_column][/vc_row]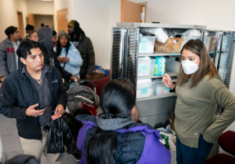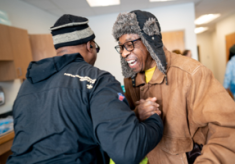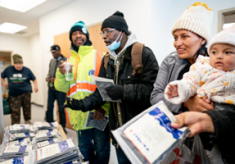 The free supplies offered at Health Commons include socks, hygiene products, and diapers. Visitors can meet with Augsburg nursing students for basic health services such as having their blood pressure checked or asking questions about medical conditions.
"We're not providing clinical care or diagnosing, but more just bridging the gap between meeting people where they are and connecting them with services if they deem it necessary," Clark said.
A place to learn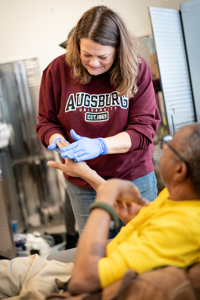 Health Commons is not only a place where people can go to learn about health care—it's also a place where any Augsburg student can learn about serving a wide range of needs, including the needs of unhoused people. More than 1,600 students have volunteered at Health Commons in the 30 years that it's been open.
"Health care providers often begin to have biases or might actually stereotype people who are unhoused. So, Health Commons is really a first step for nursing, physician assistant, or other students to unpack those moments and challenge biases," Clark said.
"The complexities of peoples' circumstances are better understood as students build relationships with people living on the streets," she said. "And it's faculty-led. Students say having those real-life experiences has been very meaningful, especially when they see faculty model it as well."
Clark encourages students to practice compassion in all their interactions with people who visit Health Commons. She has even talked with some student volunteers who have experienced homelessness themselves. "They often share that they find value in the approaches here, that shared community," she said.
As a former Augsburg student, Bastian said her education in the university's social work program informs the work that she does today.
"(One) thing that Augsburg really drilled into my head, and the master's of social work program very much so, is the conversation around privilege, the willingness to do that tough work personally to recognize what my own privileges are, how that impacts how I see the world and how the world sees me, and in turn my responsibility based on that," she said.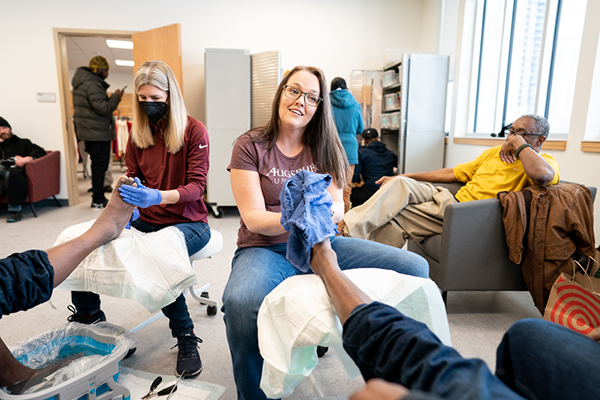 Getting involved
Both Clark and Bastian shared ways that people can get involved in serving the Twin Cities' unhoused population.
Anyone is welcome to volunteer at the Health Commons Central Lutheran Church location, but priority is given to Augsburg students. Volunteers can sign up on the Health Commons website.
Health Commons also takes monetary donations online. To donate supplies, contact Clark at clarkk@augsburg.edu.
Information about volunteering with or donating to Avivo can be found on the organization's website.
"If people don't feel comfortable or don't know what to do, donating is a good way to start," Bastian said. "I would also say that volunteering somewhere you can have interactions that feel at a safe level for what you're ready for is also a great way to get involved and to help."
---
Top image: Katie Clark and graduate nursing student Claudia Rubio-Mendoza help Health Commons visitors pick out free items that they need. (Photo by Courtney Perry)