Driving directions on a cell phone, coupons for 25 cents off pretzels at the grocery store, and weather alerts warning of potentially serious storms share one common thread: data.
From where people drive, to what they buy, to where they live, nearly everything in life is connected to the ever-collected, extremely valuable information that is gathered and interpreted through data science.
But beyond giving businesses clues about when a family is ready to replace a refrigerator or take a trip to the Grand Canyon, data science can also be used in ways that bring equity and justice to underserved and marginalized communities.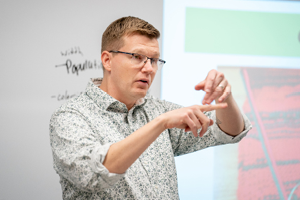 It's within that framework that faculty at Augsburg University began piecing together what is now a full-blown data science major. John Zobitz, professor of mathematics and data science, said the new major—officially a Bachelor of Science in data science launched in fall 2022—is a response to requests by alumni and students for more opportunities to expand on what they were already learning in math and computer science classes. Students can now minor in data science, too.
"When we designed this major, we tried to make it as flat as possible, relative to prerequisites," Zobitz said. "Students can start the major with either an introduction to data science course, a computer science course, or a mathematics course. That makes it open to first-year students and has really helped attract more students."
The major also draws students with a wide range of interests, Zobitz said. While data science can help consumers get free shipping on their dog's monthly food delivery, it can also be used to identify societal challenges and inequities. And more importantly, it can help find solutions to specific problems.
Making a difference
There are many ways that data science makes a concrete difference in people's lives, such as gathering and disseminating information about potentially dangerous weather. The Federal Emergency Management Agency estimates that since 1997, data collected by aircraft with special storm predicting technology and equipment have improved predictions about hurricane storm and landfall patterns by 20%. Those life-saving early warnings give more people more time to take necessary steps to evacuate or prepare before a storm hits.
And in issues of social justice, data can come right alongside community organizers and other change agents, providing real numbers to bolster their rationale.
"A focus on equity, inclusion, and justice is built throughout the major," Zobitz said. "How data influences how you see the world—whether it's algorithmic bias, why some families get picked for a loan and others don't, or in a pandemic, how one's pre-existing conditions make them more susceptible to illness."
Data tells great stories for people paying attention, he said.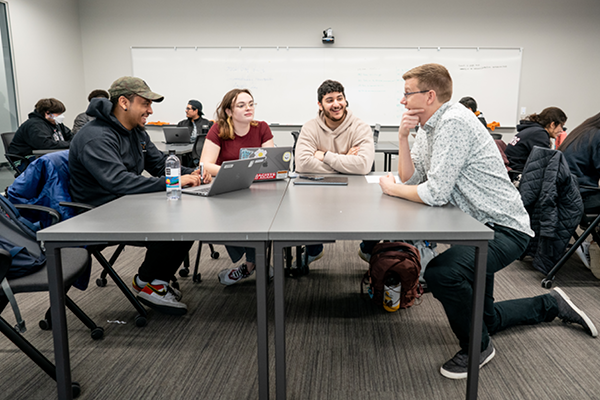 In a class that introduces the idea of data science as a tool for social justice, Zobitz has students consider transportation availability in the Twin Cities. Suddenly, historical patterns of racism and injustice leap into stark modern-day relief. Redlining—the discriminatory practice of withholding funding to purchase homes in so-called "at-risk" neighborhoods that began in the U.S. in the 1930s and disproportionately impacted Black families—continues to affect people. The practice ensured that families of color, many of whom were moving into new areas as part of the country's Great Migration, were relegated to less desirable neighborhoods. As a result, many had to live far away from work, decreasing their quality of life because of the sheer amount of time it took to get to and from their jobs. Despite a 1977 federal law that was intended to quell the practice of redlining, the harmful effects linger today.
"Students start to translate what they're learning into what they're living," Zobitz said. "You start to hear stories like, 'My mom has to take five buses to get her work done.' They talk about their experiences, and they start having conversations with each other about what information is needed to make educated recommendations for change."
Student stories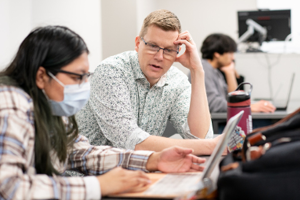 The intersection of that information is what lured Dijonë Mehmeti '24 to the major.
"What drew me into data science was the connection between data and social life," she said. "Applying those two together really made me interested in it—that connection that you see something, and it helps you dig into it even more.
"Learning about redlining, crime, then you dig into more reasons why that happens … that's why it's so powerful," Mehmeti said. "The information could be considered hidden, but it's not. It's interconnected in so many different ways."
Students also learn about the importance of ethics in data collection. In that vein, Ly Xiong '24 hopes to one day focus her work not necessarily on what the data reveals, but where it's coming from.
"For me, the most important part is the data itself—who is collecting the data," Xiong said. "The results would be different if I'm collecting data in my community; they will trust me. But if I'm collecting data in another community, they may not trust me. So, it goes back to: how are we collecting the data?"
A lack of trust can yield incomplete data, Xiong said. Her long-term goal is to educate people about how to create data sets that better represent an issue and communities affected by it.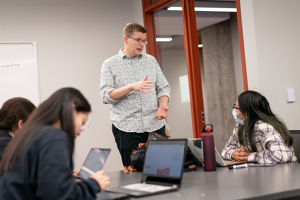 Those real-world applications are specifically driving Ridwan Abdi '24.
"I'm Somali," Abdi said. "I want to use data science to do storytelling. The problems we have in our community are that so many young adults and teens are struggling with drugs. So, maybe I can use data to educate and partner with universities, to create something that could help people take action."
All three iterations of the major are, in many ways, exactly what Zobitz hoped for.
"I like to say that if you put your whole self in there, and bring your own experiences to it, when you create a visualization and see the power data has, people pick up on that. I think it eliminates some of that 'I don't believe you' that's bound to come from data," he said. "Connecting it to people gives it power, instigates change."
Alumni success
Alumni are responding to the new major with excitement—and a little envy.
Nhu Putnam '12 graduated with honors in her double-major of finance and mathematics with an emphasis in probability and applied mathematics. She spends her days in data, doing risk analysis and data analytics for WTW, an insurance advisory firm headquartered in London.
"It's good for Augsburg to launch these programs. I really liked the department of mathematics, and this is the right direction for Augsburg to go," Putnam said. "Math is good, but applied math is way more powerful. And data science is one of the most powerful ways we can use math in an applied way."
She said one great example, from a corporate perspective, is that data science can provide the evidence that persuades a company to invest in a particular social movement.
"How can you use data science to help a community? It's about: here's a topic, whatever might be important to your community, and here's what we've learned. What can you do with those results? Can you get companies to invest in your project? Data science will be the future. If you're good at it, and passionate about it, you will be able to effect real change," Putnam said.
Bjorn Melin '20 agreed. Like Putnam, he double-majored, splitting his time at Augsburg pretty evenly in the mathematics and computer science departments. Today, he's a data engineer with 3M.
"I took the data visualization class, and a big focus of it was on the ethics behind it. It's something I've talked about with all my teammates in every professional setting I've had. … If someone doesn't understand the ethical implications behind this, there can be serious repercussions. That's another reason to support the major, getting people out there who can come in with a solid baseline of knowing how to be safe and ethical," he said.
"I was so excited when I found out they got this major launched," Melin said. "I'm hopeful for them to be able to teach the curriculum they've wanted to, and what I'm really excited for is the 'official' merger between computer science and the math department. It's exactly what I wish I could have taken back when I was there."
To learn more about Augsburg's data science major, visit augsburg.edu/mscs.
---
Top image: John Zobitz teaches his data science class. (Photo by Courtney Perry)