Augsburg's TRIO McNair Scholars Program recently secured a $1.3 million, five-year federal grant to support operations through 2027.
Named for Ronald E. McNair, an astronaut and physicist who was among the first African Americans in the U.S. space program, McNair Scholars is one of eight federal TRIO programs funded by the U.S. Department of Education to increase access to higher education for economically disadvantaged students.
McNair Scholars specifically aims to increase graduate degree awards for first-generation college students with financial need and/or members of traditionally underrepresented groups in graduate education, as defined by federal guidelines.
With the $1.3 million grant, Augsburg will continue to support a cohort of 26 McNair Scholars each year. Students apply during their sophomore year to participate in the program as juniors and seniors.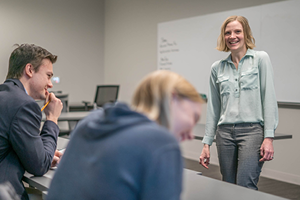 The hallmark of Augsburg's program is MCN 301: Research in the Disciplines, taught by Associate Professor Amanda Case and McNair Assistant Director Cruz Rodriguez. In this 2-credit course, students complete a research proposal under the guidance of a faculty mentor. They spend 400 hours collecting data, analyzing findings, and preparing a formal presentation for a national McNair research conference in July.
The students also undertake significant preparation for graduate school outside of research, from GRE study to an intensive "boot camp" to develop their application statements.
"McNair is a rigorous commitment," said "Tina" Maria Tavera, program director. "Each TRIO McNair program is designed for a particular population. We are fortunate our programming is designed specifically for Augsburg students. Our numbers prove that our program at Augsburg works."
In a highly competitive funding landscape, Augsburg's program has received continuous federal support since 2007. Many of Augsburg's McNair alumni have successfully gone on to graduate school. Twenty-one have completed or are enrolled in a PhD program, 58 have completed or are enrolled in a master's degree program, and 12 have completed or are enrolled in other advanced degree programs (including MD, MBA, PharmD, and PsyD).
---
Top image: 2022 Fall McNair Scholars: front row (left to right): Hafsa Hassan; Edward Stockard; Cynthia Faber; Logan Bradley; back row (left to right): Ifrah Edow; Jose Orozco Islas; Theo Wayo; Natnael Mulu; Leeroy Doe; Alex Hernandez Olivera; Drew Gross (Courtesy photo)