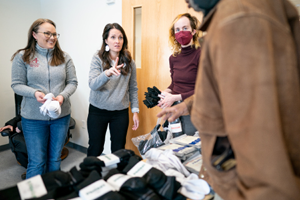 Augsburg Health Commons has received a $50,000 grant to continue its work in advancing health equity through nursing.
The Health Equity Innovation Fund grant, awarded in early January, came from AARP and the Center to Champion Nursing in America, a joint initiative of AARP Foundation, AARP, and the Robert Wood Johnson Foundation.
Augsburg Health Commons will use this funding to deepen its work of providing free services to marginalized communities. The grant also allows Health Commons to consider expansion, including a possible new location in North Minneapolis.
"We are moved beyond words to be selected for this opportunity," said Katie Clark '10 MAN, '14 DNP, associate professor of nursing and executive director of Health Commons. "These funds will not only help relieve some of the suffering people are forced to endure in the immediate term, but will also help cultivate ideas and solutions for the long term in caring for people who experience marginalization."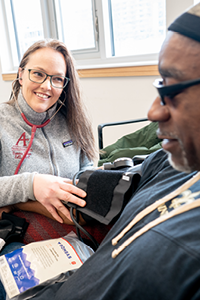 The first Augsburg Health Commons drop-in center opened at Central Lutheran Church in downtown Minneapolis in 1992. Most people seeking care there are unhoused or marginally housed. In 2011, a second location opened in Cedar-Riverside in response to a need for accessible health care services identified by members of the East African immigrant community.
Both locations center community voices and are operated by Augsburg nursing faculty, nursing and physician assistant volunteers, students, and community members. Everyone is welcome, and all services are free.
With this grant, Health Commons will continue providing services at both locations as well as at local homeless encampments. Faculty will explore new partnerships at other locations including in North Minneapolis in collaboration with Augsburg's physician assistant program.
The grant will also support the educational mission of Health Commons by providing paid research and practice internships for graduate nursing students.
Augsburg Health Commons is one of 16 organizations nationally to receive a Health Equity Innovations Fund award for 2022.
Find out more about the grant or visit the Augsburg Health Commons website.
Read more about the work at Augsburg Health Commons in this issue of Augsburg Now.
---
Top image: An Augsburg nursing faculty member sorts through donated supplies at Health Commons. (Photo by Courtney Perry)