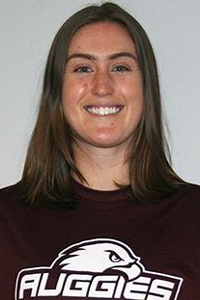 Clara Webby, a former MIAC competitor, joined Augsburg as head coach of women's soccer this spring. Webby earned all-conference and all-region honors as a defender during her intercollegiate playing days at Macalester College. After graduating cum laude in 2019, she served as an assistant coach and recruiting coordinator at Macalester and as an assistant coach at St. Catherine University. She has also coached at Twin Cities area youth soccer clubs, including Twin Cities Rush and Minneapolis United.
For Webby, the move to Augsburg felt natural. "Despite being an Augsburg opponent during my playing and most-recent coaching days, I have always admired Augsburg's diverse and inclusive campus, competitive athletics, and celebration of the Division III student-athlete," she said. "I am ecstatic to be joining the Augsburg community."
There are no hard feelings over previous rivalries from her new squad. "It has been such a joy to spend time with the dedicated individuals in the program," Webby said. "They have shown me tremendous respect and made me feel like an Auggie instantly. They are committed, hungry, and ready for our new chapter together."
Webby is the seventh head coach in program history. She follows Mike Navarre, who retired in February after leading the Auggies to 235 wins in 24 seasons.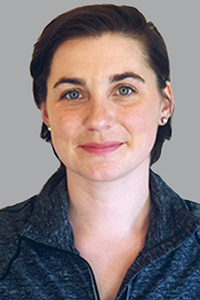 Ali (Bernard) Sprenger, a two-time Olympian and five-time collegiate national champion, started as head coach of Augsburg's women's wrestling team this fall.
Sprenger competed in women's wrestling at the 2008 Summer Olympics in Beijing, China, finishing in fifth place in the 72-kg (158.5-lb) weight class. She won a bronze medal at 72-kg at the 2011 FILA World Championships and also competed at the 2012 Summer Olympics in London, England, finishing in a tie for 13th place in the 72-kg class.
Sprenger competed collegiately in Canada, where she won five national championships—four titles (2005–08) at the University of Regina and the 2010 title at the University of Alberta. She served for four seasons (2009–13) as a wrestling assistant coach at the University of Alberta, where she was part of the 2011 women's team national championship, two Canada West women's titles, and one Canada West men's title. In recent years, she has been active in leadership for Minnesota-USA Wrestling.
"I love that Augsburg sees the value in wrestling and specifically having a women's wrestling team," Sprenger said. "Women's wrestling is a growing sport, and I am proud to be a part of a program that is committed to providing opportunities for young women to compete in this great sport."
Augsburg is entering its fifth season of intercollegiate women's wrestling in 2023–24. Sprenger follows Jake Short, who coached the Auggies to finishes of sixth place and fifth place in the National Collegiate Women's Wrestling Championships, with three national champions, nine All-Americans, and a 14–4 dual-meet record in his two seasons.
---
Top image: Augsburg women's soccer plays against Concordia College-Moorhead in October 2021. (Photo by Courtney Perry)