Once Tony Valek '12, '14 MAL became part of the Augsburg University community, he never left. From student wrestler to head wrestling coach, he remains invested in training the next generation of Auggies—helping them not only grow as athletes, but as human beings ready for life after graduation. Amateur wrestling website The Open Mat named Valek the 2022–23 NCAA Division III Coach of the Year for leading the men's wrestling team to its 14th national championship in program history. Following last season's tremendous success, Valek reflects on his Augsburg journey and what he loves most about coaching.
 Q: How did you end up at Augsburg?
A: I've been involved in the Augsburg community for quite a while. My older brother, Ryan Valek '06, actually attended and wrestled at Augsburg. The relationships with the coaches—like Coach [Jeff] Swenson—and the people ended up drawing me here. I wrestled at Augsburg from 2008 to 2012, and I really haven't left. I was the graduate assistant coach for two years, and then I became a full-time coach in the 2014–15 season and have been here ever since.
 Q: Was there a particular Augsburg coach who invested in you?
A: Mark Matzek '05 was our head coach during my time wrestling for Augsburg, and Jared Evans '07 was my personal coach. Every student-athlete in the program gets a personal coach. Coach Evans was super devoted to the team and gave me way more time than any student-athlete deserved. Jim Moulsoff is the other full-time coach with me here at Augsburg. He also coached when I was wrestling, and I've learned so much from him—probably even more while we've been coaching together. Whether it's literally talking about health insurance plans, buying a house, or having kids, the people I go to the most—besides my parents—are the wrestling connections, the wrestling family that Augsburg has.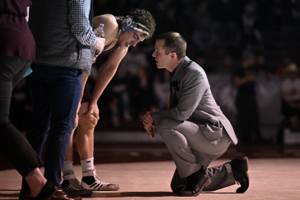 Q: How did you become a wrestling coach? 
A: Wrestling was a big part of my college search. I didn't necessarily know what I wanted to do after graduation. Augsburg's liberal arts degree was a good fit because I had a little more flexibility to pursue different careers. When I went to grad school at Augsburg and coached, I think that's when I fell in love with it and knew that this could be a good fit, because I get to wear a lot of different hats. I'm recruiting. I'm coaching the student-athletes. I'm dealing with budgets and scheduling. It's definitely different throughout the day and throughout the year.
 Q: What do you love most about coaching?
A: Building the relationships with the student-athletes is the best part. Sure, we're coaching wrestling, but ultimately, we're preparing them to be successful when it's all said and done here. A lot of life lessons can be learned on the wrestling mat and from all the trials and tribulations you go through.
Q: Tell us about the road to the 2022–23 championship and what it felt like to win the title.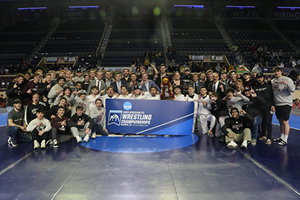 A: It was Augsburg men's wrestling's 14th NCAA championship, but none of the wrestlers on this team had been part of a team championship before. We won nationals in 2019, before any of this crew were at Augsburg. We were heavy favorites in 2020, but the championships were canceled due to COVID-19. The night before the championships, we were actually already down in Cedar Rapids, Iowa, when the cancellation decision was announced.
This year's senior class in particular went through so much because the wrestling experience looked so different during online learning. That was by far the most challenging time of my coaching career—trying to help student-athletes understand that we were going to get back to more normal things. We were going to be able to wrestle, but it seemed like that was never coming. For those guys to finish with that national championship experience, it was really gratifying. They'll have that the rest of their life.
For me personally, this was my first year as the sole head coach. Those moments with the parents and the student-athletes talking about everything being worth it—those are the coolest moments. Obviously, winning the matches, sure. But I think it's the senior speeches. At nationals, we have all the student-athletes who wrestled get up on a chair and hold the trophy and just say a few thank yous. Sometimes the speeches are kind of unscripted and unprompted, and it's fun to see the appreciation these student-athletes have for everything that goes into it and the men they become.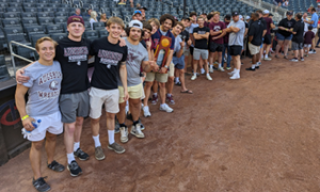 Q: What does it mean to you to be The Open Mat's NCAA Division III Coach of the Year?
A: It's a big-time honor. To me, it's a staff award or team award. I'm blessed to work with lots of assistant coaches who have the same drive and passion that I do for Augsburg and Augsburg wrestling and what it can do for students. It's a reflection of the work that we all did. It's always nice to be honored and have something tangible that says we won together.
 Q: And what's next?
A: Do it again. Do it again is the plan.
This interview has been edited for length and clarity.
---
Top image: Tony Valek in the Alan and Gloria Rice Wrestling Center within Augsburg's Kennedy Center (Photo by Courtney Perry)