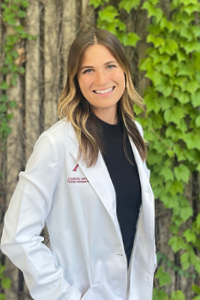 It's later in the evening, but Augsburg physician assistant student Alyssa Raiolo '23 happily takes the time to journal. Gratitude flows into her as she reflects on the experiences of her recent days.
There was her medical preceptor's hospitality and generosity, going above and beyond the normal requirements of simply supervising a student; the preceptor took steps to make Raiolo feel comfortable as she settled into her five-week clinical rotation in Crookston, Minnesota.
There were the times she directly assisted during surgeries and other procedures, opportunities rarely afforded to a rotating PA student at busier clinics where medical residents and others are well ahead on the priority list.
There were the conversations with her preceptor, who took the time and care to truly walk through an experience they just had with a patient to help Raiolo learn as much as she could from it.
"Learning from someone who has been doing this forever, you can't put a price on that. It's just the best," Raiolo says. "To have the space and time for these experiences, they're only available because I'm out here in Crookston. It's priceless."
It's no coincidence that one of Raiolo's rotations as a student in the Augsburg PA program brought her to Crookston, a town of about 7,500 people nearly 300 miles northwest of Augsburg's Minneapolis campus. It's one of several rural and underserved communities where Augsburg is working to get students into clinical rotations. These foundational blocks in building true partnerships give students invaluable experiences and serve communities where there is a shortage of health care providers.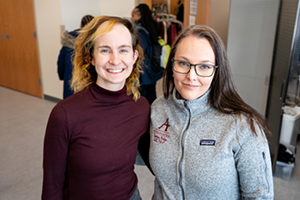 "Our president, Paul Pribbenow, has the saying of, 'Show up and do the work.' This is us truly doing that," says Associate Professor Vanessa Bester, the PA program's director since 2021. She says the program is committed to establishing long-term partnerships with clinics and giving students experiences with the barriers to health care across various communities.
Augsburg's ability to do that work got a major boost earlier this year when the university secured a $300,000 health equity grant from the Minnesota Department of Health to train students to practice in rural and underserved communities, including through telehealth services. The money helps students pay for transportation and cost of living expenses so they can spend more time living and working in these communities. The grant also funds Augsburg faculty and staff taking time to build stronger relationships and partnership models with medical providers.
"How do we prepare health care provider partners to train our students and to get what they need out of these programs? We're not swooping in once a year with five students. There's continuously someone from Augsburg," Bester says. "It's really about the long game and building those relationships and trust. … The more trust a community has in you, the more you're welcome and able to contribute."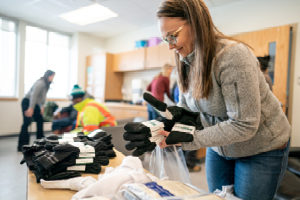 While the grant was obtained by the PA program, it's also being used to help train students in Augsburg's nursing, social work, music therapy, and clinical psychology graduate programs. That means Augsburg students are going into communities with a foundation of holistic care built across those programs, and they're using their experiences to, as Bester says, "continue growing into change agents, recognizing barriers to health care, and helping build a better system."
"Augsburg's health programs are really a powerhouse working together; the model of collaboration is really powerful and wonderful," Bester adds. "There's this concept of collaborative care that we develop in our students where we work together as a team, support that team-based care, and see that outcomes are so much better."
Getting students where they're needed
Well-documented and discouraging health disparities persist in many rural and underserved communities across Minnesota and the United States. (Health disparities refer to differences in health status compared to the overall population, such as higher rates of disease, disability, chronic pain, and mortality.) Perhaps no number paints the contrast more painfully than the harsh gap in life expectancy: According to the International Journal of Epidemiology, life expectancy in 2019 for rural men and women was nearly three years less than their urban counterparts across the U.S.
Access to health care is a challenge for many rural populations. Although about one in five people in the U.S. live in rural areas, less than 10% of physicians practice there, according to the American Hospital Association. Beyond that, nearly 150 rural hospitals have closed since 2010, in part due to staffing shortages.
Those shortages are a key part of why getting Augsburg students into rural clinics and hospitals is so important, Bester says.
"We want to build relationships with our partners so the community is part of the students' training. Does that guarantee they'll go practice there after graduation? Not necessarily, but the level of autonomy and feeling of connection may draw students back to rural communities when they are making that decision of where to work," she says, adding that the PA program has seen success in retention with its clinical partners in Little Falls, Minnesota. The $300,000 grant starting this year builds on the work of a previous grant that helped fund the development of a longstanding relationship between Augsburg and CHI-St. Gabriel's Health in Little Falls.
Raiolo says that despite being "such a city person" growing up, her time in Crookston has dramatically increased her interest in returning to a rural setting to practice medicine, citing the ability to provide holistic care and time to work more consistently with "people as full people."
"People come from all over the area to get care in Crookston. It's so nice to get to know the people you're caring for and understand more fully their way of life and what their experiences are like," she adds.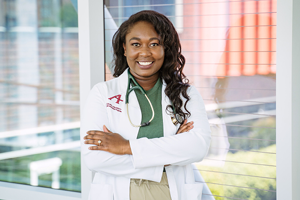 PA student Vanessa Amanor '23 has had similar experiences: Born in Ghana and raised just west of Minneapolis, Amanor says she has been amazed during rotations in underserved communities—more formally identified as federally designated health professional shortage areas—in rural Sherburne and Morrison counties. Smaller clinics that are part of larger health systems often provide student training in and patient access to primary care, behavioral health, and addiction medicine. As a part of her training in clinics outside of St. Cloud and Elk River, Amanor saw the community connections that providers develop and the benefits of continuous care they have with their patients.
"The provider I worked with in St. Cloud delivered a lot of these patients in Little Falls and was their family provider throughout their life, and now they struggle with addiction and he's their provider (for coping with addiction). It was just this amazing journey," she says, adding that she's planning on starting her career in a rural and/or underserved community. "I love the idea of being able to see people throughout their lives and help guide them through things. You build a sense of trust when you're with them for that period of time and see them that often. I'm looking forward to that."
'Grateful for these experiences'
There's a sense of excitement and gratitude, Bester says, as Augsburg moves through the first of three years with grant funding from the Minnesota Department of Health. It helps to have so much momentum and experience from the initial grant-supported partnership with CHI-St. Gabriel's in Little Falls, which helped provide a proof of concept for how to match student training directly to addressing health inequities across Minnesota.
Augsburg established from the previous grant a substance use disorder curriculum, so PA students were ready to obtain their Drug Enforcement Administration licensure and could prescribe suboxone to combat opioid dependence. Funding from the new $300,000 grant is helping ramp up training and develop a curriculum for telemedicine that will launch this fall. It is also paying for two telehealth stations on campus for students to practice and meet with patients during their rotations.
"The biggest thing is that funding opportunities like this are so critical to address the disparities going on in our state," Bester says. "This is an excellent way for us to help facilitate that access and contribute to improving health in all of our state's communities."
For Raiolo, getting to see firsthand the issues facing her neighbors in rural and underserved communities has been eye-opening. She knows there's plenty more to see and a lot more to learn in how she can help create better outcomes for her future patients.
"I'm grateful for these experiences," she says. "I've seen more now of what people experience and understand more of what needs are out here."
It's safe to say there are a lot more journal entries in her future.
---
Top image: Physician's Assistant Program Director Vanessa Bester takes a visitor's blood pressure at Augsburg Health Commons. (Photo by Courtney Perry)