Kay Carvajal '23 grew up surrounded by stories—her parents' journey from Mexico to Minneapolis, her neighbors' traditions, and her friends' dreams for better.
"Our lives are stories, and collectively, those stories make our history," said Carvajal, who was raised in southern Minnesota.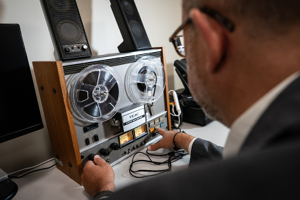 During her first year at Augsburg, Carvajal enrolled in a history class about Islamophobia. "It was this blend of social justice, reflections of the past, and visioning for the future," she said. "I never thought history could be so engaging, so alive."
She signed up for more history classes. "I learned the importance of history and the power that comes with telling it," she said. "I realized I wanted to dedicate my life to empowering others to tell their story because if you don't tell your story, others will."
Through the Augsburg Department of History, Carvajal didn't simply study history—she created it by researching lost voices and oral histories, including a recent oral history project about COVID-19.
"We learned to approach history with action," Carvajal said. "Instead of focusing on textbooks, we handled primary sources, created historical documents, and helped people share their stories. Learning and telling history creates empathy, understanding, and action."
Carvajal graduated in May with a bachelor's degree in sociology and a minor in history. She now works full-time as the bilingual program specialist for Pillsbury United Communities, a network of programs and centers for marginalized groups. In her role, she supports the personal, social, and economic well-being of youth in Minneapolis' East Phillips neighborhood.
"I got a grant through the Minnesota Humanities Center to help middle schoolers capture their own stories and conduct oral histories in their neighborhoods," she said. "I am teaching these kids the importance of documenting lives, events, and artifacts. I want to excite them about history the way my professors excited me."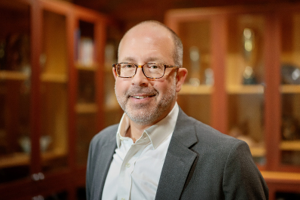 Carvajal is among Augsburg's thousands of history graduates whose classes challenged them to apply classroom knowledge to relevant projects that connect members of the public with the past. History Professor Michael Lansing says students learn about the past so they can make sense of the present.
"History is not the memorization of facts. History is about reading and writing and thinking," Lansing said. "We ask careful questions, consider multiple perspectives, and analyze information because history doesn't repeat itself, but it rhymes. Those who have the skills and knowledge to look back and interpret what was done and why can make more informed decisions about the future."
Doing history in public
Lansing has engaged students in dozens of public history projects for community partners, including Purple Places: A Digital History Tour of Prince's Minneapolis and Overpoliced and Underprotected in MSP.
In Spring 2023, Lansing worked with a team of students to document the voices and policies of Augsburg during the COVID-19 pandemic. The course, Doing History in Public, is a 4-credit class open to all majors interested in practicing historical methods for non-academic audiences.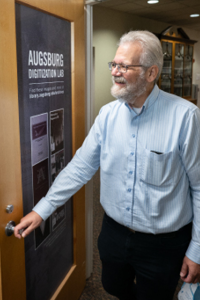 Since this course's inception in 2009, students have contributed to or created oral histories, archives, exhibits, digital history experiences, historic preservation, and more. In 2019, the class—taught each spring—became a required course for all history majors. "That move," Lansing said, "demonstrates Augsburg's pledge to a practical, relevant education."
Last semester's COVID-19 focus emerged from a conversation with Mike Bloomberg, a digital and research services librarian at Augsburg. Bloomberg said he was reviewing the university's archives from the 1918 influenza pandemic and found "almost nothing, other than a few articles in The Echo student newspaper and a report that the president's secretary nursed students to health in the gym."
"When something is negative, we don't want to linger in it. We want to move on and forget, but it's important for us to look back and reflect," Bloomberg said. "I didn't want us to repeat that history, so I talked with Dr. Lansing about how we could preserve the experiences of our students, faculty, and staff during this time. Had we had more information about the pandemic response in 1918, we might have made some different decisions today."
Capturing diverse voices
Bloomberg and other library staff worked alongside Lansing and his students to learn how to use recording equipment, identify people to interview, develop questions, and collect artifacts such as masks, documents, and photos.
"The process of collecting and reflecting is healing," Bloomberg said. "The pandemic changed us in profound ways that we might not realize, and many of us involved in this project—from the students interviewing subjects to the subjects themselves—enjoyed connecting about what happened to us during and because of this time."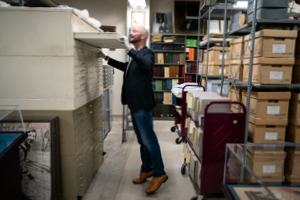 Stewart Van Cleve, associate library director and university archivist, advocates for and supports capturing history at Augsburg. He considers this work a gift to the future.
"I'm looking through the oral histories we have of Augsburg memories, and it's this gallery of faces of amazing people who have shaped the institution. Many of them are gone, but through these oral histories, they can talk to us across time, which is truly a miracle," he said. "My goal is to ensure our community has a sense of belonging and connection to the institution, this legacy that is something greater than any of us could be on our own."
Carvajal said she and her peers felt that connection with the people they featured in the COVID oral history project. She interviewed Dorris Carter-Murray, a custodian at Augsburg, to reflect on the time and energy it took to maintain a clean and safe campus through an uncertain, menacing time.
"Dorris was an important voice to hear," Carvajal said. "She was on the front lines during the pandemic, and she worked extremely hard to make sure we all stayed safe. It's easy for people in her role to feel invisible or even looked down on, but it was encouraging to hear that she felt really supported and seen at Augsburg."
Nell Matheny '23 interviewed Augsburg University President Paul Pribbenow. An aspiring museum professional, Matheny said learning to make history engaging and relevant will inform their career. The COVID project compelled them to consider how the pandemic affected others.
"COVID impacted me quite a bit. I had to switch schools and move back home," said the history major from Maplewood, Minnesota. "It was interesting to see the institutional side of things and how others dealt with such challenges and chaos."
Matheny and Pribbenow talked at length about the complexity of the leadership challenges Augsburg administrators faced with limited information. Pribbenow hopes people who see his COVID-19 oral history interview appreciate the genuine effort he and his staff took to make sound decisions.
"I found the history project interview to be a little jarring as I realized how much of the pandemic was a bit of a blur for me," Pribbenow said. "I sometimes had trouble remembering exactly when we made certain decisions as the years blended in my memory. I hope that the combination of perspectives included in the oral history will ensure that there is an accurate picture of what we did and when."
Matheny and their peers focused on oral histories to capture details and perspectives that might otherwise be overlooked or lost in the gathering of artifacts, data, and documents. Hearing someone's voice, Matheny added, completes the story.
Augsburg University Pastor Babette Chatman '06 was also among the voices in the COVID-19 oral history project. She was eager to share her perspectives as an essential worker and Black woman walking alongside people, particularly the most vulnerable.
"There is a move in this country to be selective about what history and whose history is told, so it's important to engage and excite people about documenting history," said Chatman. "During the interview, I recalled a story about meeting with students over Zoom. I promised them that if they did not give up, I would be there when they walked across the stage at Commencement 2023, and I was."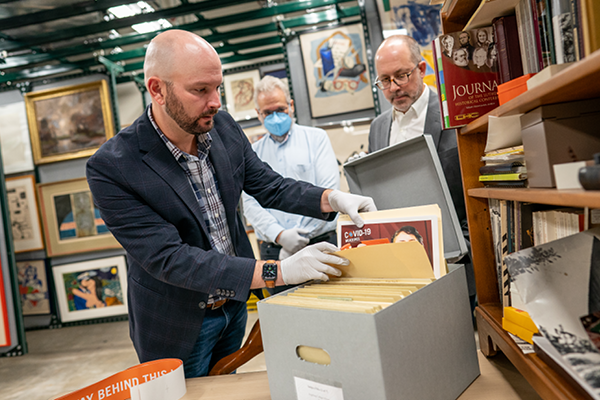 Walking people through history
The COVID-19 oral history project is one of several oral histories produced through the university archives. Oral histories of Muslims in Minnesota, graduate memories, and the Health Commons are among those available online, alongside the archive's collections of yearbooks, alumni magazines, photographs, and more.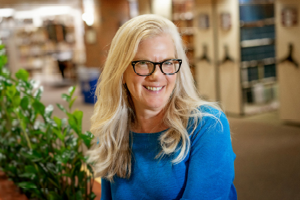 Many of the students and professors who worked on those projects have also contributed to Augsburg Digi-Tours, a collection of stories and virtual tours that explore thought-provoking topics such as racial and ethnic tensions during Minnesota's suffrage movement and the history of Minneapolis' Cedar-Riverside neighborhood. These interactive experiences involved collaborations with other programs across campus, including information technology and graphic design.
History Department Chair Jacqueline deVries is among the faculty who have led these dynamic projects. In Spring 2020, she and eight students persisted through the pandemic shutdown to gather photos and stories about the women's suffrage movement in Minnesota. They collaborated with the Hennepin History Museum to create "Votes for Women," a digital walking tour that invites people to walk in the footsteps of women activists and reformers more than 100 years ago, remembering the 1920 passage of the 19th Amendment.
DeVries is working with students to finalize a digi-tour to celebrate the 100th anniversary of the Hennepin Theatre Trust. The tour weaves stories, photos, and audio into a walking tour that explores the history of theater in Minneapolis.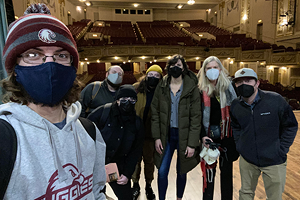 "This type of work really stretches students," deVries said. "They have to do a lot of original scholarship with primary sources and then also consider what people want to know and learn. They have to think spatially about how to develop a walking tour, and then they have to engage with technology to produce it.
"Students are looking for meaning and purpose and significance, and having a real audience heightens students' engagement," deVries said.
Carvajal said these hands-on experiences are what led her to realize her passionate purpose, and Lansing said hearing this and other stories motivates his department to continue to teach beyond the classroom.
"We are driven to nurture students to be informed citizens, critical thinkers, and responsible leaders and to help them find a vocation where their talents meet the world's needs," Lansing said. "History is woven into every aspect of our lives, and it's encouraging to see so many students get excited about history's application in their lives."
Possibilities of the past
Nick Stewart-Bloch '17 reflects the power and potential of a history degree from Augsburg. During his sophomore year, the double major in history and international relations collaborated with deVries to research the civic agency of Jewish women in interwar Great Britain. That experience led to a legislative internship followed by contributions to The Historyapolis Project, which documents the history of racial segregation in Minneapolis through oral histories and engaging visual maps online.
After graduating, Stewart-Bloch moved to China to teach English and host international conferences before returning to Minneapolis to serve as a case manager for Agate Housing, where he mediated conflicts between property managers and tenants.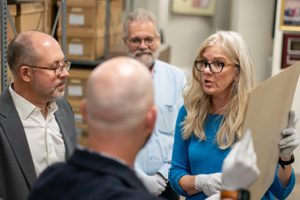 "When I worked with unhoused folks, my experience at Augsburg helped me understand inequalities as well as what a more just city and more just policies can look like," he said. "The university's commitment to applied learning that is community-based and geared toward social justice is how I want to practice. Public history helps explain where we are today and hopefully makes us more aware of how our decisions create the kind of society we want."
In 2021, Stewart-Bloch moved to Los Angeles to pursue a master's degree in urban and regional planning at the University of California. The Minnesota native hopes to support labor and environmental justice movements as a strategic researcher.
"The training and ideas I gained at Augsburg have set me up to look at urban planning more critically," he said. "It makes me want to engage with it in a way that redresses the wrongs committed by past planners."
Lansing easily recalled the names of other graduates who are applying their history degrees in a range of fields. He and his colleagues in the history department regularly invite alumni and community members to speak to and partner with classes.
"Connecting students with professionals facilitates conversations with people actually doing this work and using these skills in a variety of venues," Lansing said. "These interactions inspire my students but also lead to internships and future jobs. Our collaborative work is building bridges."
---
Top image: Jacqueline deVries, Stewart Van Cleve, Mike Bloomberg, and Michael Lansing hold a COVID-19 distancing floor sticker used at Augsburg, now filed in the university archives. (Photo by Courtney Perry)