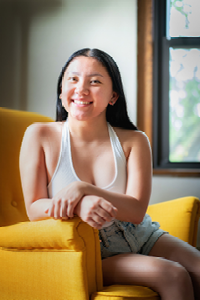 For most of her life, Madelyne Yang '26 thought she'd never go to college.
"During my senior year of high school, I was like, 'I don't want to go. I'm not going to be able to afford it. My situation is horrible.' Going to college was honestly not a thought in my head," she said.
Then, a teacher told her about Minnesota's new Fostering Independence Grant. As a student with a foster care background in Minnesota, Yang would qualify for a grant to cover the full cost of her college attendance.
"At first, I was like, 'That must be fake. No way,'" Yang said.
But once she learned more about the program, she decided to go for it.
Yang applied to Augsburg University and two other Minnesota colleges—but because she'd grown up in the Twin Cities, Augsburg was her first choice.
When Yang arrived at Augsburg in Fall 2022, she found a full support system waiting for her. It was the first semester the university offered Augsburg Family Scholars, a new program that aims to narrow the opportunity gap for students with foster care backgrounds.
"Ausgburg Family Scholars has been awesome. I haven't heard of another university doing this," Yang said. "I didn't expect it, honestly, but it's been a big help."
According to Augsburg Family Scholars Executive Director Tim Pippert, Augsburg is the only university in Minnesota and one of only a few in the Midwest with a program specifically designed to support students who've experienced foster care.
"We're the only institution doing anything like this," said Pippert, who is also Augsburg's Joel Torstenson Endowed Professor of Sociology. "If being in foster care was a significant part of your past and that's an important aspect of who you are, then Augsburg Family Scholars is absolutely something you could be a part of."
An accelerated start
Pippert led the creation of Family Scholars as a response to some of his experiences teaching sociology at Augsburg.
"As a family sociologist, I got tired of being the professor who talked about how our foster care systems really just set up youth for failure," he said. "I love teaching, and I still want to do that, but I was also thinking about ways in which I could do something more."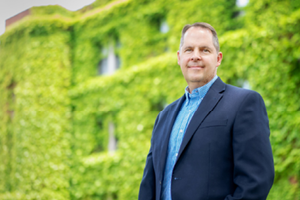 Then, in May 2021, Pippert began a yearlong fellowship with the Lutheran Education Conference in North America, which required him to complete a leadership project. He chose to develop a program to support students from foster care.
At the time, Pippert didn't know that the state of Minnesota had its Fostering Independence Grant in the works. "I had started developing what I thought would be a proposal to launch something in a couple of years," he said.
But after Minnesota legislation to establish the state grant passed in the summer of 2021, Pippert quickly accelerated his plans for Augsburg's program. By Fall 2022, Family Scholars was ready and began serving 15 students.
The state legislation not only sped up Pippert's timeline for the Augsburg program—it also changed the way he shaped the program to most effectively support students.
"Originally, I thought I was going to have to fundraise to help pay the tuition for fosters," Pippert said. With the Fostering Independence Grant, the need to cover tuition immediately went off the table, so Pippert focused on efforts to enhance the student experience and retention.
"Just having the state pay your way isn't enough," he said. "Having the financial resources, they're amazing. It is a really good state grant. But it's not enough on its own, and there's way more to college success than paying for college."
In addition to financial challenges, foster youth often experience instability and frequent changes in where they live and where they go to school, according to the National Foster Youth Institute. This contributes to academic difficulties, with only 50% of foster youth finishing high school, studies show.
"This program, Augsburg Family Scholars, is based on the idea that if somebody has worked hard enough to get to college, then we will support them and do what we can to help them finish," Pippert said.
Building a support system
Family Scholars is built around three components: financial support, academic support, and community and relationship support.
The financial support involves helping students navigate the Fostering Independence Grant and other financial aid programs. This component also includes funding from the Sauer Family Foundation and the Constellation Fund to give students money for basic needs such as buying groceries, outfitting dorms, or living on campus during the summer. While many college students may be able to turn to their families for extra financial help, students who grew up in foster care usually do not have that option.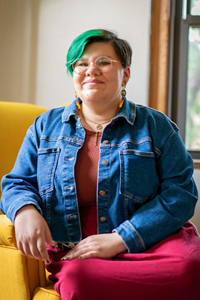 "A lot of people have their parents put money away for their college fund, or they have the time to focus on school and get good grades to get scholarships," said Donovan Holmes '26, a Family Scholars student. "But foster youth don't always get those opportunities. Some of us end up being homeless. Some of us have domestic violence going on at home. A lot of us have extremely unstable lives for a long time, so our grades go down, and then we don't get those scholarships."
That's part of why the academic support component of Augsburg Family Scholars is crucial. Pippert meets with students individually as needed to help them stay on track with their schoolwork.
"I'm pretty rigidly tracking how they're doing," he said. "Some students I meet with every week. Some students I meet with once or twice a semester because they're killing it and they don't need much, so we just kind of check in. But there's heavy academic mentoring and support available to help them get through."
The program's final component, community and relationship support, includes activities and events to help the Family Scholars students bond with each other. The students also have a designated lounge in Memorial Hall where they can relax or study together.
"It feels like we are our own little family," Yang said. "We're just a bunch of fosters that attend the same college, but when we hang out together, I forget that we're even in this program because we are fosters. … It's nice that you forget about that part."
Holmes said he has also made meaningful connections through Family Scholars.
"It's really nice to know that there are other people who have similar experiences to me," Holmes said. "My peers in Augsburg Family Scholars share my perspective."
From foster care to college
According to the National Foster Youth Institute, the challenges that children in foster care face outside of school can affect their academic performance and ultimately lower their chances at graduating from college. Studies show that only 3–4% of former foster youth obtain a four-year college degree.
"Many students (who are not from foster care) don't have to figure everything out on their own. They have folks who have their back," Pippert said. "But for some of our Family Scholars, there just isn't that home base where they can call and get advice or resources. … There are more barriers when you don't have a secure home or guardianship base."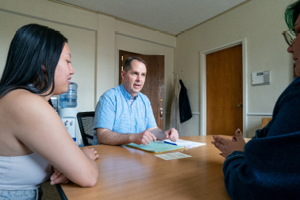 However, the challenges that come with foster care affect each student differently, Pippert said, and Augsburg Family Scholars works to address each student's individual needs. "With 15 students, it runs the gamut of folks who need an awful lot and folks who are doing really well on their own," he said.
Holmes, for example, entered foster care when he was 2 years old. He bounced around between schools for years while switching foster homes. Then, he stopped attending high school for a while when he became homeless.
"Up until high school I had a really good academic career," Holmes said. "I got straight As. I was a huge nerd. … But then in high school, I became homeless. I was homeless for about a year and a half, couchsurfing with my friends, and I was like, 'Okay, I can't do school anymore.'"
Holmes said he eventually ended up with a foster family that helped him get back into high school, but then he dropped out after experiencing transphobic discrimination at school. "I could have graduated, but honestly, I just didn't want to be there," he said.
Instead, Holmes pursued a career in activism and landed a job with the Division of Indian Work office in Minneapolis, where he was also a client. Holmes said he never intended to go to college until his mentor at the Division of Indian Work encouraged him by saying that not having a college degree would limit his future job prospects.
"I was doing all this learning through work experience. I thought, 'I don't really need to go to school,' until my mentor brought up a really good point, which was, 'You're going to stay at these lower-level jobs if you don't pursue an education,'" Holmes said. The new state grant offering free tuition was another reason Holmes began to seriously consider going to college.
Holmes had also met with Pippert and learned about Family Scholars, which sealed the deal—he applied to Augsburg and started classes in Fall 2022.
Navigating the first year
Holmes' transition to Augsburg felt very easy. "I definitely have to say it was because I had people who were supporting me and helping me through," he said. He added that he enjoys being able to just focus on school as a full-time student.
There are some Family Scholars students who have had a harder time adjusting to college, Pippert said. "We've had some real academic challenges, and we have a couple folks who won't be able to continue at Augsburg because the issues were so significant. That's the reality of it," he said.
"We do our best to help students navigate those situations," Pippert said, "and I think we still consider it worthwhile if they know that when they are more able to navigate life and when they can feel like college is an option again, we'll be waiting for them."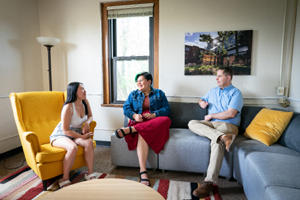 Overall, though, Pippert reflected on the first year of Augsburg Family Scholars by describing the students' eagerness and growth at Augsburg.
"It's simple stuff," he said. "It's when students come into the Augsburg Family Scholars lounge or up to my office to tell me about something, like how well they did on a test. We had a student who got an amazing internship this summer; he was so excited to tell me about that."
Yang is among the students who say Augsburg has helped her feel more excited about her education and future opportunities. "College flipped my life around. It's just different now because I finally get the chance to do my own things and choose my own path," she said.
Pippert added that seeing the students come together in community is also rewarding. "Sometimes, from my office, I can hear people in the lounge laughing. That, to me, is amazing," he said. "I'll usually stay away because I'm not going to interrupt that at all. When they connect with each other, that's so much fun to see."
Looking ahead
With Augsburg Family Scholars moving into its second year this fall, Pippert is looking for ways to grow the program and offer more support to students.
This includes exploring grants or other fundraising that might financially support former foster youth who do not qualify for Minnesota's Fostering Independence Grant. To be eligible for the state grant, students must be younger than 27 and have been placed in foster care in Minnesota after age 13. Those requirements leave out non-traditional students, students who experienced foster care in other states, and students who were in foster care before age 13 but still need support, Pippert said.
"The students who are not eligible for the Fostering Independence Grant need a lot financially. I'm trying to work on fundraising for those students," he said.
Pippert also wants to better promote Augsburg Family Scholars. "Every person in Minnesota who has a foster care background should know that college is a possibility, and so many assume it's not. They don't even apply because they don't think it's possible. So, I'm hoping that Augsburg becomes a model," he said.
Both Yang and Holmes said they are looking forward to starting their second year at Augsburg with Family Scholars.
"I'm just excited for the fall semester to start again," Holmes said.
Learn more about Augsburg Family Scholars.
---
Top image: Professor Tim Pippert (right) talks with Augsburg Family Scholars students, Madelyne Yang '26 (left) and Donovan Holmes '26 (middle) in the Augsburg Family Scholars lounge on campus. (Photo by Courtney Perry)