by Betsey Norgard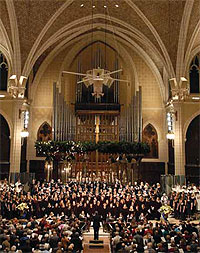 This academic year, the Augsburg Choir celebrates 75 years—a choral tradition of distinction and excellence.
The Augsburg Choir was founded in 1933, when the Men's Glee Club and the Ladies' Choral Society, who had sung together on various occasions, voted to unite, under the direction of music department chair Henry P. Opseth. The first student president of the choir was a third-year music major and future choir conductor Leland B. Sateren.
The new choir lost no time in preparing for tours and performances. In 1935, their tour through the Midwest took them more than 2,000 miles for 20 concerts, including a coast-to-coast broadcast in Chicago with the National Broadcasting System. On their return, they sang a home concert at Central Lutheran Church.
Choir business manager Orville C. Hognander '36 planned the tour, plus arranged for a series of 18 Sunday evening radio broadcasts on WCCO radio, the "Hour Melodious." This program also was accessible over open channel across the country and brought visibility to Augsburg, reconnecting many alumni to the College.
In 1946, Leland B. Sateren '35 returned to Augsburg to join the music faculty. Following Opseth's death in 1950, Sateren was named conductor of the Augsburg Choir.
For the next 29 years, the Augsburg Choir developed its own distinctive tone quality, musicality, and professionalism under Sateren. While the choir continued to share the Gospel through church music, Sateren evolved a more contemporary classical sound, especially in his own compositions. His passion for Scandinavian music brought attention to music and composers relatively unknown in the U.S.
In 1975, the Augsburg Choir's 40th anniversary tour took them to Scandinavia. They traveled by boat down the Norwegian coast, from above the Arctic Circle to Oslo, and sang in the Trondheim Cathedral.
Leland Sateren retired in 1979, and the direction of the choir passed to Larry L. Fleming, a noted choral conductor and composer. In his first year, the choir was chosen as the official representative from the U.S. to sing in Augsburg, Germany, at the 450th commemoration of the Augsburg Confession.
Fleming also established Advent Vespers, the College's annualholiday program, as a service of music and liturgy, which now attracts up to 8,000 people at its four services and will celebrate its 30th anniversary in 2009.
Fleming left Augsburg in 1986, and for the next several years the Augsburg Choir was under the direction of Thomas Rossin.
In 1994, after serving a short time as interim director, Peter Hendrickson '76 was appointed the choir's new conductor. Over the past decade and a half, he has realized his vision for Augsburg's choral program—one that offers distinct choral experiences for all students, including the extended Augsburg family, with different repertoires:
• Augsburg Choir—a cappella touring choir
• Riverside Singers—women's chorus
• Cedar Singers—men's chorus
• Masterworks Chorale—symphonic chorus
All four choirs, as well as an orchestra and liturgical party, participate annually in Advent Vespers. In 2004, for the 25th anniversary, Twin Cities Public Television recorded the service and won a Regional Emmy award for the production. The program has been shown on public television during the holiday season since then.
One of Hendrickson's passions is language, and to date, his choirs have sung in more than 15 languages. "We owe it to our students in the choral program to educate them not only in Augsburg's commitment to the Lutheran choral tradition, but also in creating, through music and language, a better understanding of other cultures and our responsibility to be world citizens," Hendrickson says.
The Augsburg Choir's March tour this year took them south, traveling from Nebraska to Texas, and locations in between. Currently the choir is planning next year's tour, a trip that will take them to China in 2010.
The Masterworks Chorale marks 15 years
Hendrickson founded the Masterworks Chorale in 1994 as a symphonic chorus of approximately 100 voices, made up of students, faculty and staff, alumni, and others connected to the Augsburg community. Unique to a college campus, Masterworks Chorale presents programs of great choral works and explores new masterworks.
In 1996, the chorale performed for the first time the entire Visions from Hildegaard by Minnesota composer Stephen Paulus. In 1997, it presented the English-language premiere of Norwegian composer Egil Hovland's opera, Captive and Free, and in 2001, the English-language version of Finnish composer and conductor Kari Tikka's opera, Luther.
The Masterworks Chorale performs three times per year—at fall and spring concerts, and for Advent Vespers. A number of chorale members are Augsburg alumni who sang as students in Leland Sateren's choirs.
"The Sateren choir alumni in Masterworks keep the legacy and spirit of the Sateren era alive," Hendrickson says. "It's a wonderful connection for our current students, a passing of the torch, so to speak, from then to now."