by Jean Spielman Housh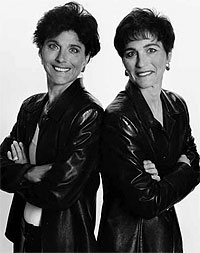 Barbara and Betty Bowers knew they wanted to grow up to be doctors when they were six years old. The twin sisters were born in Mora, Minn., and graduated from Augsburg in 1972. They attended medical school at the University of Minnesota and graduated in 1976.
"Our family doctor, Dr. Harry Berge, encouraged and supported us in our dream," says Barbara Bowers, MD, "although we'd never even seen a woman doctor."
The Bowers twins were two of George and Opal Bowers' four daughters. The family lived in Brook Park, Minn., when the twins were young. "Our parents raised us to believe that if we worked hard we could achieve anything."
Betty and Barbara studied diligently through grade school and graduated from Forest Lake High School.
"We never took a test without thinking about our goal," Barbara explains. "We would not be dissuaded by naysayers."
Today, Barbara Bowers is medical director of Fairview Southdale Breast Center and Fairview Southdale Hospital Medical Oncology Clinic.
Betty Bowers, MD, is medical director and an anesthesiologist with the McGee Eye Surgery Center in Oklahoma City, Okla.
How did two young women from small-town Minnesota make it through college in the big city?
"We received incredible personal attention and felt cared for at Augsburg," Barbara says. The twin sisters found the small class sizes and nurturing environment a perfect place to study the sciences.
"Our Augsburg professors were supportive and encouraged us to pursue our dream," Betty explains. Although, there was one science professor who did not give them full credit for their class work. "He had a special curve for us," Barbara says. "His attitude really was indicative of society at the time. It was the late 1960s, and few women were pursuing careers in science, let alone medicine. But we didn't lose heart."
At Augsburg, the Bowers sisters were exposed to different cultures and religions. "Our professors knew us as people, not just students in the classroom," Barbara explains. "Rabbi Schwartz took us to his synagogue and invited us to his home for Seder."
While it took a lot of hard work to get through medical school, "We were encouraged by those who meant the most to us," Betty says. "Sometimes naive belief serves you well."
Claus Pierach, MD, a professor at the University of Minnesota Medical School, recognized right away that the Bowers sisters were unique. "Not only were they identical twins—they were equally enterprising."
Pierach serves on the admission committee for the University of Minnesota Medical School. "I see and study many applicants, but I see few students as determined as Betty and Barbara Bowers."
After completing medical school, Barbara Bowers did her residency at what was then Northwestern Hospital. Pierach worked closely with Barbara in her internal medicine rotation. "It was no surprise that she earned the title of chief resident." It was during her internal medicine residency at Northwestern Hospital that Barbara became intrigued by the cancer patients she treated. "They were strong people, and it really sparked my interest in medical oncology," she explains.
Barbara decided to specialize in medical oncology. "At that time, I thought I'd work in cancer treatment and work myself out of a job in about 10 years."
While cancer has not been cured, Barbara has seen significant advances in cancer treatment and prevention. "We are seeing more cancer patients live longer. There has been progress in preventing certain cancers through increased patient understanding of the role diet and exercise play in our lives."
"As a physician, my role is to partner with patients. To do that, we need to educate patients, give them the information they need to make decisions regarding their care, and communicate on the same wave length—making sure that they know they are the most important person on our care team."
For Barbara, caring for cancer patients is where medical science and compassion meet. "I'm a scientist," she explains. "I love studying the periodic table. Everything in the universe is up there except one thing—the heart, the human element."
Barbara is married to a physician and has two daughters and a son.
While in medical school, Betty thought she'd become a surgeon. She was the first female surgery resident at Hennepin County Medical Center. In the fourth year of her general surgery rotation, Claude Hitchcock, MD, approached her about taking a six-month anesthesia rotation at the Mayo Clinic. "It's been a good fit for me. I've been practicing anesthesiology since 1981."
She's been with the McGee Eye Surgery Center since 2005. Betty is married to a physician and has two daughters.
Looking back, Barbara and Betty remember many good times amid the grueling schedule of medical school. "But we got through it all by tucking our chins in and working hard," Betty says.
Both physicians say they have enjoyed tremendous job satisfaction from their careers in medicine. "I would encourage anyone dedicated to helping people to choose a career in medicine," Barbara says. "The medical field is constantly changing and offers academic challenges, but most of all it is personally rewarding."
Jean Spielman Housh is married to Allen Housh, a former Augsburg regent. She came to know
Dr. Barbara Bowers when she was treated for breast cancer in 2004.
*Photos submitted by the families and Fairview Southdale Hospital.