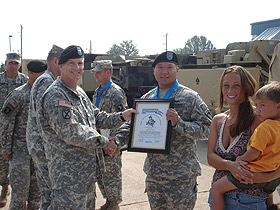 When Lewis Nelson graduated in 2000 he intended to become a high school history teacher. Instead, he spent the next seven years in the middle of history being made.
Reading about wars in history classes had instilled a deep sense of patriotism, and when 9/11 struck, Lewis decided to enlist in the Army. He had learned about language training that guaranteed a military intelligence job and other benefits, so he knew what to ask for in the recruiter's office. A huge benefit was repayment of his college loans by the government.
In October 2001 Lewis began basic training and continued with language school in Monterey, Calif., to study Korean, his mother's language. There he met and married his wife, Holly Downs, who was training to be an Arabic linguist, but left the Army to raise their family.
Lewis was assigned to the 101st Airborne Division in Ft. Campbell, Ky., and spent the next five years in signals intelligence— collecting signals and translating, locating, and analyzing them. He was responsible for training his own unit's soldiers and developed the methods to gather and present intelligence, often while testing new equipment on the streets in Iraq.
By the end of Lewis' second deployment to Iraq in 2005– 06, he had designed training courses and written manuals, tested new tools and equipment, and conducted over 200 tactical missions to help locate weapon caches and capture some of the most-targeted insurgents in eastern Baghdad.
To avoid further separations from his family, then with two children, Lewis accepted an Army teaching assignment in San Angelo, Texas. As a Korean cryptologic instructor, he taught soldiers to become subject-matter experts on North Korea, including classified signals intelligence.
"One of my favorite aspects of the military has been the ability to teach new soldiers, and now that will be my job every day," Lewis wrote in June 2007.
Last November, after 15 months of teaching the Korean course, supervising a tactical signals intelligence course and developing a 10-week training course, Lewis was medically discharged because of knee injuries suffered in training.
He worked for several months as an intelligence analyst contractor for the Army, providing targeting support for operations in Iraq and Afghanistan. In June, he began a new job, using his knowledge as a Korean cryptologic linguist to provide military analysis about the Korean peninsula for a government agency near Washington, D.C.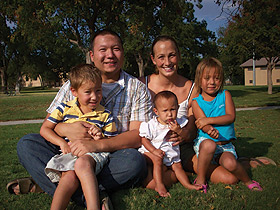 Lewis and Holly now have three children—Benjamin, 5; Arianna, 4; and Gwendolyn, 1. They live near Charlottesville, Va.
Lewis also started his own web design company, Gumi Design. "Gumi" is the Korean word given by Lewis' great-grandfather to his dad, which literally means "beautiful region," but is also related to the Chinese character meaning "America."
"This [web design venture] is relevant," says Lewis, "because my very first web site was the Augsburg Athletics web site, in 1996." He says he has gotten much better over the years.
Lewis can be contacted at lewis@nelsondowns.com.