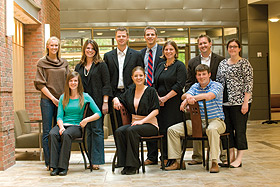 The Young Alumni Council, representing grads from 1999-2009, was formed to advise the Office of Alumni and Constituent Relations. The council has met monthly to provide a collective voice in the planning of the monthly Young Alumni Summer Series and the Recent Grad Reunion at Homecoming, October 2–3.
The Young Alumni Council focus is to provide dynamic social and learning opportunities for Auggies while keeping them engaged with their alma mater. This volunteer committee not only assists the alumni office in the planning and execution of events, but also takes responsibility for attendance and the engagement of their fellow alumni. Their first event on May 15 at the Corner Bar drew more than 100 alumni.
Are you interested in getting involved? The Young Alumni Council meets each month at Oren Gateway Center. Contact Amanda Storm at alumni@augsburg.edu or 612-330-1178 for information. Join our groups on LinkedIn and Facebook— Augsburg College Young Alumni & Recent Graduates—and on Twitter @acyoungalumni.
Upcoming young alumni events
August 6
Canterbury Park
5:30 p.m., free
September 9
Brit's Pub
5:30-8:30 p.m., free