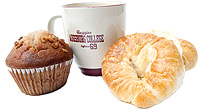 The new Eye-Opener Breakfast series, co-sponsored by the Offices of Corporate and Foundation Relations and Alumni and Constituent Relations, has been a big hit among the College's professional alumni. The Eye-Opener Breakfast series is designed to meet the needs of Auggies who are currently employed at Twin Cities corporations, and features topics of interest to business people. The first breakfast, held in April at Town and Country Club in St. Paul, focused on the timely issue of "The New Federal Fiscal Recovery Package: What's in it for Minnesota Families and Businesses." More than 50 alumni turned out to hear Professor Jeanne Boeh, chair of the Economics Department, and Jay Benanav, director of government relations, speak on this topic.
The second Eye-Opener Breakfast in July featured Augsburg professor Mark Tranvik, director of the Lilly Endowment Grant, Department of Religion, who spoke on the topic, "The Difference Between a Career and a Calling" to more than 70 Auggies.
The series provides networking opportunities with fellow Auggies in the work world. Due to the great success of the first two events, the series will continue on a quarterly basis. The next one will be held on Oct. 27. Visit the Alumni Association website for information about future events.