By Betsey Norgard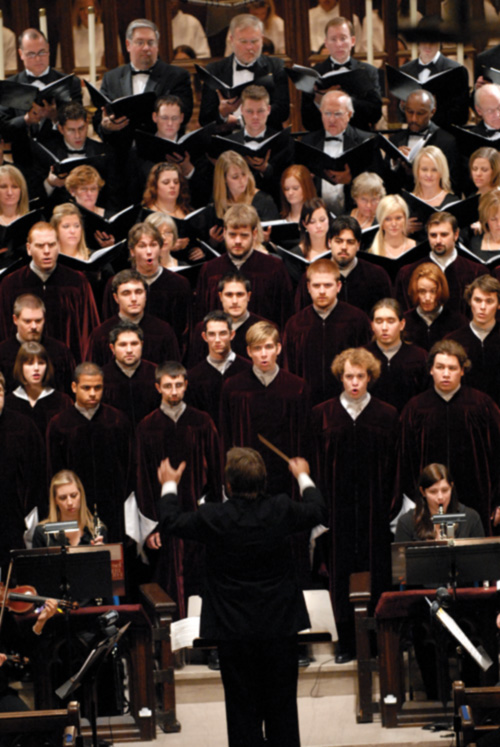 In 1980, Augsburg Choir director Larry Fleming's vision for the first Advent Vespers was unlike any other. Among many holiday performances, Augsburg's program would offer a spiritual experience—a service with both music and liturgy—and the focus would be on Advent, preparing and waiting for Christ's presence.
From this first service, Advent Vespers grew to four services. Last year, more than 10,000 people attended, making this Augsburg's largest event of the year.
This year, as Advent Vespers celebrates its 30th anniversary, a fifth service has been added, at 2 p.m. on Saturday, offering a daytime service to more easily accommodate larger groups of visitors.
Augsburg's partnership with Central Lutheran Church in downtown Minneapolis, with its majestic sanctuary and stained-glass windows, allows Advent Vespers to be unique.
"We can create the essence of a Christmas concert and transform it into not just a concert but a spiritual experience," says Peter Hendrickson '76, Advent Vespers artistic director and director of choral activities. "The liturgical elements transform the music to a deeper level."
Over the years the Advent Vespers services have stayed the same more than they have changed, says Pastor Dave Wold, campus pastor and director of ministries. "My fascination is with Advent Vespers as a service, and we work hard to keep it close to a theme and give a message of hope for the season."
While the liturgical party that carry bells, banners, the cross, and the Gospel has grown in numbers, and four choirs now feature more than 250 singers, the experience has remained constant. The liturgical journey begins in darkness with "O Come, O Come, Emmanuel," moves to recognition and joyful celebration of Christ's birth, and ends with quiet reflection in the warm candlelight of "Silent Night."
Music professor and organist Stephen Gabrielsen '63, who has played for all but one Advent Vespers service when he was on sabbatical, recalls that the weather has also been constant—there has never been a service cancelled on this first weekend of December because of winter weather.
In 2004, to mark Advent Vespers' 25th anniversary, TPT-2 public television made a recording of the service, which continues to be shown each year on public television, and received a regional Emmy for its technical production. Recordings in both DVD and CD format are available through Augsburg's Music Department.
30th Anniversary of Advent Vespers
Friday, December 4—5 and 8 p.m.
Saturday, December 5—2, 5, and 8 p.m.
Central Lutheran Church
333 S. 12th Street, Minneapolis
For seating information, call 612-330-1444 or go to http://www.augsburg.edu/music/vespers/