By Mohamed Sallam, Director of the Pan-Afrikan Center and instructor in the Departments of Sociology and History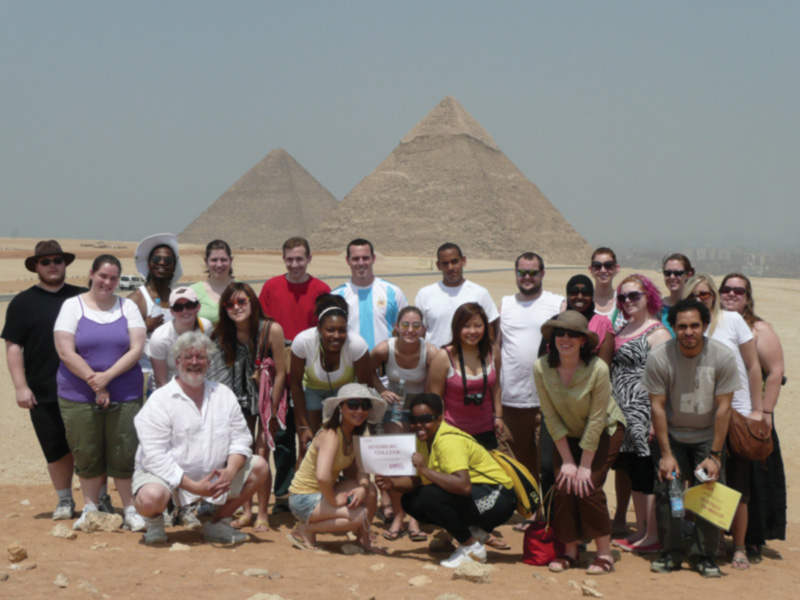 As a child, I spent most of my summers in Egypt. When I became director of the Pan-Afrikan Center, I proposed taking students to Egypt so they could study in a country with both a rich history and current events of interest. After a year-and-a-half of planning and collaborating with Professor Phil Adamo, who teaches ancient history at Augsburg, we arrived last May in Cairo with 22 students. We began our journey in Africa's largest city, a 1,000-year-old metropolis that is home to more than 20 million people. Beyond Cairo, our three-week excursion took us through Alexandria, Luxor, Aswan, and Hurghada.
Our two courses covered Ethnicity and Identity in Ancient and Modern Egypt, focusing on Egypt's ancient past and exploring its modern identity, including a discussion of religion. Although Egypt has an overwhelming Muslim majority there is also a significant Orthodox Christian community. As such, students visited some of the oldest Islamic mosques and Christian churches and monasteries in the world. One stop was Al-Azhar University and mosque, which is one of the oldest higher education institutions in the world. We later went to the Hanging Church, one of the sites said to have been visited by Jesus, Mary, and Joseph. Outside of Cairo, we visited St. Makarios Monastery, another monastery on the Holy Family's travels through Egypt.
In discussing Egypt's place in the ancient world, we acknowledged that ancient Egyptian society is often over-romanticized, leading to a difficulty in reconciling the past with the current state of affairs. To give context and help students understand the many changes Egypt has undergone, we explored Egypt's relations with its neighbors, both past and present. Our first stop, Abu Simbel, is an ancient temple built by the Egyptians, in an area then known as Nubia, to show Egypt's dominance in the region. Although Nubia is no longer a separate kingdom, the Nubian people have a distinct language and culture. After learning about the history of Nubia and its relationship to Egypt, the students spent the day with a Nubian community located in Aswan.
We later ventured to Hurghada, a city on the Red Sea located in the Eastern Desert. We drove over an hour to visit a Bedouin community with only 30 members. Due to the harsh nature of the desert, all of their water comes from a local well, and they raise the animals needed to survive. We shared a meal with this community, which allowed the students to experience the vast expanse and isolation of the desert. It was eye-opening to see what it takes to survive there.
Our trip to Egypt evoked a lot of thoughts and feelings within our students. They had to interact with people who speak different languages, practice different religions, and come from a very different worldview. We challenged stereotypes, explored history, and dug deep into what it means to be an American traveling overseas. We traveled through cities, resorts, mountains, and deserts on our quest to learn more about Egypt. It was a wonderful experience to take students to the place where my family originated, and I look forward to possibly going back.