By Don Stoner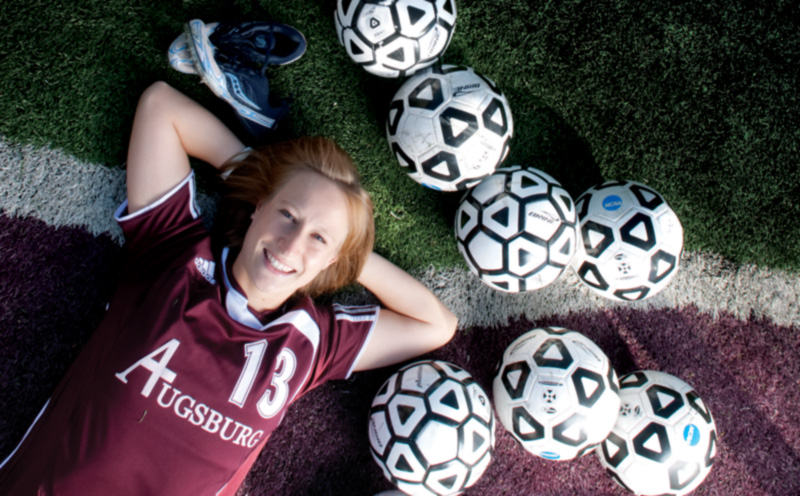 Whitney Holman was an outstanding student both in the classroom and on the athletic fields in multiple sports in high school. She had received notice from many schools, and Augsburg was just another school on the list.
But one afternoon, Holman and her parents were driving home to New Hope, Minn., after a tour of another college didn't go well. They happened to see Augsburg ahead on the freeway, and Holman remembered that she had received a letter from an Augsburg coach. "We didn't have an appointment, but [the admissions staff] went out of their way to give me a personal tour. Everyone was so welcoming and willing to take time out of their busy schedules to help me out."
It ended up being a perfect fit—both for Holman and for Augsburg.
Holman has been an outstanding student-athlete in both women's soccer and women's track and field at Augsburg, earning all-conference honors in both sports. In soccer, Holman has earned all-conference honors each of the last two seasons. In track, she has earned a reputation as one of the top sprinters in the conference.
And in the classroom, Holman has one of the top academic records of any Auggie student-athlete, with a 3.965 grade-point average with a double major in psychology and religion. She has earned Academic All-MIAC honors in soccer and track and received honors in soccer from both ESPN The Magazine and National Soccer Coaches Association of America. She is also active as a chapel steward for Augsburg's campus ministry.
Holman was a three-sport athlete at Robbinsdale Armstrong High School, participating in soccer, track, and Nordic skiing, while also being active in band and orchestra. She said that she knew she'd have to drop some of her activities in order to excel in college, but still wanted to be active in many things.
"It's a curiosity and openness, that curiosity to try everything, to develop that well-rounded personality, to say that you gave everything a shot," Holman said. "I don't want to say no to opportunities." In soccer, Holman began her collegiate career as a forward, but was moved to defense—a position she had never played before— midway through her sophomore season. In her new position, she has excelled as part of an Auggie defense that has been among the stingiest in the MIAC over the past several seasons.
After graduating from Augsburg in 2010, Holman plans to go to graduate school to pursue a career as a pediatric speech and language pathologist. And she doesn't plan to stop her hectic life. She plans to continue to play soccer in adult leagues and would like to train to run a marathon, compete in Nordic ski races, and wants to learn to play golf.