BY DON STONER
Chris Johnson '10–A third-generation hockey star
Chris Johnson certainly has an impressive hockey pedigree.
Chris is the son of Mark Johnson, a member of the fabled "Miracle on Ice" 1980 U.S. Olympic team, a pro hockey star, and coach of the 2010 U.S. Olympic women's silver-medal hockey squad. He's the grandson of "Badger" Bob Johnson, one of the greatest coaches in American hockey history—who also happened to attend Augsburg for a year before transferring to the University of Wisconsin. And his siblings all played hockey on various teams.
But Chris Johnson has also made a name for himself as a leader of the Auggie men's hockey team. A native of Verona, Wis., Johnson had a terrific career as an Auggie, scoring 41 goals with 74 assists for 115 points in his 104-game career. He had a goal or assist in 15 of Augsburg's 27 games this season, including seven multiple-point efforts.
Johnson's squads reached the MIAC postseason playoffs in three of his four seasons, including two with him as team captain. He earned All-Minnesota Intercollegiate Athletic Conference honors all four seasons and All-American honors last year.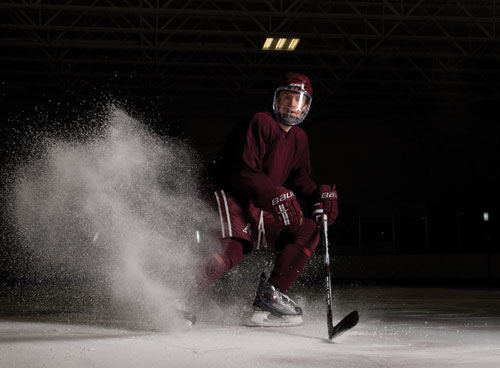 Off the ice, Johnson will also be remembered as a top hockey player. He's a member of Augsburg's Student-Athlete Advisory Committee and has helped lead hockey ministry and Bible-study groups of student-athletes. He's also worked with the Herb Brooks Foundation's "Rink Rats" program, teaching hockey skills to students from the Seward Montessori School. Johnson is a finance major with a 3.4 GPA.
"Hockey was everywhere when we were growing up, in a good way, not in a pressure way," Johnson told columnist Rachel Blount of the Star Tribune in a January feature. "We all got to play at the same high school as my dad. He taught us that even though we might have a last name that helps, it doesn't matter if you don't work hard. But he also told us that at the end of the day, it's all about having fun."
This season was a special one for the Johnson family. Since the U.S. women's hockey team was based at the Schwan Super Rink in Blaine, Minn., prior to the Olympics, Mark—who took a leave of absence from his job as coach of the University of Wisconsin women's hockey team to lead the Olympic squad—had ample opportunities to be with his son in the Twin Cities. Mark attended several of his son's games at Augsburg, and the two met weekly for dinner and father-son bonding.
In a "Profiles of Excellence" feature on the CollegeSportingNews.com website by Rich Mies in January, Chris Johnson said that his experience at Augsburg has been a positive one. "I've received a great education here," he said, "and I cherish the relationships I've made here with teammates, coaches, teachers, and friends. I've grown up a lot while I've been here."
He also said he may consider following in his father's and grandfather's footsteps and coach hockey someday.