By STEPHANIE WEISS
A Girl Of The World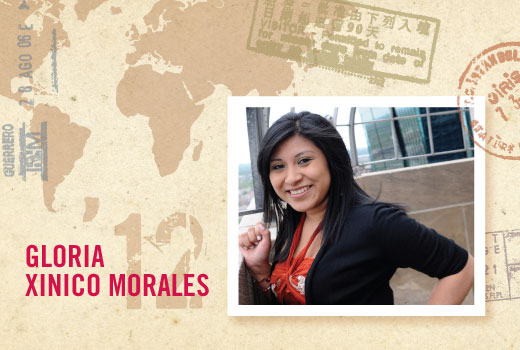 Gloria Xinico Morales has worked so hard at Augsburg since arriving during 2008 that she twice won outstanding student of the year awards—once during her sophomore year and again her junior year.
The hard work that earned Xinico Morales these honors is fundamental to her personality. She doesn't give up. She doesn't quit.
Xinico Morales was 18 when she first applied for—and was denied—a student visa. She wanted to study at Augsburg College, a school she has known of for her whole life because her father is director of the Center for Global Education in Guatemala. Xinico Morales wasn't deterred by the denial.
She waited the three months before she again could apply, and this time was approved. But the whole process pushed her college plans back by a full year. And as if that wasn't enough, her visa was delivered to the wrong city the day before she was to fly to the United States. She drove to the city to pick up her visa.
"After waiting one year and one week, I had two days to get here, unpack, and settle in," Xinico Morales said. "I'd never been outside of Guatemala before."
But she still didn't get to start at Augsburg right away. She said that by working with admissions staff, they decided she should study English for three months before starting college. It was a good plan.
"Going to Global Language Institute was very helpful," she said. "When I did start at Augsburg, it seemed the teachers talked really fast. I wasn't comfortable with English, homework took a lot longer."
She kept plugging away. She joined the Spanish club and quickly was an officer. She joined Allied Latino/a Augsburg Students, and finally the International Student Organization of which she now is president. That's not even all of it, though, because Xinico Morales said she can't say 'no.'
Being a student from another country can be challenging and students sometimes grapple with living life in two cultures. Xinico Morales grew up in Guatemala and was raised Catholic. She looks for answers to questions about varied perspectives in part through self reflection.
"My life is like a tree," Xinico Morales said. "The roots are the morals my parents taught me. When things get messy, that's where I go. The trunk is my immediate family that is there for me no matter what. Then there are the leaves. The leaves go away and come back as I grow and change."
Lately, people have been asking Xinico Morales what she plans to do with her degree in international relations and minor in political science. She doesn't know the answer. "Minneapolis is my second home. My life is built here, but Guatemala is where I belong, all my roots are there and my heart is there," she said. "But I've become a different person and don't fit there."
She hopes that she'll find the answer in Namibia, in southern Africa, where she'll study in the fall as an exchange student. "Namibia is a neutral place, a different country, a different continent," she said. "It will help me make a decision from far away. Or maybe I'm just a girl of the world and I'll go other places."