By Wendi Wheeler '06
THE COLLEGE AS AN ANCHOR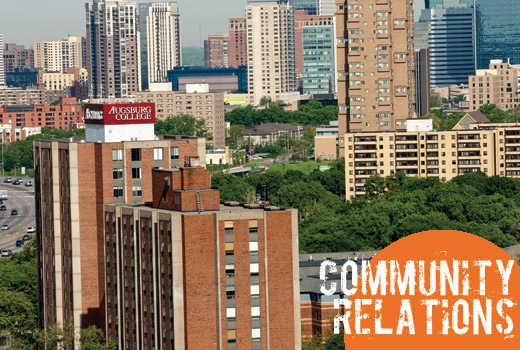 Augsburg's engagement in the community is deepened by its commitment to becoming an "anchor institution"—an organization that thinks and behaves as a citizen and contributes to community wealth building and local economies.
The College serves as an anchor institution not only through service-learning and outreach programs but also through Steve Peacock, director of community relations. He sees his work as a complement to other Sabo Center programs, playing the behind-the-scenes role of representing Augsburg and developing relationships with community organizations.
For more than three years, Augsburg has been a member of the Cedar-Riverside Partnership, which is currently chaired by Augsburg President Paul Pribbenow. The partnership, which includes the City of Minneapolis, the University of Minnesota, Fairview Health Services, and Pillsbury United Communities, provides a venue for neighborhood issues to be addressed in creative ways.
One example is the road construction on Riverside Avenue, which began this summer. The members of the partnership saw this as an opportunity to change the character of the area and provide a welcoming, safe gateway to the neighborhood. Working with the City of Minneapolis, the partnership advocated for lighting, new green spaces, and other improvements to the Riverside corridor that would enhance the vitality of the neighborhood.
"As an anchor institution, we have a responsibility to 'place.' It is in our self interest to ensure that the neighborhood is healthy, vibrant, and safe," Peacock said. "But we also have a responsibility to strengthen our shared values."
Part of an anchor institution's role is to support workforce development within a community. Augsburg has been involved in one such initiative as a host for the Urban Scrubs Camp, which is presented by HealthForce Minnesota with support from Boston Scientific.
This one-week camp gives more than 70 inner city high school students a hands-on opportunity to learn about healthcare careers. It also helps to educate area youth, addresses the need for workforce development for local hospitals, and strengthens relationships with community partners. In 2011, nearly all of the students attending received a scholarship to the camp through the Cedar- Riverside Partnership.
Augsburg also works closely with the Seward and Cedar-Riverside business associations to promote local businesses to the College community. "As a consumer and investor in the community, we are sensitive to neighborhood businesses and are helping to strengthen them as much as possible," Peacock said.
In the past, Augsburg marketing courses have developed promotional campaigns for local businesses aimed at students, staff, and faculty. Last spring, a group of marketing students promoted the local restaurant, the Wienery, with a "wiener walk."
This year Cedar-Riverside restaurants, including the recently opened Afro Deli, participated in the Taste of Augsburg event during Homecoming, and Augsburg will be involved in the "Franklin Frolic" to support Franklin Avenue businesses in early December.
Because the College has a strong commitment to and sees itself as part of the community, Peacock finds his work very gratifying. "Augsburg is a really exciting place to do this kind of work. Building upon strong relationships and taking them to another level improves not only our opportunities but our neighbors' as well."