By Cheryl Crockett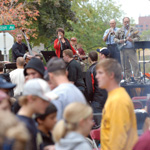 Homecoming 2011 has come and gone, but it has left lasting memories for the more than 1,200 Augsburg alumni, students, parents, and friends who participated in the festivities.
Several events during the week sparked the homecoming spirit. A student/alumni networking reception provided students an edge in navigating their career paths as they met with alumni already seasoned in their professions. Sports enthusiasts reunited around an alumni baseball game at Parade Stadium. Athletic Hall of Fame inductees were celebrated and awards presented at a special induction ceremony. The Eye-Opener Breakfast featuring Brad Hewitt, president and CEO of Thrivent Financial for LutheransTM, provided alumni and friends time to network and learn about community issues.
Friday and Saturday came alive with a rich pastiche of "remember when" conversations as reunion classes each gathered to reconnect with one another and the College, including members of the class of 1961 who were inducted into the 50-Year Club. The Friday morning convocation honored six Auggies, and the celebration continued over a lunch, which featured Martha Stortz, Bernhard M. Christensen Professor of Religion and Vocation.
Saturday morning featured the "Best of Augsburg" mini-lectures from three outstanding professors: Garry Hesser, David Murr, and robert tom. A 5K Fun Run Saturday drew alumni, students, and friends, all decked out in their Auggie gear for a morning run through the neighborhood. In the Gage Family Art Gallery and the Christensen Center Art Gallery, artwork from 23 alumni was on display, including ceramics, painting, drawing, multi-media, sculpture, photography, book arts, fiber arts, and printmaking.
On Saturday in Murphy Square, more than 30 vendors at the Taste of Augsburg event served up a variety of inviting vittles. The weekend's centerpiece was, of course, the football game against St. Olaf, and Auggie spirit was at a fever pitch. The celebration continued after the game at the Block Party where more than 600 Auggies gathered to enjoy live music and more fellowship.
The crowning touch for an already unforgettable week was the Saturday evening Hognander Music Scholars reunion concert featuring some of Augsburg's finest musicians from the past 12 years.