By Wendi Wheeler '06
EDUCATING CITIZENS AND LEADERS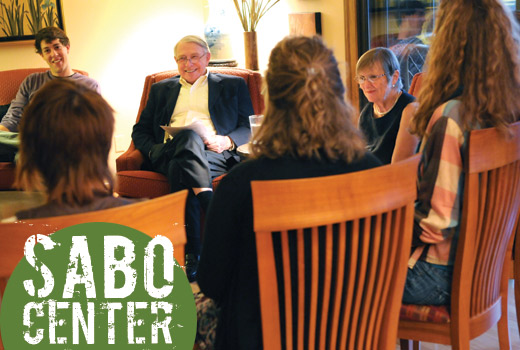 Perhaps one of Augsburg's most important contributors to educating informed citizens is the Sabo Center for Citizenship and Learning. Established officially in 2009 and named for Martin Olav Sabo '59, Minnesota's Fifth Congressional District representative in the U.S. House for 28 years, the Sabo Center serves to connect the College to the greater community.
The Sabo Center is the College's hub for public outreach with Campus Kitchen and Augsburg Reads as well as with the Minnesota Urban Debate League, the Minnesota High School Mathematics League, and Minnesota Campus Compact.
Also, through community service-learning classes and projects, and programs like Bonner Leader, Sabo Scholars, and the Center for Democracy and Citizenship (CDC), the Sabo Center gives voice to the College's mission of educating students to be informed citizens, thoughtful stewards, critical thinkers, and responsible leaders.
And finally, with the support of the Sabo Center staff and College leadership, the director of community relations fulfills the center's third purpose: to ensure Augsburg's position in the community.
The fact that Augsburg received the 2010 Presidential Award for Community Service is due in great part to the programs and partnerships of the Sabo Center. This is the highest honor in the annual President's Higher Education Community Service Honor Roll, and Augsburg was one of only six colleges and universities to receive this distinction.
Harry Boyte, director of the CDC, articulates the role of the Sabo Center as a platform for interaction and relationships between the campus and the community. He said, "It's a way to develop working relationships and engagement and a thematic and philosophical way to address the mission of the College. The public work at the Sabo Center allows serious conceptual thinking about citizenship—being a citizen is about more than being a 'good person,' and this provides the public frame to break it open and talk about it."
HIGHER EDUCATION FOR THE PUBLIC GOOD
The Center for Democracy and Citizenship initiated two major projects this fall to help reinforce the role of higher education in promoting active citizenship.
THE AMERICAN COMMONWEALTH PROJECT fosters civic learn- ing, public engagement, and stewardship in higher education. The project is a partnership among the Center for Democracy and Citizenship at Augsburg College, the U.S. Department of Education, and the White House Office of Public Engagement. It will deepen connections and relationships and create policies, initiatives, and practices in public engagement efforts across higher education.
THE FESTIVAL OF THE COMMONS, co-hosted October 7 and 8 by Augsburg College and On The Commons, focused on how society creates, uses, and manages the commons—things we all share and own together. The event featured keynote speaker Elinor Ostrom, the first woman to receive the Nobel Prize in Economics.