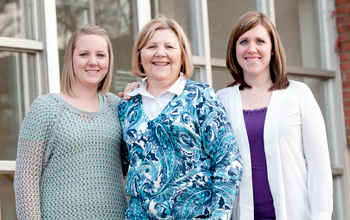 When Sharon Wade '08 went back to school in 2000 through the Augsburg Weekend and Evening College, she took steps to balance her schedule so that she could meet the requirements of full-time employment, fulfill the commitments she made to her family, and supply the effort vital to success in her coursework.
Wade knew returning to the classroom could change family dynamics and routines at home. "My family was always my first priority," Wade said. "I took college classes after high school and during my first few years of marriage. Back then, I decided to stop going to school and have my children. So—20-plus years later—I wanted to earn the degree I originally had started."
Wade said she sought to "fulfill that dream" when the timing felt right for her husband and children. "It's a big commitment," she said. "We talked about it, and I had support from everyone."
Wade was familiar with the Augsburg adult undergraduate program because she serves the College as a nursing programs coordinator. She said being a student while working for the College was "a perfect fit."
"I could work during the day and then take classes during the evening." she recalled. "I tried not to have to come to campus seven days a week, but I did have terms where I had both Saturday and Sunday classes."
The skill Wade demonstrated for fusing 'college with career' resounded with her children. "She's always been a good role model," said Laura (Wade) Machacek '04, her eldest daughter.
"Seeing my mom's passion for her place of employment while she was going to school made a huge impact on me," Wade's youngest daughter, Tracy (Wade) Christianson '08, added. "I didn't know what 'vocation' meant, but I could feel it in her work. I could tell that she felt heard, felt she was contributing to the College, and felt appreciated. I knew I needed a degree to get into a workplace where I could feel that same way."
Both Machacek and Christianson enrolled in Augsburg's traditional undergraduate program after finishing high school, and the sisters found they followed Wade's example by dedicating themselves to work and to school.
Machacek admitted her schedule was somewhat over-ambitious for her role as a traditional student. "I worked full-time hours," she said. "One year I claimed six different businesses on my tax return while going to school."
Christianson recalled a different unique experience from her college days. She and her mother enrolled in not only the same course but the same class section. They found it enjoyable to sit next to one another in lectures, but the course posed an additional challenge.
"We were always competitive about our grades in that class," Christianson said. "She ended up beating me by just a tiny bit."
"A small amount," Wade agreed.
"A very, very small amount," Christianson amended.
It's apparent that their competition was playful, and all three women fondly recall their Augsburg education because of its impact on their lives and their family.
Christianson took a music appreciation class with her brother, Jeff Wade, who also enrolled at Augsburg. Christianson said the course incorporated on-site visits to performance venues and prompted her and her brother to see concerts together—something they never would have done without the influence of Augsburg.
The College's commitment to hands-on learning, community involvement, and intentional diversity mirrored the family's values. Sharon Wade said she enjoyed taking classes with students of varying backgrounds and ages. "A lot of the time I was the oldest person in the class," she said. "It was fun to hear opinions of the younger students and to share my perspective."
Christianson said she was influenced by her experiences during City Service Day—an annual event when incoming first-year and transfer students participate in service projects in the neighborhoods that surround Augsburg's Minneapolis campus. "You've never even been in an Augsburg classroom, and you're already volunteering in the community," she said. "School isn't just about getting the diploma. That's obviously the end goal, but you're becoming a different person—a better person.
"I've seen my mom in her position here since '99, and it's been such a positive thing in her life," Christianson continued. "She's grown in so many different ways and Augsburg…seems like a natural place for us to be."
In 2009, Christianson began working at the College and now serves as an administrative assistant in the Office of Student Affairs.
The three women are hopeful that their family will have an Auggie in its next generation. Machacek said her daughter—who is still in diapers—wears Augsburg clothing.
"We're pruning her," Machacek added.