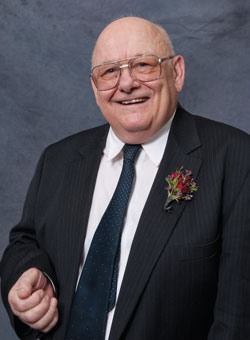 With graduates who have gone on to become research scientists, university professors and physicians, a biodiesel entrepreneur, Rhodes Scholar, and a Nobel Prize recipient, Augsburg College Professor Emeritus of Chemistry Arlin Gyberg's legacy already reaches far and wide.
Alumni are recognizing this long-serving and award-winning professor by giving gifts to name a Quantitative Analytical Chemistry Laboratory for Gyberg in the planned Center for Science, Business, and Religion.
Steve '72 and Catherine Larson launched this $250,000 initiative with a lead gift of $125,000.
Steve, an infectious disease specialist and the CEO and board chair of Riverside Medical Clinic in Riverside, Calif., and one of the newest members of the Augsburg Board of Regents, still acknowledges Gyberg's influence on his life and career after more than 40 years since graduation.
"Arlin's influence on my vocation and life cannot be measured," Steve said, and he recognizes that the CSBR will influence the entire Augsburg College community.
"A new building can bring new vitality," he said. "I have seen it happen with our own medical group's building. When we got a new building, it really enhanced our reputation. I think [the CSBR] will do the same for Augsburg."
The newest donors to join in honoring Gyberg are Jon '68 and Sharon DeVries. The couple, who has already given $50,000 to the CSBR for faculty offices, is giving an additional $10,000 to honor Gyberg.
Gyberg became a faculty member at Augsburg in 1967 during Jon's senior year. While Jon never took a class with Gyberg, the two got to know each other when Jon worked in the research lab next to Gyberg's office.
"Arlin is energetic, practical, friendly, outgoing, and realistic," said Jon, who is a respected chemist at General Mills and has been inspired by Gyberg's impact on the College.
Today Gyberg's research focuses on environmental topics. He remains active in his research in areas as multi-faceted as catalytic systems to produce biofuels, active ingredients in energy drinks, over-the-counter children's medicines, algae as a source of biodiesel and bioethanol, and the conversion of wood fibers to other useful chemicals. His consulting work includes serving Fortune 500 companies, such as 3M and Xcel Energy, and government and educational institutions.
Donors to the Gyberg initiative are turning to fellow alumni to help raise the final $50,000 needed to fund the CSBR lab. If you are interested in joining fellow alumni to honor Gyberg, send your gift, marked Gyberg Initiative, to: Augsburg College, 2211 Riverside Avenue, CB 142, Minneapolis, MN 55454. For gifts of appreciated securities, life insurance, or bequests, contact Doug Scott at 612-330-1575 or scottd@augsburg.edu.