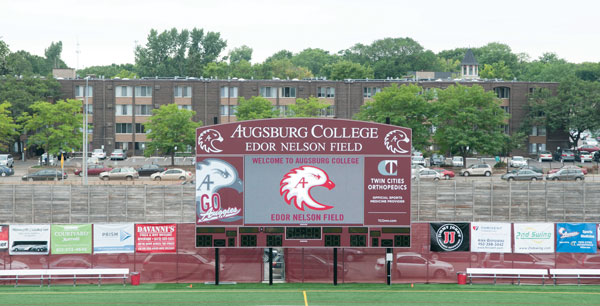 This summer, hundreds of Auggies of all ages gathered on Edor Nelson Field to celebrate the 100th birthday of legendary Augsburg College athlete, coach, and instructor Edor Nelson '38, who led the Auggie football and baseball teams during a career that spanned four decades. His birthday festivities corresponded with the dedication of a new, state-of-the-art video scoreboard in his honor.
Ten days later, Edor passed away. He was honored in a memorial service on September 5.
"Few people in Augsburg's history could claim as long and lasting an impact on this college as Edor Nelson," said Augsburg College President Paul Pribbenow. "He touched the lives of many here at Augsburg through his years as football coach, his years as baseball coach, and his support in building the wrestling and men's hockey programs."
Augsburg Athletic Director Jeff Swenson '79 said, "I'm so grateful that we had a chance to honor Edor on his 100th birthday. It's an event that all of us in the Augsburg community will remember forever."
Bruce Nelson '71, current president of Augsburg's A-Club service organization, said that his father's support of athletes extended far beyond the playing field and graduation. This is why lead donors for the scoreboard project, Dan '65 and Alice Anderson, Rick '74 and Nancy Colvin, Rick '72 and Tammie Ekstrand, Harvey '52 and Joanne (Varner) '52 Peterson, Mark '53 and Jean Raabe, Alan Rice, and many others, chose to donate to the project to honor their coach and mentor.
Fundraising efforts for the new scoreboard have not yet met a $300,000 goal. To make a gift honoring Edor, contact Keith Stout, assistant vice president of major gifts, at 612- 330-1616 or stoutk@augsburg.edu. Donors to the scoreboard will be listed on a special plaque to be installed later this academic year.
In his 100 years, Edor represented true Auggie spirit as a soldier, educator, father, husband, and coach. Consider honoring his legacy with a philanthropic gift to athletics that will positively influence Auggies of tomorrow.