Minneapolis shoppers can find a little Auggie Pride in an unexpected location—a secondhand clothing store that is an active illustration of Augsburg College's mission, which includes collaborating with others to serve the Cedar-Riverside neighborhood and providing students with hands-on learning opportunities.
Sisterhood Boutique (2200 Riverside Ave., Minneapolis) has been a training ground for young, Cedar-Riverside neighborhood women in entrepreneurship, business, community partnerships, and sustainable fashion since its opening in February 2014. Since then, 60 women ages 14 to 23 have participated as staff and interns, and two Auggies—Stella Richardson '15and Yasameen Sajady '11—have played roles on the store's leadership team.
Two years ago, East African women in the Youth Social Entrepreneur Program at the Brian Coyle Center, a neighborhood resource and community center, began envisioning a way to empower young women in the area. The women worked with Richardson, then an intern at Brian Coyle Center, to explore the idea of opening a clothing store.
Richardson, who in high school founded a secondhand clothing store through Youth Express, an after-school program in St. Paul, used her retail experience and business management training to help the women get started. First, she collaborated with a youth social entrepreneur coordinator, a store founder, and other interested young women to develop a paid internship program for the boutique. The program provides young East African women with professional development, peer-to-peer mentoring, and classroom training, followed by three months of employment in the store.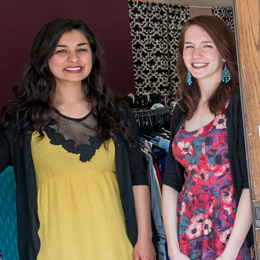 The founders of the boutique also collaborated with Augsburg's Director of Community Engagement Mary Laurel True, who has been integral to the store's success.
Community engagement for Auggies happens both on and off campus—and when True learned about the vision for a women's entrepreneurial project in the neighborhood, she ensured that Augsburg joined with other community groups to make the innovative business venture a reality. True serves as the Augsburg liaison to the program, is a mentor for the staff and interns, and has been on the Sisterhood's Advisory Committee since the beginning.
Seizing the opportunity for real-world training, classes on campus got into the act. A group of Augsburg MBA students created a business plan for the store through a management consulting class project. Christopher Houltberg, assistant professor of art, led Sisterhood interns in a branding exercise and assisted with the design of a boutique logo; classes taught by Marc Isaacson, assistant professor of business, provided website recommendations; and, through clothing drives, Residence Life collected thousands of pounds of clothing to donate to the startup.
Today, Augsburg alumna Sajady manages the Sisterhood Boutique. Sajady, a business marketing major, was hired last November through Pillsbury United Communities to lead Brian Coyle's Youth Entrepreneur Program. Under her leadership as the operations coordinator, the Sisterhood Boutique has exceeded its social media and community engagement goals.
The program is supported by Fairview Health Services, an institution that, like Augsburg, is committed to its role as a community partner. Fairview donated a vacant retail space to the Brian Coyle Center for workforce development. Additional donors and community partners include the Foundation of Minnesota, Sundance Family Foundation, Marbrook Foundation, and Women Investing in the Next Generation (WINGs) Fund of the Greater Twin Cities United Way.