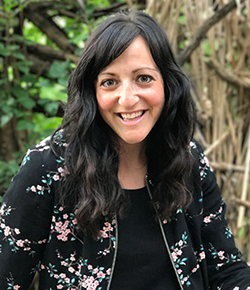 Augsburg University's StepUP Program is in its 20th year of empowering students in recovery to achieve academic success. StepUP held its annual gala October 28. The gala was an evening of inspiration and fellowship in which emcee Don Shelby, an Emmy-award-winning broadcast journalist and person in recovery, welcomed nearly 500 Auggies, families, friends, and advocates for recovery. Each year, the StepUP Gala is organized by a committee of volunteers with support from Augsburg staff. The 2017 committee co-chairs were Gina Gage and Cindy Piper.
Two of the evening's highlights were the keynote address by alumna Heidi Bausch '07 and the presentation of the Toby Piper Labelle Award to the James and Sally Dowdle and Pat and Jeanne Dwyer families.
Bausch is celebrating the 10th anniversary of her graduation from Augsburg, where she studied psychology and philosophy, was an active member in the StepUP community, and worked for the Center for Wellness and Counseling. Today Bausch lives out a passion for serving the recovery community. She is pursuing a doctorate in counseling psychology at the University of St. Thomas. Her clinical practice included an internship at The Hazelden Betty Ford Foundation's residential program for young people and work at the University of Minnesota Medical Center, Fairview inpatient unit for youth facing chemical and mental health difficulties. Bausch also works with the Minnesota Psychology Association to promote legislation aimed at improving behavioral health care quality.
This year, Bausch partnered with her StepUP Program roommate, Samantha Yerks '06, to launch Singularity Behavioral Systems & Technology, a business that develops clinical software products for the mental health field.