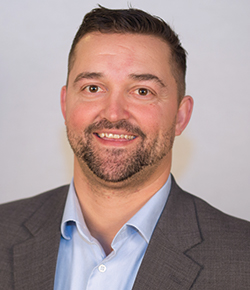 Dear alumni and friends,
It's an exciting time for Augsburg University, and the Alumni Board aims to infuse positive energy from Augsburg's big events this fall in our year-long agenda.
The board's objective is to advance Augsburg's mission by making the most of the time, talents, and treasure found in our alumni group. Each year, the Alumni Board plans events where Auggies can network, collaborate, and serve together. The 2017 Summer Series was an example of this work. Auggies attended a Minnesota United soccer game, took part in Auggie Night at Canterbury Park, and listened to Augsburg community members give presentations on a range of topics at the 7 People 7 Passions 7 Minutes event at Sisyphus Brewing. Alumni Board members also hosted Happy Hour Squared at Brave New Workshop, which featured a twist on a traditional social hour— attendees enjoyed beverages while making 1,500 sandwiches for unsheltered people in the Twin Cities.
It is fun watching the talents of fellow Auggies come to life at our social events, and our upcoming calendar is available online: augsburg.edu/alumnievents. Using your time and talents to make connections with current students is simply one of the best ways to stay connected with Augsburg, so stay tuned for details about the upcoming 2018 Auggie Networking Experience on February 6.
Auggies also can join the Alumni Board's effort to sponsor a tree in the Urban Arboretum planned for Augsburg's Minneapolis campus. The trees selected for the rst phase of this plan will surround the Norman and Evangeline Hagfors Center for Science, Business, and Religion and include species native to Minnesota. All gift levels are welcome.
As the Alumni Board continues to advance the mission of the University through events and networking, we invite you to join us. We work hard, and we make sure we don't forget to have fun, as well. Go Auggies!
Nick Rathmann '03, Alumni Board President