1950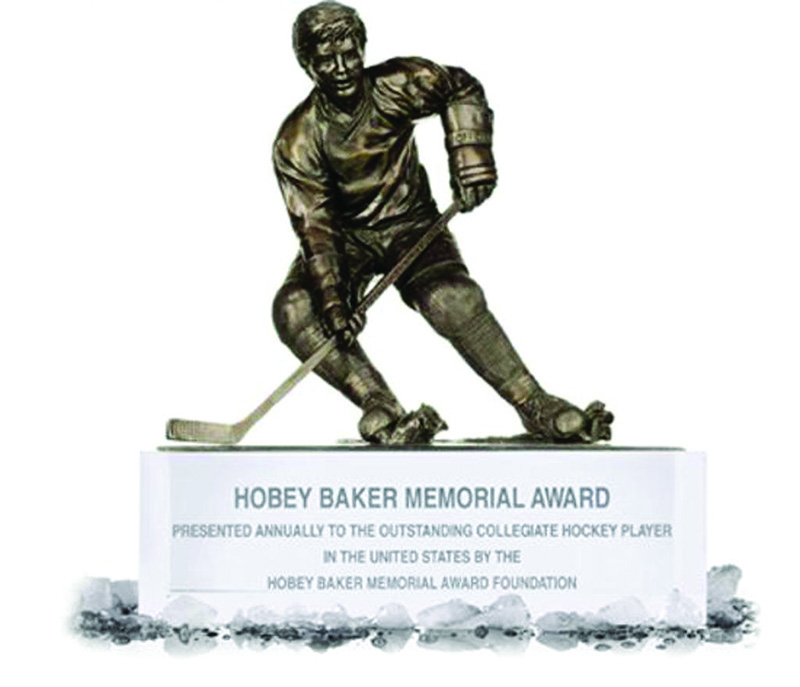 Auggie launches national hockey award
Charles "Chuck" Bard '50 has always been a sports enthusiast. At Augsburg, Bard played football and baseball, notably serving as the second baseman on Augsburg's 1947 and 1948 MIAC championship teams. However, the sport that Bard loved most—and the sport that brought him the most notoriety—was one he never played: hockey.
Hockey wasn't played widely when Bard was in school. By the time he started college, Augsburg had a hockey team. However, Bard already played football and baseball, and student-athletes were limited to participating in only two sports. Bard attended as many Auggie hockey games as he could and enjoyed watching the players out on the ice.
After graduating in 1950 with a degree in physical education and a minor in journalism, Bard continued his passion for sports by co-founding the Decathlon Athletic Club in the late 1960s. Located in Bloomington, Minnesota, it was the first private athletic club in Minnesota outside of downtown Minneapolis or St. Paul.
By 1978, Bard was still an avid hockey fan and a proud owner of Minnesota North Stars hockey season tickets. But he noticed that hockey didn't have an award to honor the best collegiate players in the nation like other sports, so he decided his athletic club would start a nationally recognized hockey award. After consulting with the Los Angeles athletic club that started the John Wooden Award for outstanding collegiate basketball players, Bard established the Hobey Baker Award, named after a hockey legend. In 1981, the first Hobey Baker Award was given to Neal Broten. Broten played center for the University of Minnesota and the "Miracle on Ice" U.S. Olympic hockey team, which took gold at Lake Placid, New York, in 1980.
Since that first award, the Hobey has honored 40 hockey players from around the United States. The award is given to a player who best demonstrates "teamwork, dedication, integrity, exceptional play, humility, and above all, character."
In 2007, Bard visited Augsburg's campus to recognize longtime men's hockey coach, Ed Saugestad '59, who was a Hobey Baker Legends of Hockey honoree.
---
1974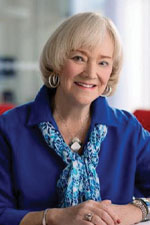 Augsburg alumna and former regent joins University of Minnesota's Board of Regents
Ruth Johnson '74, MD, was elected to the University of Minnesota's Board of Regents 1st Congressional District seat. Johnson studied chemistry and biology at Augsburg, where she earned a bachelor's degree with summa cum laude honors; graduated from what is now Mayo Clinic Alix School of Medicine; and completed her residency at Mayo Graduate School of Medicine. She served 16 years on Augsburg's Board of Regents, was the chair of academic and student affairs, co-chair of the campaign cabinet, co-founder of the science advisory board, and vice chair of the regent's committee. In 1996, Johnson was named a distinguished alumna of Augsburg.
Read the full story on the alumni news blog.
---
1986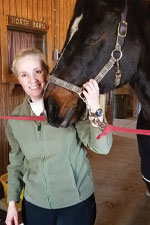 'Underestimate me; that will be fun'
Tamra (Pederson) Pyrtle '86 excelled in school and in her career, yet she always made time for the playfulness of science and math.
At Augsburg, Tamra pursued a chemistry degree. This was a significant challenge, particularly for a student with a double minor in mathematics and German. But Tamra's persistent nature helped her earn a bachelor's degree in chemistry, graduating with honors in 1986.
"Obviously she was not afraid of a challenge. There is a saying of which she was particularly fond: 'Go ahead, underestimate me; that will be fun,'" said Brett Pyrtle, Tamra's husband.
Tamra's exceptional knowledge wasn't always reserved for schoolwork. One night in 1983, she and her friends convinced members of the Augsburg football team to carry a Volkswagen Beetle into the student center. Tamra was able to direct the crew so they could do this without taking the doors off the entry. The geometry of this feat was lost on the maintenance staff, who had to remove the entrance doors to get the vehicle back out.
In her first professional job, Tamra was hired as a lab supervisor for Buckbee-Mears St. Paul. She was the first college graduate to hold the position, and she learned quickly how to balance her academic knowledge with practical skills required to meet the fast-paced demands of metal-etching production. She also learned how to stand up for herself in a plant where she was the only woman in technical management.
After a few other positions handling instrumentation in a consulting lab, supervising etched metal operations, providing quality assurance analysis, and teaching advanced placement chemistry, Tamra joined Medtronic's neuromodulation division as a senior quality engineer. She was quickly promoted to principal quality engineer and developed a reputation as the go-to resource for tough quality engineering and analytical challenges.
Despite her technical jobs, Tamra continued to pursue fun applications of science, and she particularly loved how science and nature intersected. It was no surprise to her family when she sold her collector car to buy a thoroughbred horse named Bravo. Tamra learned as much as she could about veterinary care and medicine so that she could regularly administer Bravo's shots herself.
The communication between Bravo and Tamra was something special, said her parents, Wayne and Lynette Pederson. Bravo perked up when he saw Tamra coming and even recognized her vehicle. They had conversations and seemed to know what the other was saying.
On December 13, 2018, Tamra passed away at the age of 55 after battling cancer for more than two years. She left behind her husband of 24 years, Brett; her parents, Wayne and Lynette; her brother, Carey Pederson '88; and her sister, Kristin (Pederson) Merkel '91.
"All three of our children are Augsburg graduates, and our family ties to Augsburg run deep," said Wayne. "Augsburg was a significant contributor to Tami's success. We wish for other students to have the opportunities Tami had, and what better place to provide some assistance than at Tami's alma mater."
Wayne and Lynette, along with Brett, established the Tamra Lynn Pederson Pyrtle Endowed Scholarship at Augsburg. This scholarship will be used to support students interested in pursuing a major in chemistry and who maintain a minimum GPA of 3.0.
---
1993
Tammera Diehm '93 ranked as a leading attorney
Tammera Diehm '93 was recognized as a distinguished leader in her field by Chambers USA, one of the world's leading guides to the legal profession. Diehm's work encompasses numerous aspects of real estate transactions, including buying, selling, leasing, development, and financing. She helps local and national clients of varying sizes navigate the complexities that come with owning and occupying real estate, such as zoning, land use, government approvals, and regulatory compliance.
Like a true Auggie, Diehm aims to unlock the full potential of her team through motivational coaching and support.
"I want to give our firm members the ability to build their own careers, offering flexibility and support while maintaining our firm's core values and commitment to client service," Diehm said.
---
2003
Accounting roles add up for Paula Diaz '03, Northview Bank CEO
Paula Diaz '03 has been named president and CEO of Northview Bank, which has branches across Minnesota. After graduating from Augsburg with a degree in accounting, Diaz has enjoyed a robust career in finance. Starting out as a public accountant, she went on to become the finance director of Cummins NPower. She has been at Northview Bank since 2014, where she was the CFO prior to stepping into her new role.
---
2020
Trailblazing Auggie Abdulkadir Sharif '20 continues geopolitical studies at Georgetown
Abdulkadir Sharif '20 studied political science and international relations at Augsburg and became Augsburg's first student to win the Pickering Foreign Affairs Fellowship. He also received a Fulbright Scholarship, a Boren Scholarship to study Swahili in Tanzania (which he accepted instead of a Critical Language Scholarship, which he also won), and a Gilman Scholarship from the U.S. Department of State to study in Namibia and South Africa. Sharif also participated in Princeton University's Public Policy and International Affairs Fellowship. He planned to teach English in Malaysia through the Fulbright program before travel plans were affected by the COVID-19 pandemic, and he was reassigned to the Netherlands. He is pursuing a master's degree in global politics and security with a full scholarship to Georgetown University.
---
Read more Class Notes online and submit your alumni news.