1960–69
1965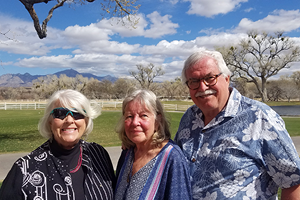 Marcia Schneider '65 met with Professor Emerita Kathryn Swanson and her husband, Jack, while they were in Arizona. Marcia was a part of a trip to Thailand and Cambodia that the Swansons led in 2017.
1966
David Johnson '66, who received a doctorate in the history of religion from the University of Iowa, returned from teaching as a visiting professor in China. His books include "Western Thought for Asian Readers" and "Indian Thought Between Tradition and the Culture of Technology."
1967
Dennis Miller '67, professor emeritus of food science and nutrition at Cornell University, is one of the participants in a research project to transform nutrition and water use in the poultry industry to improve its environmental impact and enhance human health. The U.S. Department of Agriculture funded the research through a $9.95 million grant, one of the largest grants ever awarded by the USDA.
Thad Danielson '67 has retired from his boat shop and now teaches a two-week class, The Fundamentals of Boatbuilding, at the Wooden Boat School in Brooklin, Maine. He also wrote the book, "An Introduction to Wooden Boat Building: Always More to Learn."
1969
Janis Mathison '69 was inducted into the Athletic Hall of Fame at Shawano Community High School in Shawano, Wisconsin. The honor recognizes her work as a coach and pioneer of women's athletics at the school.
---
1970–79
1972
After 26 years, Robert Engelson '72 has retired from his role as a professor in the College of Arts and Sciences at the University of Arizona Global Campus.
1973
Sheldon Anderson '73 published a memoir, "Jump Shooting to a Higher Degree," which chronicles his basketball career in Minneapolis, West Germany, and Poland, where he did research for his doctorate.
1979
With more than 500 wins in his prep coaching career, Douglas Greseth '79 has been named boys basketball head coach at Bishop McLaughlin Catholic High School in Spring Hill, Florida.
---
1980–89
1983
In November 2021, Luverne Seifert '83 directed a melodrama, "The Last Train to Winnipeg," for the Lyric Center for the Arts in Virginia, Minnesota. The Arrowhead Regional Arts Council supported the play with Rural and Community Art Project grant funding.
Brian Hoffman '83, associate professor of anthropology at Hamline University in St. Paul, Minnesota, was featured in an MPR story about the excavations he leads on campus—most recently, the remains of a St. Paul home near the corner of Hewitt Avenue and Pascal Street.
1984
Anne Marie Erickson '84 has created a website with excerpts from essays she's written about living with her husband's 17 years of dementia.
1985
Jean Taylor '85 was named the CEO of American Public Media Group, the parent company of Minnesota Public Radio, in 2021.
1988
Dallas Miller '88 was inducted into the Athletic Hall of Fame for playing hockey at Kennedy High School in Bloomington, Minnesota. Miller was inducted into Augsburg University's Hall of Fame for his award-winning hockey career.
---
1990–99
1994
Michelle Steever '94 received the Outstanding Librarian Award from the Rhode Island Library Association in 2021. She is the school library media specialist for the Jamestown School District in Rhode Island.
Judell Anderson '94 retired after leading the Alliance of Auto Service Providers-MN for nearly 26 years.
1998
Rollors, a lawn game by Matthew Butler '98, was featured in the Rolling Stone article "From Grills to Boombox Speakers, These Are the Products We're Using Labor Day Weekend" (September 2, 2021).
1999
Kale Henry '99 was named the head coach of the Forest Lake High School baseball program. He is a previous winner of the Minnesota State High School Baseball Coaches Association's Rob Fornasiere Assistant Coach of the Year Award.
---
2000–09
2000
The Christian Century interviewed Ross Murray '00, '09 MBA about his founding of the Naming Project, an ELCA-based camp for LGBTQ youth. Murray wrote the book "Made, Known, Loved: Developing LGBT-Inclusive Youth Ministry," and he is the director of news and faith initiatives for the Gay & Lesbian Alliance Against Defamation (GLADD).
Nathan Budde '00 completed the Ironman Wisconsin in 2021. He finished 77th out of roughly 1,800 competitors and seventh among the 180 people in his age bracket.
2003
Kari Lucin '03 has returned to The Globe newspaper in Worthington, Minnesota, as community editor. She was previously the Globe's education reporter and online content coordinator.
Keneeshia Williams '03, MD, gave a TEDx talk, "The Prosperity of Investment: A Journey From Murder Witness to Trauma Surgeon," that uses her life experience and medical expertise to offer non-divisive, proven solutions to gun violence in America. Williams is an assistant professor of surgery at Emory University in Atlanta and director of medical student education at Grady Memorial Hospital.
2005
Eddie Frizell '05 MAL was nominated by President Joe Biden and confirmed by the U.S. Senate as U.S. Marshal for the District of Minnesota. He previously served as chief of police for the Metro Transit Police Department in Minneapolis and St. Paul.
Christe Singleton '07 MBA was named vice president of Minnesota Gas at CenterPoint Energy, Minnesota's largest natural gas utility.
2007
Travis Paul '07 MBA is the regional chair of administration for Mayo Clinic Health System in Southwest Minnesota. Paul has 26 years of progressive health care experience at Mayo Clinic, including 18 years in leadership roles and numerous years as a front-line nurse.
Emily Bastian '07 MSW, Avivo's vice president of ending homelessness, was interviewed by the Star Tribune about Avivo Village in Minneapolis, an indoor grouping of tiny houses offering safety, comfort, and dignity to 100 residents.
2008
Anthony Vicino '08 is a founding partner of Invictus Capital and co-author of "Passive Investing Made Simple."
Nicholas Zeimet '08 MSW is an assistant professor of social work at Bethel University in Arden Hills, Minnesota. He has served as the Minnesota Chapter President of Syrian American Medical Society and has led a mental health mission to Lebanon and Jordan. He holds a volunteer position with Mt. Sinai's Human Rights Program as a remote mental health evaluator for those seeking asylum or other immigration matters.
Michael Henrichsen '08 is lead vocalist and rhythm guitar player for '80s cover band Nite Wave, which was recently featured in an article in 425 Magazine. The band has produced a live album and has performed with Billy Idol three times.
Katherine LaGrave '08, digital features editor for AFAR Media, was named Lowell Thomas Travel Journalist of the Year by the Society of American Travel Writers in 2021.
Nicole Richards '08, a certified public accountant, was promoted to principal at Boeckermann, Grafstrom & Mayer in Bloomington, Minnesota.
Dianna Robinson '08 was promoted to market president and director of private banking, community markets at Associated Bank in Rochester, Minnesota.
Michael Graber '08 MBA has been appointed president and CEO of Toyo Tire U.S.A. Corp.
---
2010–11
2011
Kyle Potswald '11 was promoted to vice president of commercial lending at the Citizens Bank Minnesota Lakeville branch.
Elle Thoni '11 wrote the musical, "Queen B: A New Work of Honeybee Futurism," which toured Minnesota farms and green spaces in August 2021.
2012
Emily Nichols '12 is general manager of the Kimpton Alton Hotel in San Francisco's iconic Fisherman's Wharf neighborhood.
2013
As executive director and founder of MN Renewable Now, Kristel Porter '13 is working toward the installation of solar systems in North Minneapolis, among other environmental justice projects.
2013 and 2019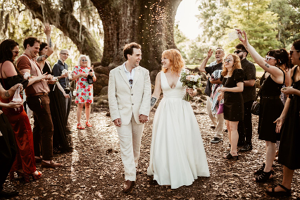 Daley Knochar Farr '13 and Maximillian Bray '19 married June 11, 2021, in New Orleans. Connor Krenik '13, Kacie Lucchini Butcher '13, Kevin Butcher '13, Morgan Thompson '09, and Gabrielle Miller '09 were in attendance.
2016
Rayna Lindsey '16 appears in season 9 of "Below Deck" on Bravo.
Lisa Archer '16 MAN has been named chief nursing officer for Mayo Clinic Health System in Southwest Wisconsin.
2019
Jeffrey Boldt '19 MFA published his debut novel, "Blue Lake," in March 2022. Boldt drew from his legal and environmental background to write the Wisconsin-based thriller.
---
2020s
2020
Alison Uselman '20 won the Wisconsin Academy of Science, Arts & Letters' 2021 Wisconsin People & Ideas Fiction Contest for her short story, "Honor Cord."
2021
Isaac Tadé '21 started dental school at the University of Minnesota, where he received the Xhonga Scholarship and a National Health Service Corps Scholarship.