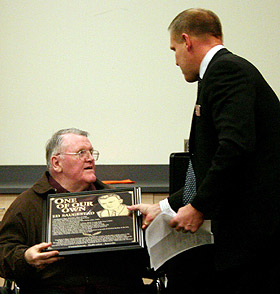 Next fall, Augsburg College will rename the main competition rink at the Augsburg Ice Arena as "Ed Saugestad Rink" in honor of the coach who led the Auggies to national prominence in men's ice hockey during his storied career.
At a special celebration to honor Ed Saugestad '59 on Saturday (11/21), Augsburg officials unveiled a plan to raise $250,000 for renovations to the Augsburg Ice Arena, with the naming ceremony for Ed Saugestad Rink to take place on Sept. 25, 2010, during Augsburg's Homecoming weekend.
"It is fitting that our athletic field is named after Edor Nelson '38, and it's fitting that our main court in our gymnasium is named after Ernie Anderson '37, and it's fitting that our competition rink will now be named after Ed Saugestad '59," said Augsburg athletic director Jeff Swenson '79.
A 1959 Augsburg alumnus, Saugestad began his coaching career during his senior year, 1958, and coached the Auggies until 1996, compiling a 503-354-21 record. His Auggies won Minnesota Intercollegiate Athletic Conference titles six straight years (1976-82), qualified for national tournament play 10 times and won the NAIA national championship in 1978, 1981 and 1982. He coached 22 All-Americans during his Augsburg career.
Saugestad was awarded the American Hockey Coaches Association's John MacInnes Award in 2002 to honor his contributions in the growth of amateur hockey in the United States, and was named as the Hobey Baker Legends of Hockey honoree in 2007. The MIAC christened its playoff championship trophy as the Ed Saugestad Trophy in 1998. He was inducted into Augsburg's Athletic Hall of Fame in 1978.
In addition to his hockey coaching duties, Saugestad also served on the Augsburg football coaching staff from 1959-84, including two years (1970-71) as head coach. Now recognized as a Faculty Emeriti, Saugestad taught in the Health and Physical Education department throughout his career, and served as the college's men's athletic director from 1981-87.
At Saturday's event, alumni and friends spoke fondly of Saugestad, praising him as an outstanding coach, teacher and mentor. All-Americans Corky Hall '71 and Bill Ross '74 were featured, along with former players Bruce Johnson '68 and Troy Zangs '92. Former teaching colleague Joyce Pfaff '65 and current Augsburg head coach Chris Brown also spoke at the event, hosted by former Augsburg head coach Mike Schwartz '83.
The event was part of a full day of celebration on Saturday, which also included Augsburg's 4-1 men's hockey win over Concordia-Wisconsin, and an alumni event at the Augsburg Ice Arena following the game.
The Augsburg Ice Arena has served the Augsburg community and the Twin Cities since it opened in 1974. It is unique among Division III colleges in Minnesota and the nation in that it is a two-rink facility with year-round ice. It is one of only three on-campus ice arenas among MIAC schools.