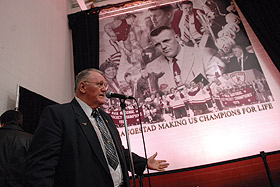 Augsburg officially named its main competition rink in honor of Ed Saugestad '59, the coach who led the Auggies to national prominence in men's ice hockey during his storied career. At the Oct. 15 ceremony, Auggies were able to see the changes that took place in the arena in preparation for the dedication.
One noticeable change was the addition of three murals depicting the Saugestad legacy as well as the history of men's and women's hockey at Augsburg College. Other graphics have been added to the rink including an "Auggie Pride" sign to mark the student seating section.
A special thanks to Stephen Geffre, Augsburg's staff photographer, who spent many hours compiling the graphics for the murals.
To read more about Saugestad, go to the Augsburg Athletics page.