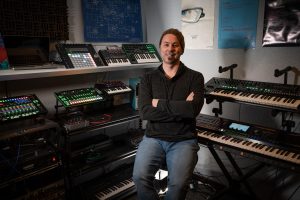 Intrigued by the potential of online education, J. Anthony Allen started a small company in 2018 to provide music instruction via the web. It grew organically at first, with a handful of classes and a few licensing agreements with larger platforms.
Then came the pandemic. 
"It was really a question of the right place and the right time," said Allen, an assistant professor of music, media, and management at Augsburg. Punkademic was already established when the world saw a huge increase in demand for online classes of all kinds in 2020. Today, it serves more than a million students from every corner of the globe. 
Allen entered Punkademic in the prestigious MN Cup entrepreneurship contest earlier this year. The competition, which is based at the University of Minnesota's Carlson School of Business, provides seed funding and support to emerging entrepreneurs from across the state. His goal was to make it past the first round in order to connect with a mentor from the ed tech world. 
Punkademic did make the first cut. And the next one. In September, it was named a semifinalist for the grand prize and took first place in the Education and Training division. 
Allen plans to invest the $25,000 MN Cup award in marketing and general operating infrastructure for the company, which remains a slim operation despite its explosive growth. Punkademic's flexible model offers individual class purchases as well as structured courses on a subscription basis. The site's most popular offerings include courses on music theory, composition, film scoring, sound design, and ear training.    
Allen sees a clear connection between his "side hustle" and his work at Augsburg, where he teaches classes in music business and technology, runs the music production minor, manages Augsburg's recording studio, and serves as interim music department chair. 
"Teaching is a practice. All of this work online has informed my teaching style and abilities," he said. "Here in the music business program we also talk about how all of music is an entrepreneurial act in one way or another. 
"For me, Punkademic is proof of that concept." 
To learn more, visit Punkademic's website or follow the company on TikTok.
(Photo of J. Anthony Allen by Jade Patrick)