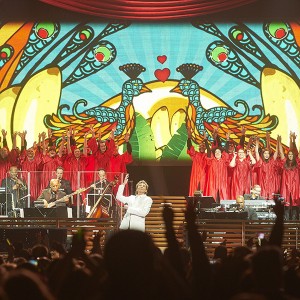 Members of the Augsburg Choir sang backup for Barry Manilow during the Grammy-award winning performer's farewell tour. The choir sang three encore songs with Manilow including "I Write the Songs," "Miracle," and "Copacabana (At the Copa)."
The Augsburg Choir was selected to perform by Barry Manilow's choir director, Doug Hollenback. The ensemble is recognized for its high level of musicianship and performs a diverse repertoire under the direction of Peter Hendrickson '76.
The performance by the students drew media attention from Twin Cities media outlets including:
Watch a YouTube video of Auggies performing Copacabana at the show.