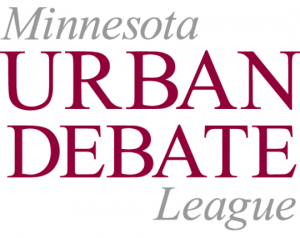 The Minnesota Urban Debate League, a program of Augsburg University, is proud to present the 2023 Mayors Challenge: The Great Prosperity Debate at the American Swedish Institute from 5–8 p.m. on September 21. 
In this year's debate, four students will split into two teams and debate issues related to the 2023–24 national policy debate topic of economic inequality. This topic engages students nationwide about the role of the U.S. federal government in fiscal redistribution, including policy proposals like a federal jobs guarantee, expanding Social Security, and providing basic income.
The debate will take place in front of a community of local education supporters, including special guests Saint Paul Mayor Melvin Carter, Minneapolis Mayor Jacob Frey, Governor Tim Walz, First Lady Gwen Walz, and a VIP panel of economic policy experts. 
Abdihafid Mohamed of Edison High School, Minneapolis, and Adai Truong of Central High School, Saint Paul, will argue the affirmative at the 11th annual Mayors Challenge event. They will face off against Lily St Dennis of Highland Park High School, Saint Paul, and Sabrena Thao of Tartan High School, Oakdale, arguing the negative. All are members of their schools' debate teams, hosted by the Minnesota Urban Debate League. 
Minnesota Attorney General Keith Ellison will receive the 2023 Champion of Change Award at the event. This award is given annually to a community changemaker who models courageous leadership and inspires students. Previous recipients include Congresswoman Ilhan Omar, Lieutenant Governor Peggy Flanagan, and National Security Advisor Jake Sullivan. 
Since 2012, the Mayors Challenge has brought together education advocates from across the Twin Cities to watch an empowering, informative showcase debate and invest in the future of urban debate. Debate has been shown to positively impact literacy, self-esteem, critical thinking, attendance, and test scores. Students who participate in debate develop the capacity to engage in civil disagreement and civil discourse, skills that are essential for citizenship in a multicultural democracy. 
Registration for the 2023 Mayors Challenge is available now.
About MNUDL
The Minnesota Urban Debate League is a program of Augsburg University that provides resources and programming to support competitive academic debate in Twin Cities high schools and middle schools. The mission of MNUDL is to empower students through competitive academic debate to become engaged learners, critical thinkers, and active global citizens who are effective advocates for themselves and their communities. Currently, MNUDL serves more than 1,000 students at 40 partner schools and has seen sustained growth in student participation since its inception in 2004, in programs including national topic policy debate, middle school debate, Spanish Debate League, East African Debate, Financial Literacy Leadership Debates, and MDAW Summer Speech & Debate Camp. 
For more information, contact: Minnesota Urban Debate League, Amy Cram Helwich, (612) 359-6467, cramhe@augsburg.edu.